Taking Submissions: Witch, Wizard, Warlock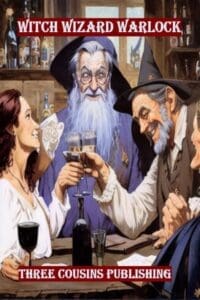 Submission Window: June 1st – July 31st, 2023
Payment: $10
Theme: Stories of any genre as long as they have a witch, wizard, warlock, or combination of them within!
THREE COUSINS PUBLISHING, an imprint of WEST MESA PRESS, will be accepting submissions for its next anthology, WITCH WIZARD WARLOCK from June 1, 2023 until midnight July 31, 2023. Stories submitted before or after the submission period will not be considered.
We're looking for stories that fit the anthology title. Submissions must feature a witch, wizard, warlock, two of those, or even all three. Horror, humor, fantasy, science fiction, or even some entertaining, but bizarre mashup of genres that we haven't considered. Your characters may be young or old and the time frame may be from the dawn of mankind to the far future. Here's the short list of guidelines. Pay attention, please. These are important.
2. Double spaced, no tabs, use the indent function in 'paragraph,' no extra spaces between paragraphs, and Times New Roman 12 point font.
3. Signal scene breaks by ###.
4 If you want italics, use them.
5. Stories must be between 4,000 and 5,000 words. No slack. Rewrite and edit to fit before submitting. Longer or shorter submissions will be deleted unread.
6. No reprints, but simultaneous submissions are fine, as they always should be, but let us know if your story is accepted elsewhere.
7. Put your contact information on the first page and your 150 word bio and bibliography in your cover letter. Submissions must be in the form of an attachment, doc, docx, or rtf.
8. Email the submission to
[email protected]
. Put "Submission, your story title, and your name in the subject line, otherwise the gremlins might send your story to purgatory where it will languish unread and unloved until the end of time.
PAYMENT: $10.00 US through PayPal and will be made prior to publication.
WHAT WE'RE BUYING: The anthology will be published in three formats, hardcover, paperback, and electronic. We're buying first worldwide publication rights for those formats and the NON-EXCLUSIVE RIGHT to keep the book in print as long as we choose to do so. The writer agrees not to publish the story elsewhere until 90 days after WITCH WIZARD WARLOCK is released.
THINGS TO AVOID: Don't hurt or abuse any pets. Profanity is fine, even by children. Kids curse, just not in front of adults, at least, not the clever ones and aren't witches, wizards and warlocks supposed to be clever. Check your politics and religion at the door. No extreme erotica or violence.
We're looking forward to reading your stories.
Via: West Mesa Press's Facebook.
About the Author
Latest Posts
Stuart Conover is a father, husband, published author, blogger, geek, entrepreneur, horror fanatic, and runs a few websites including Horror Tree!