'Killer of Giants' Blog Tour – Build A Better World, Or Not…
BUILD A BETTER WORLD, OR NOT… By Steven L. Shrewsbury "What world did you use in your new fantasy novel KILLER OF GIANTS?" Well, this one. That's my usual smarty-pants answer to such a question. I follow it up with saying that in the book it is set in a pre-flood world, an antediluvian realm where many elements are different than our current world or ones glimpsed in ancient history. The world then was dissimilar before the flood story (seen in many cultures), from religious texts or reliefs in many places. "Gods", demons, and their half-breed offspring freely walked the Earth (this one) alongside many bizarre creatures, be they all from nightmares or a glimpse of reality. I say "this Earth" as I've never seen fit to make up a fake one, where culture, mores, and topography are basically THE EARTH but called something different…and yet, they use steel, drink beer, eat steak and speak in snooty King's English. I prefer to not jerk off the audience by pretending the Middle Ages happened on EARTH XYZ and go with a place easy enough to understand, where all of those things are here, yet forgotten in time, to be reinvented after a watery apocalypse looming on their horizon. That said, if the characters were in the mountains of Bavaria, the place wouldn't be called that as such a name hadn't been invented yet. In KILLER OF GIANTS our rude hero, Rogan is where "Shynar" is, pre-flood Sumer. They even go to the fabled city of Irem. I do cheat a little bit with names of places, but places like Aleppo, Byblos, Jericho, Sidon, Ur, Varanasi, etc did exist before the flood. Why 'cheat'? It's my universe, so bite me. While I drop real historical contexts, it's all just a story. But who says it cannot be true, in part? I do think we have lost a great deal of knowledge over time as evidenced by science claiming writing was invented in Sumeria…however, the discovery of places like Gobekli Tepe that predates Sumer by thousands of years throws that theory out the window. How have we lost such things? History? Look at the destruction of Iraq's Mosul Cultural Museum by ISIS six years ago. These folks took sledgehammers to archaeological treasures, smashing historic Assyrian sculptures and absconding with more. That's how history is forgotten and rewritten. More is the pity. So, I don't get bogged down with such things, but use a skeleton of a world dimly viewed in retrospect. If one wants to create a culture that looks like the middle ages but with dragons and steam technology, that's fine. This novel KILLER OF GIANTS takes place in a pre-flood realm like the one I described, but, the world isn't the point. The story is and so are the characters. Rogan, a Keltos savage and the last survivor of a mercenary army seek to save his kindred sold down the way to Irem, a place of cannibals, Kings, Nephilims, and demons. Along the way he encounters a mammoth from his homelands, Chimera beasts and Gorgon-like creatures along with an army sent to retrieve him. Elisa, a slayer of Nephilims, and her wizardess mother join him as he battles his way toward Irem. As with many of my tales, the real monsters are the people encountered, set on their own agendas and desires. The tale is one of survival, a subtle tale that even the brutes of the world have things that matter to them more than their own lives, and ultimately, vengeance. So, open up KILLER OF GIANTS. Travel to a world not seen in thousands of years, where things are different than our present-day world, but inhabited by characters that will be easily recognizable as heroes, villains, and a few folks just wanting to survive the chaos of a world they see as out of kilter with right and wrong. What will humanity do to survive, strive on, and seek revenge for wrongs so deeply cut into the soul? Let's have a look.
—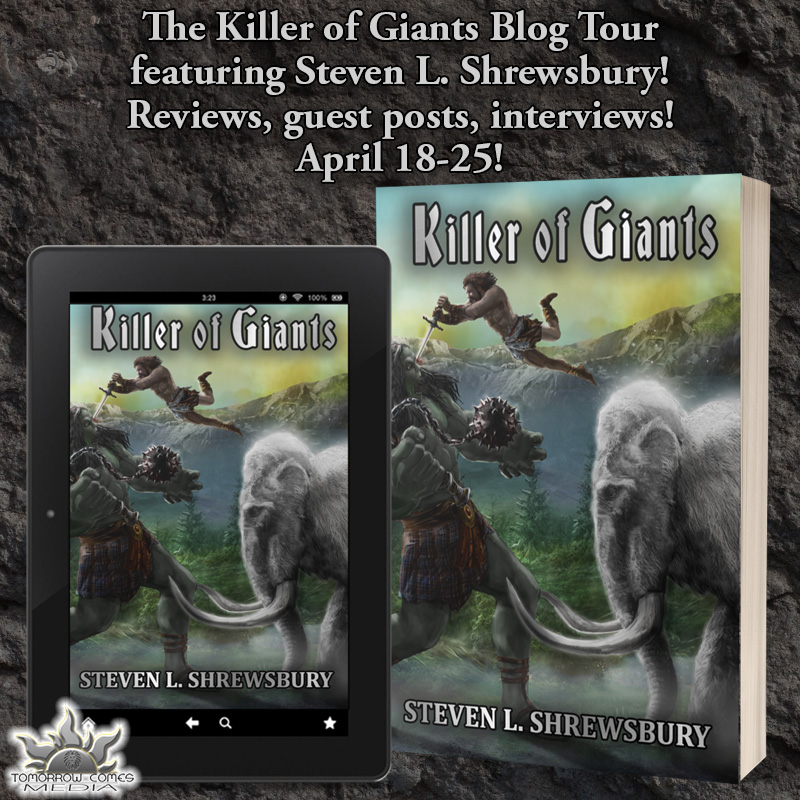 Welcome to an exciting blog tour featuring Steven L. Shrewsbury and his new, action-packed heroic fantasy novel, Killer of Giants! The tour takes place April 18-25 and readers of fantasy, sword and sorcery, and dark fantasy will love exploring first story of the Keltos warrior Rogan!
The blog tour features reviews, guest posts, and interviews, so don't miss any of the activities taking place on the participating blog sites!
---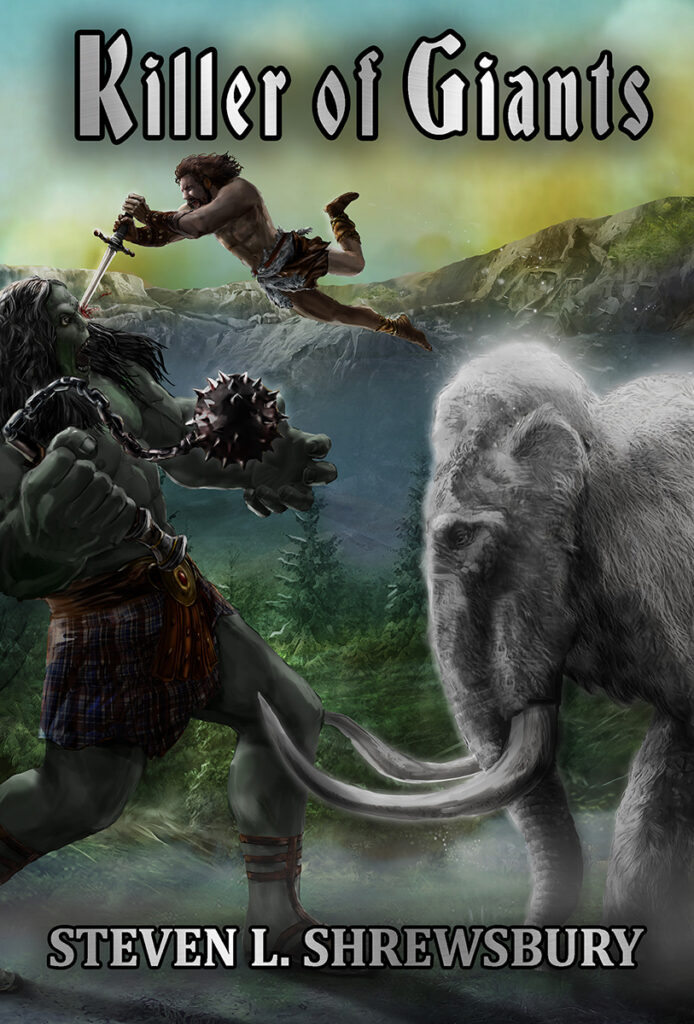 About the author:  Award-winning author STEVEN L. SHREWSBURY lives and works in Central Illinois. He writes hardcore sword & sorcery, fantasy and horror novels. Twenty of his novels have been published, including KILLER OF GIANTS, BEYOND NIGHT, BORN OF SWORDS, WITHIN, OVERKILL, PHILISTINE, HELL BILLY, THRALL, BLOOD & STEEL, STRONGER THAN DEATH, HAWG, TORMENTOR and GODFORSAKEN. His horror/western series includes BAD MAGICK, LAST MAN SCREAMING, MOJO HAND and ALONG COME EVENING. He has collaborated with Brian Keene on the works KING OF THE BASTARDS, THRONE OF THE BASTARDS & CURSE OF THE BASTARDS and Peter Welmerink on the Viking saga BEDLAM UNLEASHED. A big fan of books, history, the occult, religion and sports, he tries to seek out brightness in the world, wherever it may hide.
---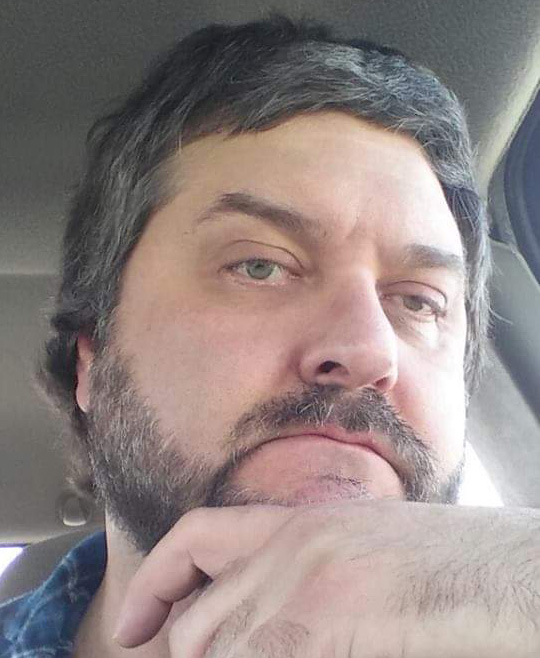 Book Synopsis for Killer of Giants: In an antediluvian world, Keltos warrior Rogan emerges as the lone survivor of a battle. Slaying a Nephilim giant from Shynar, Rogan takes back the mammoth his folk gifted the kings.
Soon, warriors are sent to recapture the mammoth and bring it to the Lord of the world, Zazaeil, a demon in human flesh, and the Nephilim giant Marduk, in the fabled city of Irem.
After learning that his sister is to be a sacrificial bride to Marduk, Rogan journeys to Irem in the company of Elisa, a warrior herself, whose mother is a wizardess. With a horde of warriors in pursuit, they encounter many evils, monsters, and challenges to their selves and souls.
Will the song of Rogan's blood make him strong enough to be the Killer of Giants?
---
Author Links:
Twitter: https://twitter.com/shrewsreh
Facebook: https://www.facebook.com/authorstevenshrewsbury
Tour Schedule and Activities
4/18    Jazzy Book Reviews    https://jazzybookreviews.com/       Author Interview
4/19    Horror Tree    https://www.horrortree.com          Guest Post
4/20    Exquisite Corpse        https://traciemcbridewriter.wordpress.com/         Guest Post
4/20    BOOKS TO CURL UP WITH     https://bookstocurlupwiith.blogspot.com  Review
4/21    The Write Start          https://www.thewritestart.net       Guest Post
4/21    BookWitch     https://bookwitchblog549755749.wordpress.com/           Review
4/22    Sapphyria's Books     https://saphsbooks.blogspot.com/ Guest Post
4/23    BookWitch     https://bookwitchblog549755749.wordpress.com/           Interview
4/24    Literary Underworld https://www.Literaryunderworld.com        Guest Post
4/25 Sheila's Guests and Reviews http://sheiladeeth.blogspot.com/ Guest Post
Links for Killer of Giants:
eBook Links
Kindle Version: https://www.amazon.com/dp/B09SGV5141
Nook Link: https://www.barnesandnoble.com/w/killer-of-giants-steven-l-shrewsbury/1141004710?ean=2940160798370
Print Links:
Amazon: https://www.amazon.com/Killer-Giants-Steven-L-Shrewsbury/dp/1736812556/
Barnes and Noble Link: https://www.barnesandnoble.com/w/killer-of-giants-steven-l-shrewsbury/1141044545?ean=9781736812556
About the Author
Latest Posts
Stuart Conover is a father, husband, published author, blogger, geek, entrepreneur, horror fanatic, and runs a few websites including Horror Tree!