Interview with Horror Anthology Editor Rayne Hall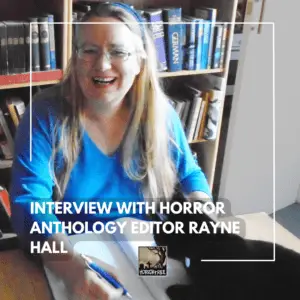 When it comes to entering indie horror, quite a few of you have likely stumbled across the works of Rayne Hall. From writing in most forms of genre fiction and releasing a slew of non-fiction titled Writer's Craft, whose purpose is to help other authors, it would be hard to have missed her contributions. On top of this, past her writing, she has also edited quite a few anthologies over the years, and it is likely that you've seen her work on that front and possibly even submitted to an anthology or two of hers yourself. Today, we're thrilled to share a look at her editing side and how she (and likely other publishers) chooses their preferred stories. For the writers out there, here is another great example of how to get your work in front of the editors who are choosing what goes into their anthologies.
As an editor of horror anthologies, how do you choose the stories?
First of all, the stories need to fit the theme. They need to be about this topic, not just mention it. 
I look for stories which interpret the theme in an unusual way or from an unusual perspective.
Besides having a strong plot and being well written, what brings a story to your attention? What makes you say 'yes!' to a submission?
A vibrant, unusual setting makes me sit up. I'm always looking for stories set in different parts of the world, oozing the atmosphere of the place with sounds, sights and smells so that I feel I'm there, inspired by the mythology of the region, filled with local traditions. I love to take my readers on journeys to places they've never been and will never see in real life, and give them the chance to experience the haunts and dangers from the safety of their armchairs.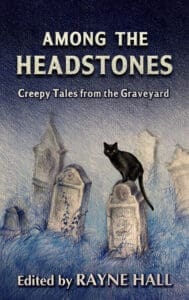 For Among the Headstones: Creepy Tales from the Graveyard, I was delighted when Myk Pilgrim submitted a very South African story, Tylluan Penry's contribution was quintessentially Welsh, and Morgan Pryce gave me a yarn set in a temple cemetery involving a creepy creature from Thai mythology. 
I want stories which give readers an intense experience. This intensity can come from the emotions they arouse, from the vivid locations, or from the deep point of view. 
Most of my horror anthologies have a decidedly Gothic flavour, so I'm looking for atmospheric, creepy tales rich in suspense, rather than gore-drenched splatterpunk. I aim to creep readers out, not gross them out.
I welcome contributions which straddle genres, e.g. horror/fantasy/humour or horror/historical/crime, because this brings variety to the project.
What makes you reject a story?
Stories which don't fit the theme get rejected instantly. 
For the anthology Among the Headstones: Creepy Tales from the Graveyard, I wanted stories set in graveyards. That's obvious, isn't it? But I still received stories in which merely mentioned graveyards in dialogue.  
For Undead: Ten Tales of Zombies, several writers sent tales about werewolves. Either they didn't understand the difference between werewolves and zombies (in which case they shouldn't write about them) or they didn't think the theme mattered (in which case they shouldn't submit to an anthology). 
For my most recent anthology (the one about to be published) The Haunted Train: Creepy Tales from the Railways I requested short stories about trains and railway stations. Many stories just mentioned a train in passing, e.g. the character used a train to get from location A to B. That's not enough. If a story doesn't interpret the theme, it's out.
Many submissions get a 'no' from me because of an immature author voice. By this I mean their story contains the same words as the other stories penned by novice writers, so they sound identical. Inexperienced writers use (and over-use) certain words, e.g. turn, look, begin, nod, smile, frown, sigh. You'd be surprised how many stories contain the sentence 'He turned to look at her' (or 'she turned to look at him'), and even 'He turned to look at her and began to smile' or 'She turned to look at him, and sighed' or 'Turning to look at her, he nodded.'  If several of these beginner words appear in the first page, I know that the whole story will be like that, with characters constantly smiling and nodding and sighing and turning to look at each other. I don't want a book filled with those same words, so that's a no. 
On the other hand, some stories have a beautiful, lyrical voice, but they lack a strong plot. There's nothing to drive the reader to read on, no question the reader wants answered.  The story just fizzles out at the end, without emotional impact, without giving the reader something to think about.
Sometimes, I receive several stories which have strong similarities. Let's say I'm editing an anthology of vampire stories, and I get two stories featuring a vampire who is a skiing instructor in Switzerland. Even if both are good, I'll publish only one and decline the other. 
I don't want stories which have the same 'surprise' ending. For example, several authors submitted stories to Among the Headstones: Creepy Tales from the Graveyard which ended with the narrator's realisation that he or she was a ghost. I didn't include any of them. 
Finally, I reject submissions by unpleasant authors. If a writer has previously let me down (e.g. promised to send a revised version and not done it), tried to pass off plagiarised work as their own,  insulted me, attacked the other contributors of an anthology or caused me any kind of grief, then I won't touch their work again. I observe writers' behaviour in the social media, too. If someone is troll or obnoxious prat, their name goes on the list of writers to avoid. 
Do you pay for the stories you use?
Yes, of course, though not big amounts. I pay for the one-time use of the story, which means the writer keeps all rights and can also publish the story elsewhere.  
I believe firmly that writers, not publishers, should own the copyright of their stories.
Do you strive for equal representation of ethnic minorities, male/female authors and such?
I don't select or discard submissions for the sake of balanced statistics. Frankly, I don't think the author's gender or skin colour matters. What counts is the story.
However, I actively strive for cultural diversity. By this I mean stories set in different geographical locations and in different social contexts, with different beliefs and traditions. I want authors who understand these cultural contexts so well – perhaps because they live there, or came from those origins – that they can write about them with insight and authenticity. 
How much do you edit the stories?
As little as possible. I want writers to submit manuscripts which are already polished and ready to print.  I'll correct typos and syntax errors, but anything bigger needs to be the writer's decision and responsibility.
If I like a story a lot, but it's not yet as good as it could be, I'll offer suggestions and request changes. ("The pace in the middle is too slow. Are you willing to tighten these paragraphs?") If the author agrees that the changes will enhance the piece and carries them out, I publish the story. 
I don't do rewriting, except in rare cases where the author's native language isn't English. Then, with the author's permission, I'll smooth out clunky phrases. 
I keep the American and British versions of the English language intact, to preserve the authors' voices. That's why you may see certain words spelled in different ways in the same book, e.g. honour/honor, colour/color, travelling/traveling. The vocabulary varies, too, e.g. autumn/fall, elevator/lift, railway/railroad. Some syntax and punctuation rules differ as well, and some words are used differently. For example, American English writers use 'that' in many cases where correct British English demands 'which'. Neither is wrong or better. They're just different. 
How do you feel about mixing classics and unknown writers?
I like to combine classic tales and new material, established authors and new voices. This brings diverse flavours to the stew, and my readers love this variety. 
Among the classics I've included horror greats like Edgar Allan Poe, Amelia Edwards whose tales dazzle with creepy atmosphere, Charles Dickens who crafted memorable ghost stories, and Arthur Conan Doyle who penned not only the Sherlock Holmes mysteries but superb adventure and horror yarns.
My anthologies also include contributions by well-known writers of the fantasy and horror genres, e.g. Deborah J Ross, Jeff Strand, Greg Chapman, William Meikle, David D Levine, Lee Murray, Kyla Ward Lee. Their stories – like those by the classic masters – have been previously published, but will be new to most of my readers. 
Every anthology includes some fresh material, never before published, and stories by relatively unknown (or even first-time) writers. This brings variety and freshness to the book.
Can anyone submit to your anthologies?
Some of my anthologies are 'open-call' i.e. I publish the guidelines on my website, announce them in my newsletter and list them on sites like Horror Tree. Anyone can submit.
Unfortunately, open-call submissions draw a lot of dross, with writers dumping anything they've written, whether it fits the purpose or not. For The Haunted Train: Creepy Tales from the Railways, which was an open-call anthology, I received stories which had little or nothing to do with the theme, as well as poems, articles, personal rants, photographs and a novel trilogy.   
That's why I (and many other editors) make some of our anthologies 'closed' i.e. we don't announce them publicly, and invite only specific writers to submit stories.  This saves wading through tons of slush. 
I have a 'stable' of regular contributors who I know can pen a great story and who are a pleasure to work with. If I think an anthology project would interest them, I invite them to submit a story. 
Often, I start by contacting the trusted contributors from my list to see if they want to contribute. Their stories form the backbone of the anthology. Then I announce an open-call for submissions to get fresh voices.
How can a writer get on your – or any anthology editor's – list of 'trusted contributors'? 
Submit to open-call anthologies. If the editors who accept your stories enjoy working with you, because you're courteous, helpful and dependable,  there's a good chance they'll notify you of their next anthology project and invite you to submit.
Once you're on one editor's list, you may have the foot in the door to other editors' closed anthologies. Not many writers realise this, but editors contact each other when they look for contributors. "For my next horror anthology, I want to include a couple of funny stories. Do you have any authors who write black humour?"  "Can you recommend  dependable fiction writers with a medical background for a hospital horror anthology?" "I like the stories by Suzie Scrybe in your anthologies. Her style would be perfect for my next project. Can you put me in touch  with her?"
What's the best way for a new horror writer to get discovered?
Submitting to genre anthologies is a good strategy, because readers devour anthologies and discover new favourite authors in their genre. Also, horror anthologies get read by other horror editors, and they take note of exciting new voices.
When you hear of an open-call for submission, consider the theme and ask yourself, 'How can I interpret this theme from my unique perspective?' Write stories inspired by your location, your job, your childhood memories, your personal fears. Your background provides you with material for unique stories, and your experiences are your vein of gold.
Did you grow up in a kibbutz in Israel? Then set your story in a kibbutz. Did you once work as a hotel chambermaid? Then let the story unfold in a hotel and write it from a chambermaid's perspective. Do you need a wheelchair to get around? Then put your main character in a wheelchair. Are you a hobby pilot or do you dabble in archaeology? Set your story in an airplane or on the site of a dig. Are you terrified by tunnels or do you have a phobia of butterflies? Write a scary tale in which the MC has to enter a tunnel or faces a butterfly invasion. 
Write about what you know, and your stories will ooze authenticity and stand out from the mass of submissions.
ABOUT RAYNE HALL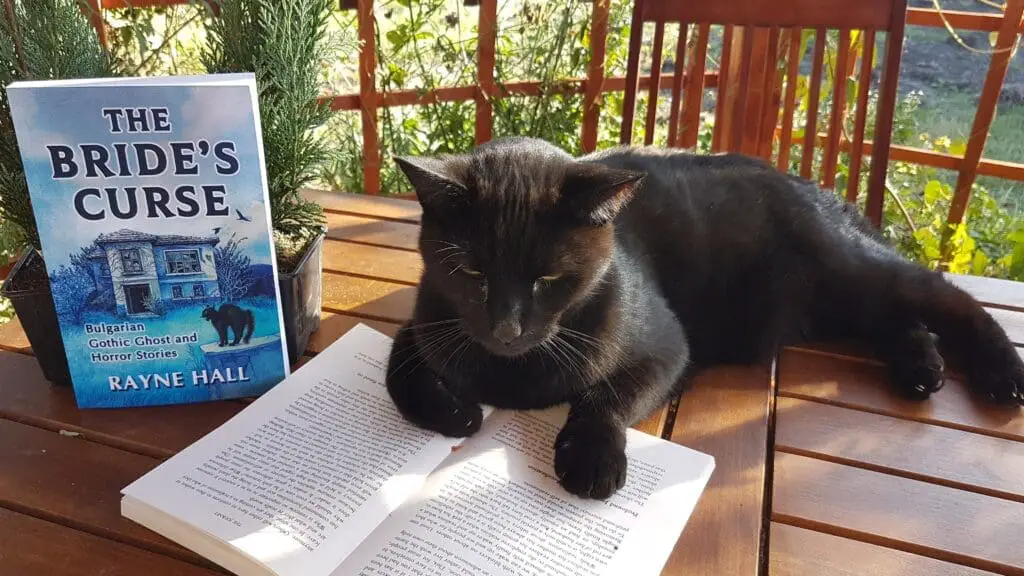 Rayne Hall writes fantasy, horror and non-fiction, and is the author of over 100 books. Her horror stories are more atmospheric than violent, and more creepy than gory, and often leans towards the Gothic, e.g The Bride's Curse: Bulgarian Gothic Ghost and Horror Stories.
She is also the acclaimed editor of Gothic, Fantasy and Horror anthologies (e.g. Among the Headstones: Creepy Tales from the Graveyard, and Fiends: Ten Tales of Demons), and author of the bestselling Writer's Craft series for advanced-level writers (including Writing Gothic Fiction, Writing Dark Stories, Writing Vivid Plots, Writing Vivid Dialogue, Writing Deep Point of View, Writing and Publishing Short Stories, Writing Vivid Emotions, Writing Fight Scenes, Writing Scary Scenes, Writing About Magic, Writing About Villains, Horror Writing Prompts.
Born and raised in Germany, Rayne Hall has lived in China, Mongolia, Nepal and Britain. Now she resides in a village Bulgaria. The country's ancient Roman ruins and the deserted houses from Bulgaria's communist period provide inspiration for creepy ghost and horror stories. 
Her lucky black cat Sulu, adopted from the cat rescue shelter, often accompanies her when she explores spooky derelict buildings. He delights in walking across shattered roof tiles, balancing on charred rafters and sniffing at long-abandoned hearths.
Rayne has worked as an investigative journalist, development aid worker, museum guide, apple picker, tarot reader, adult education teacher, belly dancer, magazine editor, publishing manager and more, and now writes full time.  
Visit her on her website, her Facebook author page, on Mastodon (new) or Instagram (new), Subscribe to her newsletter here.
ABOUT THE BOOK THE HAUNTED TRAIN: CREEPY TALES FROM THE RAILWAYS
Come on board for a Gothic journey in a funicular railway in Victorian England, a freight train in the Carpathian mountains, a high tech sky train in Bangkok, an underground railway in Tokyo. Visit stations which lure with the promise of safe shelter but harbour unexpected dangers. Meet the people who work on the tracks – stationmasters, porters, signal-men – and those who travel – commuters, tourists, dead bodies, murderers and ghosts.

In this volume, editor Rayne Hall has collected twenty of the finest– and creepiest – railway tales. The book features the works of established writers, classic authors and fresh voices. Some stories are spooky, some downright scary, while others pose a puzzling mystery.

Are you prepared to come on board this train? Already, the steam engine is huffing in impatience. Listen to the chuff-chuff-chuff from the locomotive and tarattata-tarattata of the giant wheels. Press your face against the dust-streaked window, inhale the smells of coal smoke and old textiles, watch the landscape whoosh past as you leave the familiar behind and journey into the unknown.

But be careful: you can't know the train's real destination, nor your fellow travellers' intentions. Once you've closed that door behind you and the wheels start rolling, you may not be able to get out.
The ebook is available for pre-order from Amazon at the special offer price of 99 cents until 31 January 2023. (After that date, the price will go up.) https://mybook.to/Train  .
The paperback edition will be available soon.
ABOUT THE BOOK AMONG THE HEADSTONES: CREEPY TALES FROM THE GRAVEYARD
This anthology, edited by Rayne Hall, presents twenty-seven of the finest – and creepiest – graveyard tales with stories by established writers, classic authors and fresh voices.
Open the gate – can you hear it creak on its hinges? – and enter the realm of the dead. Listen to the wind O the yew, the grating of footsteps on gravel, the hoo-hoo-hoo of the collared dove. Run your fingers across the tombstones to feel their lichen-rough sandstone or smooth cool marble. Inhale the scents of decaying lilies and freshly dug earth.
But be careful. Someone may be watching your every movement… They may be right behind you.
About the Author
Latest Posts
Stuart Conover is a father, husband, published author, blogger, geek, entrepreneur, horror fanatic, and runs a few websites including Horror Tree!