Interview: Kade Draven Freeland, and the Common Tongue

Kade Draven Freeland, and the Common Tongue
What's your dark fantasy?
By Angelique Fawns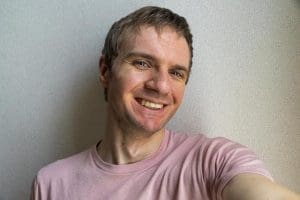 Kade Draven Freeland wants his readers to enter dark fantastical worlds. He offers many different doors to alternate universes and each one is crafted with a different voice. The second issue of The Common Tongue was released on April 30th, and features an undead princess, a grave-robbing goblin, clouds that rain bones, and calamity in an Arthuruinian slums. I sat down with Freeland to learn more about his vision.
AF: Tell me about the conception of your project?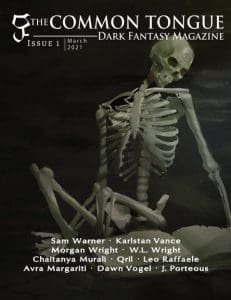 KDF: The Common Tongue Magazine was really something built out of love for fantasy and frustration of being a writer. I think speculative fiction magazines are the definition of the passion for reading, because they are built out of the love of writer creativity. They hardly make money, and it is dedication to the industry that essentially keeps them afloat. They champion great tales and aspiring new (and old) writers for the love of it, and I believe the start of every great Stephen King begins with small gigs like these. I began The Common Tongue because I wanted to do my part and help the writing community. I found that while other zines like Beneath Ceaseless Skies, Fantasy Mag, and Clarkesworld certainly filled gaps in the short fiction space, there was still another gap to be filled. Dark fantasy, though not for everyone, offers us a challenging new perspective on the typical mundane fantasy tropes that is closer to our own reality. It makes the magazine overall more hopeful (a rather rude contrast to the dark and malicious elements inside a dark fantasy tale). Hope is the guiding force of this publication. Just like writers hope to realize their dream of being a successful writer, their tales show hope through a dark and hauntingly believable fantasy world—hope that everything will work out… somehow.
AF: I noticed that The Common Tongue is linked to Sourcery Publishing. Can you tell me about this imprint?
KDF: So, I'm all about writer support and helping passionate storytellers practice their craft. This was a dream of mine since I was a fledgling writer myself, and there came a time recently when I decided to follow passion rather than money. As many full time or nearly full time writers can relate, it's a hard business, but Sourcery Publishing will become something that would help a lot of writers out. We dedicate ourselves to publishing great tales that are as close to the source as possible. That is, as close to the writer's vision as possible, in reach, popularity, design, and creative control. Most traditional presses don't help with publicity, marketing, or editing, but Sourcery aims to set every writer up with all the necessary tools for post-penning as possible. We want to take as much of the "work" out of this stage in the publication process as possible for the writer. Our first publication, The Common Tongue, is a first step into this direction as we build the Sourcery brand up—and it's a great success! We are already forming our family, and our relationships with writers are paying off as we build a new indie press for writers to submit and get published.
AF: As a new fiction writer myself, I know navigating the marketing sea can get very stormy! Can you define "dark fantasy" as it relates to your creative? It's an interesting subgenera.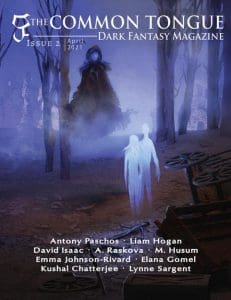 KDF: Dark fantasy is such a nebulous concept because it's apparently so fresh, though darkness has always been there throughout time. Everyone has their own perceptions of darkness and so that often means I find myself picking at our submission guidelines mercilessly. For some, dark might be easier and plainer to define without words, and the number of times I need to explain my definition of "dark" only solidifies my opinions. My own perceptions and experiences have bred this definition: "dark", as a literary genre, is any influence of forces that suffocates safety, peace, and amicability as to emphasize the goodness. The reason this is such an attractive genre, aside from the unavoidable fact that some of us might be masochistic, is that dark is closer to reality than other forms of fiction. When things don't exactly fall into place is when we get closer to the truth of how real life works. We learn to cherish the good things that eventually do come out of our plights, and the weight of our successes become bolder. We learn to cherish the little goodness we find and hold on to them, and it teaches us hope and courage. Overall, dark fantasy is a sub-genre of fantasy that utilizes the inexplicable, like the supernatural, to spin fantasy elements. The tones are dark and unforgiving, and usually laden with horror and events that would constitute loss, aloneness, or tragedy. Dark fantasy is more aesthetic than visceral, and are more far-fetched and "imaginative" reinventions of a horror tale. Our own interpretations of horror is the fear of the unknown, and the fact that fantasy does so well of offering us a glimpse into this alternative unknowing is a testament to how well fantasy can function with horror.
AF: I personally love penning fantasy horror. With a new imprint and magazine, you have your plate full! Do you have a day job?
KDF: I just came out of a regular suit-and-tie day job teaching English to children in Japan, and now I'm in Peru taking up space. While the job climates are uncertain and things are unstable, I'm currently self-employed and free, giving me leverage to pursue more savoury opportunities. I find traveling is a great boon to writing and understanding the world, and I use that in my own writing and in evaluating other writing too! I predict I'll be back in the States soon again, then I'll likely be playing a full-time teacher/semi-full-time editor. On the side now, I serve as editor and reader for several speculative fiction zines and presses, including Wyldblood Magazine and the Literatus, and love every minute of it!
AF: I'm a little envious you've managed to travel at all. I've been locked down so long, I found the time to start my own podcast, and noticed you have one too. Can you tell me how it works in conjunction with your magazine?
KDF: The podcast that we have named "The Mage's Den" is the podcast that hosts all of our narrated short story episodes. Right now we've only been putting out spotty readings of stories from our issues, as we are only working with one narrator. Carl Walmsley is a great and talented reader, and we're incredibly blessed to have him. He reads with eloquence and conviction, bringing more life to tales than the voice in my head usually has! Despite this, he's only one talent and we can't possibly narrate all our tales in between issues. If we had more help, we could pursue our original plan of doing more with the podcast and possibly drive more traffic from people interested in dark fantasy. I think the podcast is at a good point, and it certainly is doing much better than I had anticipated—the entire magazine is! I hope in the months and years to come we have many more voices in dark fantasy airing on the podcast.
AF: Finding the right voice for the right story is a whole new challenge. What stories are you typically looking for?
KDF: I'm typically very open to any type of story and plot, though some of our slush readers might be more intrigued by thoughtful or meaningful action. Our guidelines might be detailed to a fault, but I can't stress enough the genre of what we're looking for: we want (high) dark fantasy. While I've set the definition of dark fantasy as it applies to us in numerous posts, I still find submissions about high schools that are certainly dark, but they aren't high fantasy. I always cite J. R. R. Tolkien's The Hobbit as an example of high fantasy (though it's not necessarily dark). We want stories ideally set in an alternative fantasy world (contrasting with urban fantasy) that mimics or holds elements from our BCE, medieval or Victorian era. Beyond the genre, we are really drawn to work that leaves an impression on us. Thought-provoking tales go much further in short stories than wanton action and stock characters. I find the best stories are those that show us a character without wasting long and repetitive lines trying to fit a novel manuscript's worth of character building content into a small space. We also absolutely LOVE stories that illustrate new and imaginative fantasy worlds. We have outlined and written up a manifesto for a shared universe that we allow our writers to add to and expand, and we would love writers to help us create more content for it. It's a colorful world with just the right amount of darkness and grit, with all the right places for great tales to be born. If our stories show more of this world, or other worlds like it, we could champion high dark fantasy to new levels. We love seeing the imagination of writers and the awesome ideas they have, and we love helping writer visions come to life. We also publish poetry, and although it's a niche genre, we love poetry that also tells a bardic tale. We accept longer-form story-structured dark-stanced ballads, and longer-form dark-stanced freeverse. 
AF: Dark-stanced freeverse. I love that. Any extra advice for writers wishing to send you their stories?
KDF: Piggy-backing off the last question, I'd like to suggest writers try to keep to the guidelines as much as possible. Think about the message your tale is trying to convey and consider whether it's a message that a reader will carry with them long after they close the book. Give your characters realistic girth, but also don't overstate the obvious and disrupt your flow (it's a big reader turn-off). Let your tale breathe and stay away from clichés that you've seen before ("Hollywood stock phrases" and commonly used storytelling devices) because your editors are guaranteed to have seen them before. Show us rather than tell (classic saying of actions speak louder than words). Don't rely as much on narrating as opposed to action, though sometimes that might be easier said than done. Lastly, try reading your manuscript aloud before submitting! If it's too difficult to say or read, consider revising it. We receive tons of submissions every week that look like they are a first draft. Reading your work aloud will help you catch stylistic errors and unrealistic character dialogue (a big pain-point for editors). One more thing—write the tale you want to read. It's the oldest piece of advice but the most effective, and we love it when writers are proud of the work they do!
AF: Very sound advice. I noticed you have an open call for novellas?
KDF: Yes! We accept novellas, though we have only received a few so far. We understand our calls for short fiction is a bit… short, and so we also are planning to release a mini-zine that features our novellas. We would love to read longer tales, and I think if a writer has a great idea but can't fit it into our 6,000-word allowance, they can have a second chance at our novellas with 20k-40k words. These stories will be published exclusively for our Patreon subscribers (as opposed to individual issue customers), but like all our other stories, will be made available online for free after a few issues later.
AF: What is in the future for The Common Tongue?
KDF: We're just starting to make an impression in the dark fantasy genre, and just released print editions of our magazine, and our popularity is starting to precede us! If our tales continue to inspire and generate buzz, we're sure to secure extra funding, and through that, guarantee a higher payout rate to our writers for their accepted work. This is an exciting time for speculative fiction, and while there are plenty of other speculative fiction magazines that inspired us, we are proud that The Common Tongue Magazine punctures a less-occupied space in dark fantasy than its counterparts. As more and more readers and writers become aware of the darker sub-genre, we can introduce their own interpretations of the dark and what it means to them to exist within this level of fantasy. We hope to release more audiobooks, raise writer rates, expand our distribution tactics, and champion more writers in their writing careers within the next few months. We also see more opportunities for our writers to be nominated for awards, like the Pushcart Prize Awards, and we're diligently submitting work that we feel are good fits for accolades!
AF: A final note from Freeland…
KDF: We just released our print editions for issues #1 and #2, and this is just the beginning of great news for the dark fantasy magazine. We invite all readers of speculative fiction to take a stroll with us into completely new fantasy worlds and tread the darkness with us. Find something inspiring and horrific, but learn what it's like to have your courage. We thrive out of the love for the industry and the genre, and all contributions for your support go straight to paying our writers for doing what they love to do! We also have a Discord channel where we discuss the magazine, dark fantasy, speculative fiction, and everything in-between, so feel free to join us!
About the Author
Latest Posts
Angelique Fawns writes horror, fantasy, kids short stories, and freelance journalism. Her day job is producing promos and after hours she takes care of her farm full of goats, horses, chickens, and her family. She has no idea how she finds time to write. She currently has stories in Ellery Queen, DreamForge Anvil, and Third Flatiron's Gotta Wear Eclipse Glasses. You can follow her work and get writing tips and submission hints at http://fawns.ca/.