Gothic Revival Blog Tour – Carson Buckingham On "Why I Write Horror"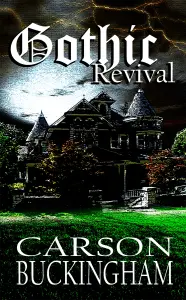 I write in other genres besides horror.  I also write kidlit and comedy.  The thing that all three have in common is the imagination requirement, so they really aren't so far apart as they may initially appear.
But the question is, why horror?
First, let me say that I don't really classify myself as a horror author, because I feel that, of late, when folks hear the word 'horror,' they immediately think of Jason, Michael, and Freddie and gallons and gallons of blood.
Not me.
I prefer to label myself, if labels are required, as a 'paranormal suspense' writer, so let's go from there.
Most of my longer work involves houses that just are not 'right' somehow.  I spent my first ten years living above a funeral home, and my high school years in a Victorian house dated from the 1880s, two places that can push the fear button and fire the imagination of a kid from Connecticut who had no friends.
I spent most of my time in my head—still do.  It's a hard habit to break… not that I'd want to now. As it turned out, it's served me well.
Mr. Ray Bradbury is the reason I wanted to become a writer.  His work is strange and wonderful, ugly and scary, all at the same time, while still preserving the humanity of the characters in lyrical prose.  Writing in that style is a consummation devoutly to be wish'd but a good deal harder and more complicated than reading it would lead you to believe.  Of course, Fred Astaire makes dancing look easy, too. However, dreams are always good things to strive for, and I keep working on my word painting skills.
I have to give Uncle Stevie credit, too.  'Salem's Lot was the first book of his that I read, and afterward, I closed it and said, "I want to write a book like that!" His work is so accessible, so authentic, that his characters just swoop off the pages and threaten the reader with long, pointy teeth. Yow.
Shirley Jackson also must be acknowledged as an influence.  I think The Haunting of Hill House is probably, bar none, the most outstanding horror novella in the history of the genre.  I read it at least once a year.
And Poe, of course. Ah, yes.  Of course.  'The Raven' is my favorite poem—as written as well as to be used in parody writing.
I think what a writer decides to write, and which genre is chosen ultimately depends upon whose work he or she admires the most. Early influences should never be underestimated.
—
Gothic Revival
Carson Buckingham
Alex and Leo Renfield are a husband and wife contractor team who've recently moved to the village of Woodhaven, Connecticut to escape the chaos of life in New York. Pretty close to broke, they meet Theodora Hamilton, a somewhat unsavory and odd individual, who offers them an astronomical amount of money to repaint the first floor of her family home.
But along with the huge paycheck comes a set of unsettling rules that must be followed explicitly if they are to accept the offer; one of which is they must reside on the property having no direct contact with the outside world until the job is complete.
Is Theodora Hamilton just an eccentric woman with a peculiar way of doing things, or is there a more sinister agenda that Alex and Leo are unaware of? What exactly does she have in store for this down-on-their-luck couple who have no choice but to accept the offer and the strange requirements that come along with it?
Gothic Revival can be found online at major retailers including:
Amazon:
US | UK | Canada | Australia | Germany | France | Italy | Spain | Japan | Mexico | India | Brazil
***
ABOUT THE AUTHOR: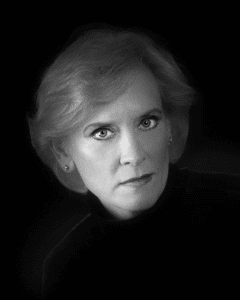 Carson Buckingham knew from childhood that she wanted to be a writer, and began, at age six, by writing books of her own, hand-drawing covers, and selling them to any family member who would pay (usually a gum ball) for what she referred to as "classic literature." When she ran out of relatives, she came to the conclusion that there was no real money to be made in self-publishing, so she studied writing and read voraciously for the next eighteen years, while simultaneously collecting enough rejection slips to re-paper her living room… twice.
When her landlord chucked her out for, in his words, "making the apartment into one hell of a downer," she redoubled her efforts and collected four times the rejection slips in half the time, single-handedly causing the first paper shortage in U.S. history.
But she persevered, improved greatly over the years, and here we are.
Carson Buckingham has been a professional proofreader, editor, newspaper reporter, copywriter, technical writer, comedy writer, humorist, and fiction author. Besides writing, she loves to read and work in her vegetable garden. She lives in the United States in the state of Arizona.
***
There's also a tour wide giveaway!
You could win 1 of 5 digital copies of Gothic Revival by Carson Buckingham!
About the Author
Latest Posts
Stuart Conover is a father, husband, published author, blogger, geek, entrepreneur, horror fanatic, and runs a few websites including Horror Tree!