Epeolatry Book Review: When Other People Saw Us, They Saw The Dead Edited by Lauren T. Davila


Disclosure:
Our reviews may contain affiliate links. If you purchase something through the links in this article we may receive a small commission or referral fee. This happens without any additional cost to you.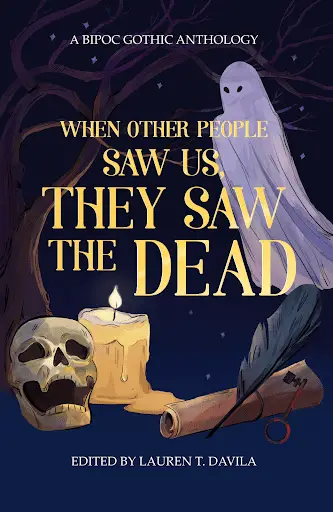 Title: When Other People Saw Us, They Saw The Dead
Editor: Lauren T. Davila
Publisher: Haunt Publishing
Genre: Gothic
Release Date: May, 2022
Synopsis: A faceless man stalks a woman's nightmares in Hollywood. A Kanontsistóntie is summoned to seek revenge in a monastery. A move from the projects to Manhattan leads to ominous shadows closing in. Two sisters discover a secret room in their farm, unearthing a sinister power.
When Other People Saw Us, They Saw the Dead is an anthology of dark, unsettling writing from some of the most exciting contemporary BIPOC writers. Blending Gothic, horror, folklore, fantasy and fairy-tale, these eerie short stories will disturb, move and humour you. Death is ever-present in the pages of They Saw the Dead, blending with notions of home, memory, grief and belonging, as well as gentrification, white supremacy and colonisation.
Edited by Lauren T. Davila, They Saw the Dead explores what it is to be truly haunted.
What comes to your mind when gothic is used to describe a story? Ghosts? Creaking mansions? A villain and a damsel in distress? The genre has deep roots in Europe with the likes of Radcliffe, Shelley, and Stoker and has throughout time been culturally dominated by white, masculine society. Well, no longer! When Other People Saw Us, They Saw the Dead is a diverse anthology by writers defined broadly as BIPOC (Black, Indigenous and People of Colour). I love gothic literature and was excited to see from these writers' perspectives and perhaps learn something from their cultures.
Before I even reached the first story, the anthology began with content warnings. Each story was organised alphabetically as well as organised by each warning, so there was no way to miss it or be confused by the content. This was a delight to my eyes and I'm sure will be a great guide for readers with any sensitivities such as racism, sexual assault, violence, colonialism and slavery. It started the anthology's tone for all-inclusivity.
My expectations were high and perhaps were too high. 'Acheron's Lesson' by Adam Ma began the anthology with a grieving tale set on a river journey. The narrator's emotions were delicately fragile and conveyed well, but if it had not been titled 'Archeon's Lesson' I would not have linked it to Greek Mythology which is a topic I enjoy immensely. Perhaps this was Ma's intention but I felt it was missing a chance here. The next story 'Sight' by Shakira Savage was shorter by comparison and followed the character Eres shopping at a supermarket and bumping into his neighbour. It read well, but the plot was obvious and I felt it could have stood out more rather than with the whole 'I see dead people' storyline. 
As you can imagine by this time, I was not impressed, frustrated, and had to take a break, but I returned and things turned brighter. 'Clockwork' by Desiree Rodriguez weaves a first person narrative of a new bride settling in her husband's home but she then starts to see a lonely pale figure. Rodriguez impressed me by keeping me on my toes, building up suspense, making me suspect a ghost was haunting the bride and then shocking me with a well structured twist of an ending. 
The rest of the anthology continued in a similar nature. Some I disliked like 'The Mountain Air' by Nisha Addleman where a young couple goes on a holiday up into the mountains and becomes friends with another couple. The beginning irked me with its happy couples and upon reflection perhaps this was intentional with the exaggerated smiles and multiple exclamation marks. The characters felt like they were from a film with no inner depths, so when they committed horrific deeds, I was not repulsed by them. 
Also, there was 'What the Wind Brought With It' by Margaret Elysia Garcia where the teenager Pilar discovered a burlap sack on her doorstep and a family secret is revealed to her. Now I really really wanted to like this because it delves into witchcraft, but with some direct speech I felt to be ill-suited at times for one character (perhaps there was a mix up between all three female characters?) and description also lacked; I didn't feel the urge to read it again.
There were however others that stood out from the rest such as 'The Guilt of Rosalino' by Gerardo J. Mercado Hernandez which takes place in Puerto Rico where an old man Rosalino is distressed by an invader named Bill Jacobs who wants his land. The setting has amazingly detailed descriptions throughout the entire story. There are so many cultural references and there are little breaks in between the main plot to tell a relevant folktale. The wonderful structure sticks to gothic elements while looking at both sides of colonialism with two opposing characters.
Another that stood out for me was 'The Ghost of Creek Hill' by Aliya Chaudhry. It was about a narrator, who seems to be nameless, and who is fascinated by a local history story. As they research it, they discover that facts about how the ghost dies change as they too grow up. It is deliciously morbid and written with extracts from books about the local legend like Dracula did with extracts from journals which I feel makes it feel more realistic. The narrator shows their humanity by asking questions to themselves and keeps picking at the concept of death and the concept of a ghost piece by piece as the story unfolds. 
To end this anthology was 'Every Soul Will Taste Death' by Marwa Sarraj. Ismail lives alone or so it seems to outsiders. Ismail can see spirits and the plot develops about how he learns to let go and how he can grieve. It is a beautiful flowing structure that may bring a tear to your eye. It explores fully the pros and cons of having a supernatural gift such as isolation and loneliness.               
Out of the twenty-four stories, I thoroughly enjoyed twelve of them. This anthology didn't start well for me but it definitely ended on a higher note. An inspiration that made me reflect on what gothic is and that the genre can be perceived by anyone to be individualistic and unparalleled. Yes, there were some stories that left me frowning, but it is still worth a read. Many will send shivers down your spine and raise goosebumps along your arm. If you enjoy gothic as much as I do, I recommend a read with a hot drink in your reading chair, wrapped in a blanket, alone, and at night.

/5
About the Author
Latest Posts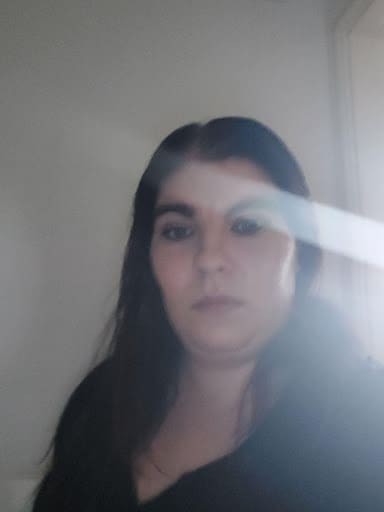 Corinne Pollard is a new disabled horror writer from West Yorkshire, UK with published works in Sirens Call eZine and Trembling with Fear. With a degree in English Lit and Creative Writing, Corinne has always enjoyed the world of dark fantasy. Aside from writing, Corinne enjoys metal music, visits to graveyards and shopping for books to read. 
Twitter: @CorinnePWriter