Epeolatry Book Review: Trigger Warning: Speaking Ill, ed. John Baltisberger


Disclosure:
Our reviews may contain affiliate links. If you purchase something through the links in this article we may receive a small commission or referral fee. This happens without any additional cost to you.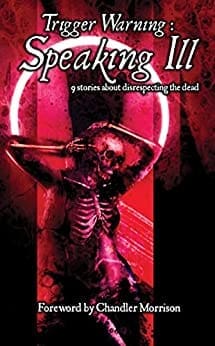 Title: Trigger Warning: Speaking Ill
Author: Various, ed. John Baltisberger
Publisher: Madness Heart Press
Genre: Horror
Release Date: 11th February, 2022
Synopsis:"Death canonizes even the most awful of us. No one will speak ill of you when the dirt is still fresh upon your grave. It's only once the grass starts to grow that everyone remembers what a piece of shit you were."
–Chandler Morrison, Hate to Feel
What are we doing when we refused to engage the dead in our stories, in our horror? Are we respecting them? Or are we forgetting them and condemning their memory to oblivion?
We at Madness Heart Press contend that the only way to truly respect those who are gone is to fully engage them with the disrespect they are due.
Through strange, terrifying, and disgusting horror, these 9 authors ensure that death is no safe space. No corpse will escape their due through death, but will instead be allotted the full measure of what our authors have in store.
This is your trigger warning.
When editor John Baltisberger set about to curate a cohesive set of tales certain to both shock and awe readers, he could not have chosen a better story to unpack the anthology. "Stay with Me: A Love Story" opens with its unnamed narrator ejaculating onto the chest of his lover's corpse. "In life, Jennifer had no objection to finishing our lovemaking sessions in this way. In death, she objects even less. I used to have the decency to wipe her down, and now I have to. The combination of my own fluids and the baby oil mixed with the makeup I spent so long applying causes it to run, revealing the greyish hue of old skin beneath." 
If you've decided to continue reading after that, you're both Trigger Warning: Speaking Ill's target audience and in for a real treat. P.J. Blakey-Novis' necrophilic tale soon transforms into a tilt-a-whirl of turbulent madness, full of smartly constructed tongue-in-cheek anecdotes that casually side-eye society's lack of inquiry into the intended use of detailed YouTube videos on embalming or a layman's order of "ethanol, syringes, gauze, and other medical supplies." "Stay" is creepy, amusing, and boasts a delightfully disturbing ending to boot.
For those readers trapped in the monotony of working "stuffed in a corporate box," C.M. Saunders' "Eeva" revisits the youthful excitement and nostalgic novelty of strange desires. The narrator receives a friend request from a woman he knew briefly in college. Most of his social media inquiries are from "obviously-fake catfish accounts made in the image of busty Russian beauties called Layla, or Filipino women who tell me they love me then ask me to buy them a new phone," but this notification piques his interest, and that's because Eeva isn't a textbook case of lost love. Hidden beneath her bohemic façade was a primal nature that went deeper than the narrator ever could have imagined. To reveal any more would be to spoil the climax, but be warned: readers should go forth with a strong stomach.
"Let's Cut Up Dad!" by Douglas Ford is one part dark comedy, one part cautionary tale on raising well-adjusted children. Sprinkled with sardonic winks, "Dad!" follows Lou Ellen and her younger sister Eunice after they discover their father stone cold dead, still standing erect at the kitchen counter. Convinced that a career in the FBI is in her future, Lou Ellen takes it upon herself to experiment on the body—for educational sake, of course—and the desecration of the corpse rapidly progresses from innocuous flesh wounds to much greater modifications involving power tools. "I didn't have to worry about blood. By now, the blood had settled down low in his legs. But I didn't anticipate the other thing. The gyrating blade sent wet chunks of decaying flesh flying everywhere, including the floor, the Formica, and even my face. So much got into my eyes that I could hardly see. Tiny bits got into my mouth too, and I accidentally swallowed them. They had the bitter taste of spoiled egg." Ford's contribution is zany as it gleefully skirts the edges of bizarro in the most delicious way possible.
On a similarly humorous note, Matt Henshaw's "Khilljoy Memorial Home" is a toast to gallows humor that reads like a kooky infomercial one might wake up to bleary-eyed at three o'clock in the morning. Among the services provided by this ground-breaking business are meals made from the deceased's harvested organs and preserved flesh mannequins of the late loved one when a framed photograph just won't do: "We will work with the bereaved to pose the body in whatever jaunty pose you choose—for the military man, perhaps a salute; for the man about the house, reclined with a frosty beer in their hand. We can even create a pose that would be impossible for the living to accommodate (joints bending opposite from their 'natural' state)." The section on the "conjugal services" offered as well as one describing a tribute involving a bagpipe are particularly twisted gems of morbid comedy.
Viewed as a whole work, Trigger Warning: Speaking Ill reminds one of a group of old college chums exchanging war stories around a reunion campfire: although each entry is vastly different from the others, the tales meld together in a merry cadence without ever dipping into dullness. Baltisberger has recruited a sagacious team of splatter raconteurs here, all with imaginations overflowing with sadistic (and at time, borderline psychotic) plotlines, and the result is a solid collection of extreme horror that might repel the easily offended but most definitely does not disappoint.


/5
About the Author
Latest Posts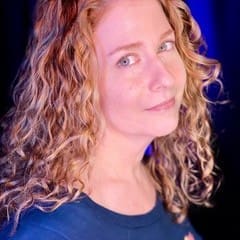 Rebecca Rowland is an award-winning dark fiction author and the best-selling editor of seven horror anthologies. Find links to her latest work on RowlandBooks.com, take a peek at what shiny object she's fixating on @Rebecca_Rowland_books on Instagram, or just look for her table at author conventions: she's that painfully awkward gal who can't sit still.