Epeolatry Book Review: The Kaiju Preservation Society by John Scalzi


Disclosure:
Our reviews may contain affiliate links. If you purchase something through the links in this article we may receive a small commission or referral fee. This happens without any additional cost to you.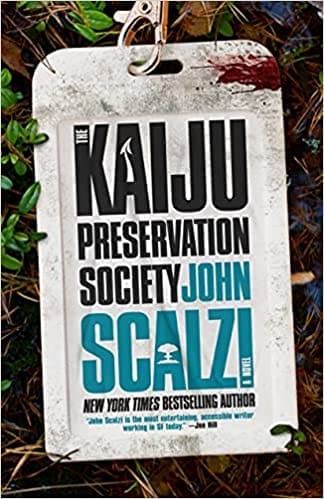 Title: The Kaiju Preservation Society
Author: John Scalzi
Genre: Sci-Fi
Publisher: Tor Books
Release Date: 15th Marich, 2022
Synopsis:The Kaiju Preservation Society is John Scalzi's first standalone adventure since the conclusion of his New York Times bestselling Interdependency trilogy.
When COVID-19 sweeps through New York City, Jamie Gray is stuck as a dead-end driver for food delivery apps. That is, until Jamie makes a delivery to an old acquaintance, Tom, who works at what he calls "an animal rights organization." Tom's team needs a last-minute grunt to handle things on their next field visit. Jamie, eager to do anything, immediately signs on.
What Tom doesn't tell Jamie is that the animals his team cares for are not here on Earth. Not our Earth, at at least. In an alternate dimension, massive dinosaur-like creatures named Kaiju roam a warm and human-free world. They're the universe's largest and most dangerous panda and they're in trouble.
It's not just the Kaiju Preservation Society whose found their way to the alternate world. Others have, too. And their carelessness could cause millions back on our Earth to die.
I think every kid of my generation still remembers seeing Jurassic Park for the first time. Every child goes through a dinosaur phase, and Spielberg's blockbuster adaptation of Michael Crichton's work triggered that phase in a whole population all at once. Even though I wasn't much of a reader at the time, I found a copy of the book and devoured it, enamored. I remember discovering all the differences from the movie (and the cool fractal pattern printed at the start of each chapter). Jurassic Park is a key moment in modern pop culture that reverberates through the entertainment industry today.
Another cultural icon, but from earlier generations, is Godzilla. I remember watching the classic Godzilla movies with my dad on weekends. (My favorite was always Godzilla vs. Mothra.) It wasn't until awhile after the Jurassic Park phenomenon that executives decided it was time for a reboot of the Godzilla franchise in the West. These attempts achieved box office success, but each seemed to fade within a couple years.
That is, until the most recent Western adaptations. Now we have the Godzilla movies put out by Legendary pictures flooding Western pop culture with Godzilla and kaiju awesomeness.
John Scalzi chose the perfect time to release The Kaiju Preservation Society, a real sci-fi romp. He perfectly captures all the things I loved about Jurassic Park back in the 90s along with the nostalgia of those classic kaiju flicks of the last sixty years. There is something for every sci-fi generation to love within the book.
This was my very first Scalzi book—I'd had a few of his books in my mountain of TBR for a long time. So, when the opportunity to read something new for review came up, I jumped. Plus, how could I pass on a title like The Kaiju Preservation Society? 
KPS is fast paced and filled with all the kaiju goodness you could hope for. I went in wanting massive monsters—Scalzi delivered. At times the story seemed a little dialogue heavy, but I got the feeling that was just his writing style. He used dialogue to amplify the differences between characters. At times, extra banter elicited a laugh.
My favorite bits were the fictional scientific explanations. Scalzi shared just enough technical stuff without it feeling like an information dump. And I loved the idea of parasitic ventilation systems.
Though the novel was about fictional beasts, I found it extremely relatable, especially considering COVID and how it changed our world. COVID played a huge part in the tale's background. I loved Scalzi's witty takes on how lives have changed, for better or worse, in the face of this pandemic.
Overall, The Kaiju Preservation Society is like a wittier take on Jurassic Park, but with kaijus! What more could you ask for?

About the Author
Latest Posts
Joe lives with his wife and son in the Pacific Northwest where the Cascade Mountains meet the Salish Sea. He enjoys writing in the weird, horror, and fantasy genres.
Growing up he enjoyed R. L. Stine's Goosebumps books as well as classics like Dune, and Lord of the Rings. In college he discovered Stephen King, and later Mark Danielewski's House of Leaves and authors like Clive Barker and Laird Barron.
Joe's short story, 'Gustav Floats', was published in Dim Shores Presents Volume 2. In the spring of 2021 his story, 'The Pigeon Lied' comes out in Howls From Hell.
You can follow Joe on the following social media sites:
Twitter, Good Reads, Facebook, and Instagram!