Epeolatry Book Review: From the Neck Up and Other Stories by Aliya Whiteley


Disclosure:
Our reviews may contain affiliate links. If you purchase something through the links in this article we may receive a small commission or referral fee. This happens without any additional cost to you.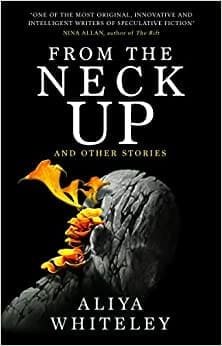 Title: From the Neck Up and Other Stories
Author: Aliya Whiteley
Genre: Sci-Fi, Fantasy
Publisher: Titan Books
Release Date: Sept 14th, 2021
Synopsis: The new collection of beautiful, strange and disarming short stories from the award-winning author of The Beauty, Clarke Award nominee The Loosening Skin and The Arrival of Missives, Aliya Whiteley. In 16 stories Whiteley deftly unpeels the strangeness of everyday life through beguiling gardens, rebellious bodies and journeys across familiar worlds, with her trademark wit and compassion. 
Witness the future of farming in a new Ice Age, or the artist bringing life to glass; the many-eyed monsters we carry and the secret cities inside our bodies; the alien invasion through our language to the Chantress and her twists on the fairy tale. Fascinating and always unexpected, Whiteley is unlike any other writer working today.
A prolific novelist, shortlisted for various fantasy and SF Awards, Aliya Whiteley is a writer very hard to classify and totally unpredictable, as clearly demonstrated by this collection of short stories. She's certainly endowed with a powerful, versatile imagination able to produce dark stories, often in a surrealistic vein. Fine examples are "Many-eyed Monsters" a bizarre, enjoyable tale where little monsters  expelled by human bodies try to attach themselves to their skin.
 "Three Love Letters From an Unrepeatable Garden" is about a delicate flower with a mesmerizing smell which must be kept inside a glass box to save it from wilting and dying.
"Corwick Grows" is a perceptive but puzzling story told by a man laying in a hospital bed, while
"Blessings Erupt" is an offbeat piece featuring a woman removing cancers from sick people by sucking them out and eating them.
The best stories, perhaps, are "Loves of the Long Dead", a splendid, quite original dark fable  taking the reader on a wild ride from ancient Egypt across the centuries. "Reflection, Refraction, Dispersion" is a strange story about a paranormal phenomenon affecting the lives of a young woman and her father.
A "different" collection by a "different", gifted author.

 out of 5 ravens
About the Author
Latest Posts
Mario Guslandi was born in Milan, Italy, where he currently lives. A long time fan of dark fiction (especially short stories)he's probably the only Italian who reviews horror and supernatural tales in English. Over the years his reviews have appeared in many genre sites such as Horrorworld, The British Fantasy Society, Hellnotes, Emerald City, SF Revu, Thirteen O' Clock, etc.