Book Review: August's Eyes by Glenn Rolfe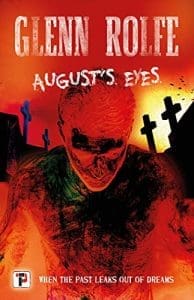 TW/CW: Pedophilia, child abuse, Taphephobia, kidnapping, child murder, alcoholism, homophobia, reference to miscarriage, Transphobia, Arachnophobia, Suicide, and emotional abuse.
Disclaimer: This article contains affiliate links. If you purchase something through the links in this article we may receive a small commission or referral fee. This happens without any additional cost to you.
Spears Corner, Maine may be one of the evilest places on Earth. The small town is the birthplace of the "Ghoul of Wisconsin", a pedophilic kidnapper/serial killer who would give John Wayne Gacy a run for his money. It also has a bloody history of Native American genocide when white colonists came to take their land for settlement. Boasting twelve cemeteries, you could say that the town is well acquainted with death.

In 1994, 14-year-old Johnny Colby witnesses a horrific incident and immediately blocks it out in self-preservation.
Decades later, nightmares about young boys hanging around a graveyard are wreaking havoc on social worker John Colby's life—he's barely sleeping, his wife is concerned, and his boss is on his case about his slipping job performance. John is taunted by one known as August during these nightmares. August seems to know John, but John doesn't recognize him. All John knows is that the boys of "Graveyard Land" want to make a permanent place for him.
Soon, his nightmares bleed over into his daily life, and he begins seeing August while awake. When August begins to target his loved ones, John must confront his past to see if there is a connection to the torment they are facing.
This was a fun read for me as I had never read a story of Glenn Rolfe's before this one. It is an engrossing coming-of-age story that gave me strong Stephen King-like vibes. I loved the world-building and the nods not only to pop culture but also all the name-dropping of other authors that Rolfe included. Most of all, I loved the character of Patrick in the story. He is the true hero of this story in my eyes.
While there were some creepy elements, such including spiders heavily in the story, I didn't have any big scares. The scariest part of the story is that the "monster" of the story is human—a serial killer with pedophilic tendencies. There are sections of this book that describe the sexual assault of the victims of the serial killer that were especially uncomfortable to read and nearly led me to DNF (not finish) this book. The story does pay off and I'm glad that I stuck with it to see the end result.
4/5 Ravens


Many thanks to #NetGalley and #FlameTreePress for providing me with an eARC of this book to read and review, in exchange for my honest opinion. All thoughts and opinions are my own.
August's Eyes is available on Amazon and Bookshop
Reviewer Bio:
Brandi Guarino is a voracious reader and has a To Be Read list that never ends. She is passionate and committed to championing the work of independent writers and publishers in horror, science fiction, and fantasy.
She is on Twitter at @bgbibliophile
And Instagram at www.instagram.com/brandi_the_bibliophile.
About the Author
Latest Posts
The Horror Tree is a resource for horror authors which was created in 2011. The main goal when starting the site was to include all of the latest horror anthologies and publishers that are taking paying submissions. A resource useful for both new and experienced publishers alike looking for an outlet for their written material!