An Interview With Michelle River of Eerie River Publishing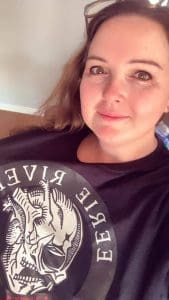 Hi Michelle, can you tell us a little bit about yourself and Eerie River Publishing?
My name is Michelle and I am about 90% black coffee (mostly room temperature) and 10% tsunami. Which is a lot like Eerie River Publishing. A caffeinated force pushing itself forward regardless of the obstacles in its path. I have always been a huge horror fan, from the moment that my sister and I watched Dolls in our cousins basement when we were way too young, to the late night horror movie sessions as teenagers, to the family (yes family) seances in my parents house as a young adult. The dark and macabre have sung my name and the sound was sweet to my ears. I didn't always know I wanted to write horror, but it has been a huge part of my life for so long it only made sense that I find myself here in the end. Or the beginning, as it were. 
Eerie River, is a small publishing house that publishes anthologies of horror and dark fantasy. This year we also began to release single author novels, starting with SENTINEL by Drew Starling, which just came out May 14th. 
In June we are also opening our submission windows for horror novels and novellas, which is really exciting!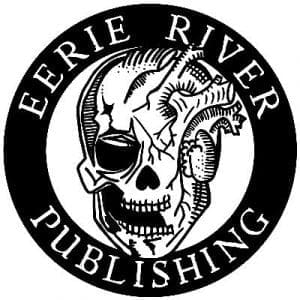 How long have you been operating? Technically Eerie River began in September 2019, when I published Storming Area 51 with some indie author friends. However, we didn't open our doors to public calls until December of that year. 
Your background? This is the first time I have ventured into the publishing world. Before this I worked a variety of jobs from photographer to insurance broker and a few others in between. 
Your mission? My mission is really simple. Eerie River is devoted to offering indie authors paid writing opportunities and releasing high-quality works in horror, dark fantasy and dark fiction.
From the moment I opened the doors I have made it my mission to pay for every single story I print outside of drabbles. That means every word I publish, be it on our website or in print books, has been paid for. I do this because I wholeheartedly believe that indie authors, like all artists, should be paid for their work. 
This is also the reason that I do not release more than one drabble collection a year. If the project can't pay you, I don't want to do it. 
What do you seek to achieve?
I have a few things I would love to achieve … and then things that are more reality based current goals and future goals. 
I think any publisher that doesn't dream of discovering the next "Stephen King" (and I am only using him as an example because everyone knows his name), is either lying to themselves or you. That is the dream achievement. But in reality my main goal is to do a little better than break even and be able to help publish and showcase art that I truly love. 
My ultimate future goal is to be able to offer profesional rates to our authors.  I strive for that level of success not only for us but our authors are well.  Am I paying professional rates now? Nope. However, I am trying my darndest.I will get there sooner than I think, if you believe some of my cheerleaders. 
What compelled you to start an indie publishing press?
I have a personality that enjoys running multiple projects at once. I love art and being creative, formatting, and web designing. Most importantly I love writing a lot. I loved it when I was putting together Storming Area 51 in 2019 with Andy, Alanna, Ben and Zane. Being the project manager felt like coming home. It took all the things that I loved, the bits and pieces of all the jobs I have done and put them together.
It was then I realized I wanted to do more than just that one book. I wanted to build something. Make something from scratch that I would be proud of and a place that I, as an indie author, would be excited to submit to. I wanted to showcase books that people could be proud of displaying and I wanted to pay my authors.  
As someone who is a fairly new publisher on the indie horror scene, is there anything you wish you knew before embarking on this entrepreneurial journey?
I wish I knew how much time it would take to read through all the submitted stories . A part of that though is the phenomenal reception we got with our first calls "It Calls From The Forest". I had expected a specific number of stories to come in by the end of the call date and we surpassed that call within a month. Then we doubled it and doubled it again. To say I was floored would be an understatement. I was reading morning, noon and night. Which was really difficult with a toddler, but I somehow managed (see coffee).
The other part I wish I knew was how personal I would take writing rejections. Especially to authors that I have a friendship with. I had been on the other end of those rejection emails before so writing them was strangely difficult and awkward at times. 
Are there particular things you look for in a story when choosing manuscripts from an open call?
Great writing, relatable characters, emotional connections and horror! I want to ride a rollercoaster of emotions and taste the bitterness of the moment in every story. For me, I am looking for scary horror. Not necessarily gruesome or grotesque – although I do love that in horror when it is called for – but horror that takes my breath away. Horror that makes me fear the shadows in my own home and walk quicker when I am alone outside. I want to see it and feel it with all my senses. Show me the fear, don't tell me I am scared.  Especially for novels and novellas. 
It's my opinion that there is an incredible amount of talent in the indie market and a growing number of impressive organizations representing writers. What sets Eerie River apart from other indie presses? 
That's a tough one. For one, they don't all have me. I'm just kidding. I think there are a lot of outstanding indie horror presses out there. They are continuously putting out hard hitting horror, fantastic covers and great authors. 
However,I think Eerie has some great things going for it. We support our authors as hard as we can with graphics, launch events, interviews, and just about anything else we can come up with. We are also starting a writing series where we chat with authors and experts once a month. Last month we did a chat with reviewers and I hope to expand on that idea soon. 
We are active on almost all social media outlets, getting eyes on our authors and our books. We also have a wonderful supportive author group that honestly cheers us on. 
I know the struggles of juggling projects and wanting to take on more than I can handle. The excitement of managing a business and continually working to scale is all consuming. What are some things you desperately want to do but find difficult to manage as a small business owner? Is there something you do particularly well?
I desperately want to do more live events and even branch into podcasts with our authors. I love the live readings, I love chatting with people and getting their insight into how they write and their inspirations. It is something I am trying to do more of but there are only so many hours in a day. I have a thousand ideas and only enough time for about two-hundred of them. It is tough not jumping onto every idea and I have learnt the hard way, a few times over the last year, that I should not  overextend myself, or promise too much. Time management and juggling what I can do and what I am not ready for is a hard balance.
I am personally really proud of the way our books turn out. Not just the quality of writing, because that is fantastic, but the layout and formatting of the book. It is a silly thing to be proud of but I am. I painstakingly format each book myself and do my best to make them something that would be proud to give to a friend or see displayed on a library shelf. 
As someone who publishes in other genres like fantasy, is there a big difference in the markets? 
Yes. Huge. Which is something I am also learning. Dark fantasy does slightly overlap, but the followers are so much different than horror readers. They want something different in blurbs, covers, and the overall feel. It has been an interesting learning curve. 
What is one of the hardest lessons you've learned as a small press publisher, specifically in the horror genre? 
Marketing. Full stop. Marketing is the hardest thing any indie author and publisher can do. There are thousands of horror anthologies, short stories, novels and novellas published every year. How do you make your book stand out? How do you carve your little piece of the bloody pie? Marketing.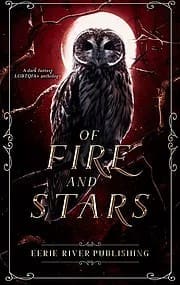 What are you currently working on? What do you have coming out that you're excited for readers to see?
For authors we have a couple projects of interest:
We have an open call in dark fantasy opening June 1. Theme: The dark side of the fae world and its creatures. We are looking for LGBTQIA+ characters to be featured within the story itself. Who can submit? This anthology is open to everyone.
In horror, we are opening our submission window for novels and novellas June 16 – July 16. 
Then in September we have another call for horror stories in It Calls from the Veil, which is all about ghost stories.
We have a lot coming up this year in terms of releases:
We are currently in the midst of releasing a post apocalyptic novella mini-series called AFTER. This collection features eight stories that take place a few generations after a cataclysmic event almost wipes out the human population. Each story takes on a different event and different theme, which is exciting to read together. 
The first two in the series have already been released, Derelict by T.M. Brown and A Place Beyond the Storm by David Green. Our next release is coming in June called Quantum Rule, but Jay Sandlin, who is known for his comic and graphic novel works. 
In June we have In Solitude's Shadow, a dark fantasy novella series by David Green being launched. 
What is the one thing you want authors to know about Eerie River? Why should you represent them? 
I want them to know that Eerie River is a great option for their stories. We may be small but we are mighty. My team of editors, readers, authors, and friends work diligently to promote, encourage, and support each and every book we release. The Eerie River family is growing and we would love for them to be a part of it. 
Andrew Fowlow, "The Book Dad", is a voracious reader and reviewer of horror fiction. His reviews and drabbles can be found on various sites including Night Worms, Horror DNA, and LitReactor. When he's not reading and writing, Andrew also curates an indie horror promotion site called Horror Oasis.

 

Sign up for his weekly newsletter for free books, giveaways and incredible articles by genre enthusiasts.
Sign up for our Newsletter
Never miss a post from our team by signing up!