The Horror Tree Presents… An Interview With Pat Cadigan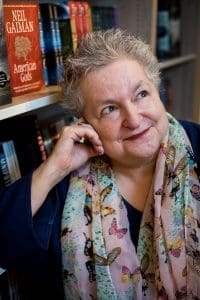 Today we have the quite prolific Pat Cadigan joining us for an interview. Her most recent work, which we'll be reviewing soon, is handling the novelization of 'Alien 3: The Unproduced Screenplay' by William Gibson. As a HUGE fan of the Alien franchise this is something that I am extremely excited about. However, she's also done a slew of works that I've read over the years so am personally a bit excited for this interview. She is responsible for the classic Deadpan Allie series which is must-read in my opinion and also handled both the movie novelization and prequel of the live-action take on 'Alita: Battle Angel' which is a manga and anime I'm well-versed in.
Pat, thank you for joining our readers today, I'm absolutely thrilled to have you today! First off, if you could do a quick introduction for those who are unfamiliar with your work? (Our readers are a full mix of the speculative fiction genre and some don't stray from our namesake of horror.)
PC: Well…I've been at this for over forty years. My short fiction includes sf, fantasy, horror, and whatever. My original novels are all hard science fiction, although I've also written two nonfiction books—The Making of Lost In Space and The Resurrection of the Mummy (another making-of book for the 1999 version)—as well as a number of tie-ins and novelisations. And I've won some awards. 😉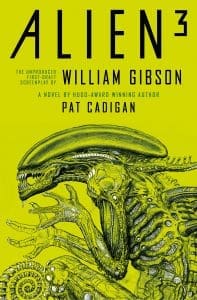 Your latest work from Titan is Alien 3: The Unproduced Screenplay. How familiar were you with the Alien franchise before jumping into adapting this screenplay?
PC: I was a big fan of Alien and Aliens—despite the plot-holes, it was a real pleasure to see women and men working as true equals in both movies. 
William Gibson has a huge fanbase as does the Alien franchise. When bringing this story to life did you feel that you needed to appease either of these or just do the manuscript itself justice? 
PC: 'Appease' is not the word I'd use. William Gibson and I have been friends for almost forty years. I discovered we both had the same favourite characters—Ripley and Bishop—so I felt like we were on the same wavelength. I wanted to honour our friendship as well as him as the brilliant, creative mind that he is. As for the Aliens fanbase—well, I don't know what to say about that. I was focused on writing something true to the spirit of the first two movies since those were the only two movies in existence when Bill wrote his script, and Aliens in particular because Hicks and Bishop were central to the script.
When bringing the screenplay to life, were you able to add any significant details or personal touches that you can share?
PC: I added a lot of things—I didn't change the story or any of the main characters but I did update the technology. And when you write a novelisation, you have to add things because one picture really is worth a thousand words. Things on scene can be conveyed on screen in a few seconds via facial expressions and/or background music—you have to paint the same picture in words, and you have to show, not tell, to keep the narrative moving.
You've adapted a variety of screenplays now. Which has been your favorite to do and what kind of research, if any, do you call upon when working on the novelizations?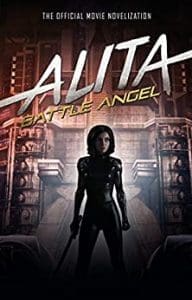 PC: My favourite novelisation is always the one I'm working on, or have just finished.;-) I've been fortunate in that the last few novelisations/tie-ins have been drawn from material I was already familiar with. E.g.,  my son and I used to read the Battle Angel Alita manga when he was a little boy, and we used to watch Batman: The Animated Series together before he went to school in the morning. I try to get as much material as possible from the studio, so I can envision the settings, the actors, how they move, what they sound like, and so forth.
As a huge fan of short stories, it would be remiss of me not to ask, do you have any plans in putting out another short story collection? 
PC: Stay tuned. 😉 I can say no more.
Okay. Cyberpunk. I'm sorry but as you know that you've been given the title of the Queen of Cyberpunk you knew it was coming. I hope you aren't sick to death of being asked about it and instead of focusing on your own expansion of the genre I'll go a different route and ask if you've heard or read anything new and interesting related to it as of late?
PC: We live in a cyberpunk world now, so writing cyberpunk as it was in the 1980s and early 1990s isn't possible any more. That doesn't mean cyberpunk is dead. It means cyberpunk was prescient. We never promised you flying cars or vacations on the Moon. We promised you a technological dystopia—how do you like it so far?
Earlier in your career, you edited the magazines Chacal and Shayol. Were there any others that you managed, or guest-edited on as well? Do the originals of either of these still exist and has there ever been talk of putting out a collected edition of them depending on rights ownership?
PC: Chacal and Shayol are the only magazines I ever edited. I know I have some original copies around here somewhere… Neither Arnie Fenner nor I have any plans to republish them—we're both kinda busy these days. 😉
When attending the University of Kansas, you studied under Prof. James Gunn. Do you have any fun tidbits to share about this science fiction icon?
PC: Jim Gunn was a wonderful teacher. I model my own teaching on him whenever I teach workshops. This means giving guidance and criticism in such a way that the person on the receiving end wants to listen to what you're saying—to address the work and the writer with respect as well as honesty.
You've won the Arthur C. Clarke Award, the Locus Award, a Hugo, and more! Which of these are you most proud of, which work was it for, and why does it mean so much to you?
PC: That's like asking a mother to tell you which of her children is her favourite.;-) I take pride in all the awards I've had the great good fortune to win. Frankly, even just being nominated feels like an award to me, whether I win or not.
Thank you so much for your time today. You truly are an inspiration. In closing, is there anything that you would like to share?
PC: Well, I'm not dead yet, which means it's a good day. Every day above ground is a good day. 😉
About the Author
Latest Posts
Stuart Conover is a father, husband, published author, blogger, geek, entrepreneur, horror fanatic, and runs a few websites including Horror Tree!