3 Writing Tips From Famous Horror Authors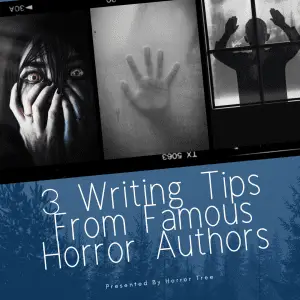 3 Writing Tips From Famous Horror Authors
By: Frank Hamilton
Do you like writing or reading about things that can shake everyone to the core? Then you are at the right place. In today's article, we are combining 3 of the most essential tips to help you understand what makes a good horror story. If you are as excited as we are, let's read further!

1. Write about common fears
Are you afraid of anything? Obviously, you are. You can claim dozens of times how courageous and fearless you are but it is all self-deceit. Terrifying serpents, creepy closed spaces, a severe fear of heights? Every one of us, including you and your future book readers, have one. So, try to toy around with tapping into one or a combination of a few. 
Instinctive fobias
Horror films exacerbate common human phobias. Fear is an extremely powerful emotion since it is physiologically responsible for the safety and preservation of our own life. It is aimed at protecting us from death and understanding how to withstand the stress throughout the film
Horror stories show all kinds of threats to our life. For example, two common fears are often used on the screen – darkness, and persecution. The viewer is non-stop ready for danger – and it is not known which one. It is our or their own.
Monsters and supernatural beings
The next most common fear goes beyond real and logical and rather something imaginative in one's head. Many writers enjoy writing horror stories with vampires, werewolves, and ghosts. 
Thus, readers become scared in the first place because they get used to the role of the main character of the horror. And this is no longer some creepy story alien to them. It is as if they themselves are at the door of this ill-fated basement, where they definitely should not go down. Even R.L. Stine used the same tip in the horror cartoon for kids. That's what he shares with AdWeek: you need to get your narrator's head and eye. Everything that a person might hear, see, smell, or feel should make a reader understand, it is happening to him or her. 
By the way, if you are a fan of scary tales you can read from our "Trembling with Fear" line of original fiction.
2. Have an intriguing plot until the end
Uncertainty is also a technique. When we know what threatens us, we can think over a plan of action and get saved. When we don't know, fear intensifies, because we cannot prepare for something that is about to attack us.
If there are some unpredictable events that the main character experiences in the story, your readers will have an unexpected surge of different emotions. Catch the attention by writing a fascinating introduction, then keep the readers at the edge of their seat by describing the course of actions and events and only after that leave a pinch of thought-provoking ending.
Indeed, it is essential to know the right vocabulary and different collocations to write the story, yet without revealing the key idea. Here you can find a list of top 10 essay sites that can assist you in writing the scheme of your frightening book.
3. Have more than one idea
As a young novelist or even professional writer, we can all face the periods of blank pages when we are caught in a miserable feeling of what should be written next. Ramsey Campbell shares his thoughts on this for Horror Delve: "Always have a rough idea of your first paragraph before you sit down to write, and then you won't be trapped into fearing the blank page".
If finding some good ideas for your next chapters is a challenge for you, don't forget about the best dissertation writing services reviews. These guys can help you choose the greatest writing platform and address all your writing concerns. 
After all, no story is built with one incredible idea. Even if you write a horror story, there is no exception to this rule. Go into details of some occurrences or scenarios. Don't stick to one plan and develop a series of small stories that connect into one. 
Conclusion
Writing horror is a specificity and this is why the stories are so good. However, sometimes the tales don't work. The thing is that writers do not always comprehend what tips they need to use and how. 
Luckily, you spotted this article and have a first-hand understanding of what horror writing essentials are. So, good luck with your new scary piece of work. 
Frank Hamilton is a blogger and translator from Manchester. He is a professional writing expert in such topics as blogging, digital marketing and self-education. He also loves traveling and speaks Spanish, French, German and English.
About the Author
Latest Posts
The Horror Tree is a resource for horror authors which was created in 2011. The main goal when starting the site was to include all of the latest horror anthologies and publishers that are taking paying submissions. A resource useful for both new and experienced publishers alike looking for an outlet for their written material!