WiHM 12: Quick Six Questions With Kala Godin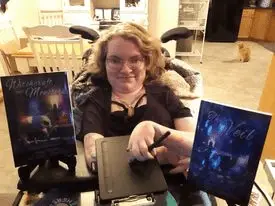 Welcome to The Horror Tree, and thank you for participating in Women In Horror Month. First, tell us a bit about yourself and your interest in horror.
I'm 23, physically disabled,and I typically write poetry. I didn't know that I was interested in writing horror until I worked on Teeth. Which was a short, multi-authored story. To be honest though, I didn't think I would be publishing poetry either. I knew I wanted to be an author, but I thought that I would be publishing YA fantasy.
Why is Women In Horror Month important, and what do you say to someone who says 'Oh, I don't care if it's by a man, a woman, etc., as long as it's a good story'?"
What do you think of when you imagine a horror writer? I imagine Jack Torrance from The Shining. Or better yet, the guy that wrote The Shining. Stephen King. You probably don't imagine a curly haired, 23 year old with very colorful tattoos, who uses a wheelchair. That's why WIHM is so important, so when we imagine horror writers, we see ourselves.
Good stories are important, but good stories can be written by all kinds of people. And we need to make room for their voices.
Who are some Women In Horror (or other women) who have influenced your work, and why?
I have most recently been inspired by Katrina Leno, specifically, her latest story called Horrid. Which is a blend of horror, psychological thriller, and paranormal.  I  like body horror, and was inspired by Wilder Girls by Rory Power. Both of these stories are young adult.
But I'm often inspired by Frankenstein by Mary Shelley. Specifically the concept of the monster not necessarily being the monster of the story. I like the Netflix adaptation of Haunting of Hill House. I am most often inspired by things around me though, little things, that people don't normally pick up.
2020 will probably be remembered as a TERRIBLE year for many of us; tell me something GOOD that happened in the past 12 months.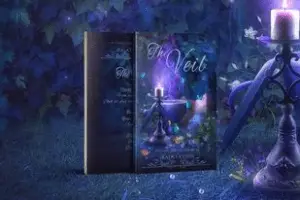 I wrote and published my second poetry collection!
What have you got planned for Women in Horror Month, and the coming months of 2021?
I hope to read a lot this year. And while I don't have any publishing goals for the year, I hope to get a few projects to the editing phase.
Is there anything else you'd like to tell our readers? Thanks for participating in Women in Horror Month!
Be yourself and stay spooky!
About the Author
Latest Posts
Selene MacLeod is a night operator and sometime writing hobbyist. She holds a BA in Communications from Wilfrid Laurier University and resides in Kitchener, Ontario. Her work has appeared in several horror and crime fiction anthologies, most recently Shotgun Honey, Drag Noir (Fox Spirit Books); and the upcoming Freakshow: Freakishly Fascinating Tales of Mystery and Suspense (Copper Pen Press), and Tragedy Queens (Clash Media).She's most excited about editing a charity anthology for Nocturnicorn Books called Anthem: A Tribute to Leonard Cohen, due out late 2017.