WiHM 12: Quick Six Questions With A. F. Stewart

Welcome to The Horror Tree, and thank you for participating in Women In Horror Month. First, tell us a bit about yourself and your interest in horror.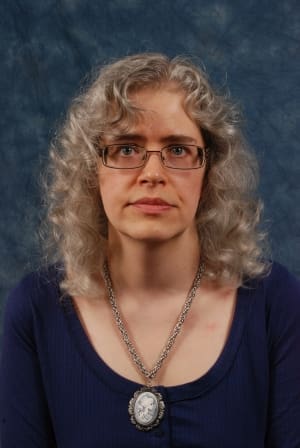 I'm from Nova Scotia Canada, and I write under the name A. F. Stewart. Most of my horror writing so far has been in short fiction, although I do have a novella out, with another in the works, and some darker fantasy novels as well. I prefer writing in the mythological, supernatural, or psychological side of horror, although I'm not shy about the body count or the gore if need be. I love exploring the darker side of human nature and mixing with things that go bump in the night. I also never set out to write horror, but I tried it one day and enjoyed it and I'm still creating mayhem.
Why is Women In Horror Month important, and what do you say to someone who says 'Oh, I don't care if it's by a man, a woman, etc., as long as it's a good story'?"
I think Women in Horror month is important because of the prevalent dismissive attitudes towards female writers. Personally, I hesitate to call my stuff paranormal in part because I'm female and the possible assumption about "oh, she must write romance". There's still this viewpoint that women cannot write dark and gritty, that we've all must pen fluffy love stories. As to what I'd say to 'Oh, I don't care if it's by a man, a woman, etc., as long as it's a good story', I'd reply, 'Good for you, I wish everyone felt that way.'
Who are some Women In Horror (or other women) who have influenced your work, and why?
I came into being a horror writer sideways, and I suppose my influences are a bit off genre as well. I take a great deal of my inspiration from mystery authors like Agatha Christie and Ruth Rendell. Agatha Christie knew the value of a good gruesome death in literature, and Ruth Rendell's short stories are some of the best psychological mind games written. That's probably why I like to write psychological horror stories scattered with the bodies.
2020 will probably be remembered as a TERRIBLE year for many of us; tell me something GOOD that happened in the past 12 months.
I rediscovered my artistic side and got back into drawing and creating graphic art. I haven't started painting again, but that's next on my list with some watercolours. I may even do some creative crafting, as I've been getting inspired by the artistic channels on YouTube like Darkest Raven Designs.
What have you got planned for Women in Horror Month, and the coming months of 2021?
This year, I'll be editing my horror novella, Shadows of the Dead, with hopes of getting it published later in 2021. That book was a bit of a surprise as it sort of tumbled out in a rush and took a curious turn into some erotic overtones (not a place I usually venture). Alas, I haven't anything special planned for Women in Horror Month, as I've been working on a new (non-writing) venture that's taken up a lot of my time, but I'll be posting a few bits of horror flash fiction this month.
Is there anything else you'd like to tell our readers? Thanks for participating in Women in Horror Month!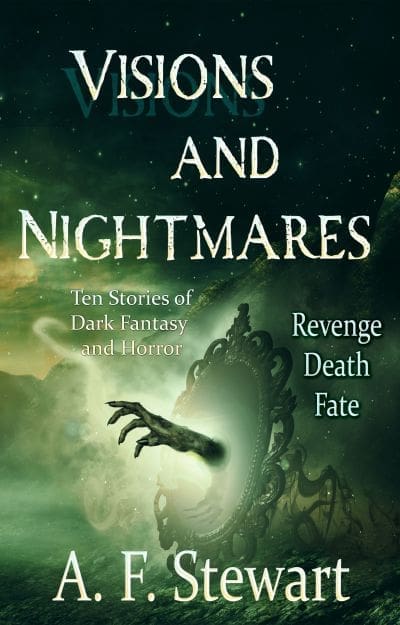 It was a pleasure to participate, and thank you for taking the time to do the interview. If your readers would like to check out my work, they can find some of my stories on Pen of the Damned, as well as most every month on Spreading the Writer's Word as part of the Ladies of Horror Flash Project. Also, my latest story collection, Visions and Nightmares, is available in Kindle Unlimited and look for Shadows of the Undead later this year (hopefully).
Author Bio:
A steadfast and proud sci-fi and fantasy geek, A. F. Stewart was born and raised in Nova Scotia, Canada and still calls it home. She favours the dark and deadly when writing but she has been known to venture into the light on occasion.
Links:
Twitter: https://twitter.com/scribe77
Facebook: https://www.facebook.com/afstewartauthor
Website: https://afstewart.ca/
About the Author
Latest Posts
Selene MacLeod is a night operator and sometime writing hobbyist. She holds a BA in Communications from Wilfrid Laurier University and resides in Kitchener, Ontario. Her work has appeared in several horror and crime fiction anthologies, most recently Shotgun Honey, Drag Noir (Fox Spirit Books); and the upcoming Freakshow: Freakishly Fascinating Tales of Mystery and Suspense (Copper Pen Press), and Tragedy Queens (Clash Media).She's most excited about editing a charity anthology for Nocturnicorn Books called Anthem: A Tribute to Leonard Cohen, due out late 2017.