UK GIVEAWAY – Enter To Win One Of Two Copies Of 'Leech' by Hiron Ennes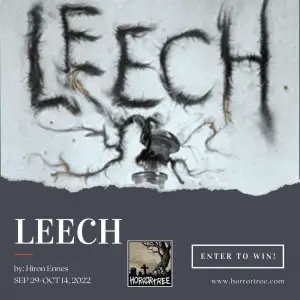 Today, we're thrilled to offer up two copies of 'Leech' by Hiron Ennes for our UK readers! Described as "A phenomenal debut and atmospheric Gothic triumph – a must for fans of Jeff VanderMeer, Tamsyn Muir, and Silvia Moreno-Garcia."
What is it about?
MEET THE CURE FOR THE HUMAN DISEASE
In an isolated chateau, as far north as north goes, the baron's doctor has died. The doctor's replacement has a mystery to solve: discovering how the Institute lost track of one of its many bodies.
For hundreds of years the Interprovincial Medical Institute has grown by taking root in young minds and shaping them into doctors, replacing every human practitioner of medicine. The Institute is here to help humanity, to cure and to cut, to cradle and protect the species from the apocalyptic horrors their ancestors unleashed.
In the frozen north, the Institute's body will discover a competitor for its rung at the top of the evolutionary ladder. A parasite is spreading through the baron's castle, already a dark pit of secrets, lies, violence, and fear. The two will make war on the battlefield of the body. Whichever wins, humanity will lose again.
This one is really easy to enter and we've got two physical copies up for grabs!
Enter to win below!
Advanced Reviews
'A wonderful new entry to Gothic science fiction, impeccably clever and atmospheric'- Tamsyn Muir
'Leech isn't like anything I've read before. Superb writing, interesting and fresh ideas, skilful execution. Highly recommended. I'll be reading anything Hiron Ennes writes from now on' – Tade Thompson
'What a unique book! Surprising turns and staggering ideas – all woven together by beautiful writing. This is one to remember' – Tim Lebbon
'I didn't know a book could perfectly convey the concept of a distributed intelligence, alive and aware of each of its proxies, but Leech is proof anything is possible in good hands' – Cassandra Khaw
About the Author
Latest Posts
Stuart Conover is a father, husband, published author, blogger, geek, entrepreneur, horror fanatic, and runs a few websites including Horror Tree!