Trembling With Fear 06/02/2019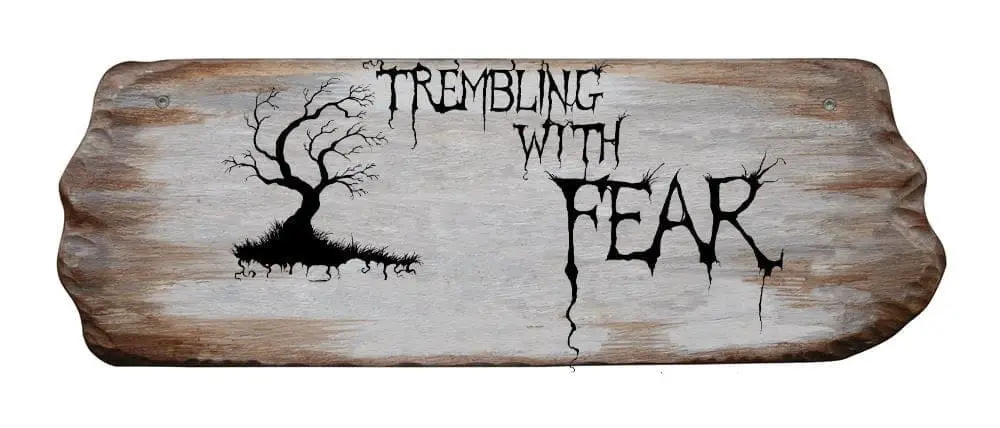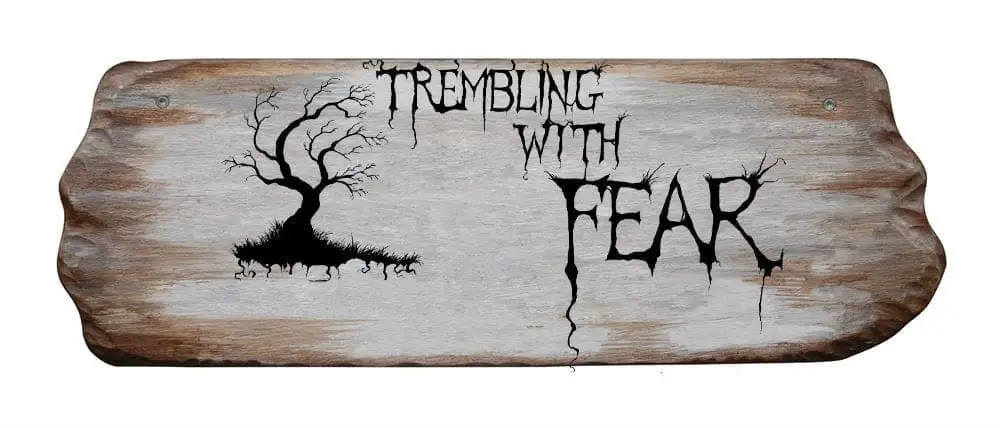 Man's history is scattered with instances of real horror. People and events who performed deeds you couldn't even dream up in your worst nightmares (see Remembrance below). My youngest went on a college trip to Auschwitz recently, sent me pictures, told me of what she saw, how she was affected. It was a trip we gladly supported, believing as strongly as we do that it is our duty to remember and ensure such a thing does not happen again. Amongst her anecdotes, she also described how others viewed the site. Most were respectful but she couldn't get over how some attended carrying glittery backpacks, wearing clothes and colours more suited to a fun day out than a visit to the site of one of history's most notorious war crimes. She also told me of people smiling for selfies on the railway tracks, turning someone else's suffering to their own attention-seeking ends. Has society really become that self-centred and self-obsessed? It makes me despair …
On a happier note, I've enjoyed my week off from school. I've been able to pace my writing and get a couple of short stories done, critiqued others, read a few books and reviewed them and still had time to watch a bit of tv, do a little housework AND start compiling the 2019 anthology!
Now to this week's stories:
Trembling With Fear's lead story this week is Like Mother … Like Son by Ruschelle Dillon examines the strength of the mother/son bond. No one is good enough for this woman's son and his closeness to his mother causes him to believe her, to accept that no girl was going to hang around for him, that they will all leave in the end … but do they? Great Hitchcockian (if that's a word) feel to this.
No Happy Endings by Arthur Unk brings us the Easter Bunny, that lovely cute fluffy creature which we all loved when we were little … and completely destroys the innocent image, coating it with alcoholic fumes and giving it a gun. It does not end well. An enjoyable noir subversion.
Remembrance by RJ Meldrum is horror in its real form, a reality which existed and which we humans created. Sometimes you don't need to make things up, only remind us of the dark deed's of man's past. Short, direct and hard-hitting.
Smile More by Kevin M. Folliard relentlessly forces you to read on with each repetition of the word 'Smile', it is at times protection, a mask and ultimately a bringer of death. The rhythm and repetition brings to mind the 'Choose Life' quote from Trainspotting.
It has been a bit of a crazy week! Outside of the huge project at my day job which still looms over all of my waking thoughts, we're closing in on the Trembling With Fear anthologies! Covers have been approved, things have started to be created on KDP for publishing, progress is being made! 
On top of this, I had a chance to give a first round set of edits on a story being worked on by one of our Patreons. It is a fun read and I'm looking forward to seeing where he is able to end up placing it as I'm pretty sure he'll be able to once it is finished! 
As always, we're open for more shorts, drabble, Unholy Trinities, serials, and more! 🙂 
Like Mother… Like Son
Momma kept me safe. She taught me to read and write among other things. She raised me to be a proper gentleman. A simple 'please' and 'thank you' kept me in God's good graces as well as Momma's.
Momma always said she was a good judge of character. She knew when my friends were using me. And they were always using me. When I brought a girl home, before she even stepped through the door into the living room Momma knew if she was dirty. She kept the dirty girls away.
My momma left me on a Wednesday. She was sick. For years momma hid it; using mascara and red lipstick to paint on a lovely face. I had inklings, but I could never bring myself to discuss it with her. Maybe part of me didn't want to know.
One evening, I peeked in her room and caught her washing specks of blood from her flushed cheeks and scrubbing the reek of piss from her clothes.
I mustered up the nerve to confront her.
She didn't deny it.
Her tiny frame crumpled to the floor, bawling like a newborn. Grabbing my hand she said she wanted nothing more than to spare me from pain and heartache.
It wasn't long afterwards that momma died. I would like to think she didn't suffer but her sickness brought with it a lot of pain. In the end, I tried my best to comfort her. I wiped the dried blood from her mouth and nose and untangled her hair with her favorite comb. She deserved to look pretty to meet Jesus. I kissed her forehead and folded her hands to her chest. She looked peaceful.
Putting her in the ground was pure hell. There were no mourners or friends to give me comfort. Momma said we were all we needed, her and I. And now she was gone.
Through my grief and tears, I almost didn't see the sweet face of my last girlfriend. Momma hated her; she said she was one of the "dirty girls." But, as the old saying goes, "the heart wants what the heart wants."
Eventually, my girl stopped coming around. It hurt real bad. I thought she liked me but Momma said, she was a no good whore; definitely not the girl for me.
It didn't matter any longer. Momma was gone and here was my lost love ready to comfort me.
I wiped away my tears and took her hand in mine. It snapped off at the elbow as I pulled her from the soft dirt.
I chuckled at the surrealness of the moment. Our mother-son moment. Oh Momma, what are the odds we'd pick the same plot of earth in the acres of pine and laurels behind our home to bury our dead.
Ruschelle Dillon
Ruschelle Dillon is a freelance writer whose efforts focus on the dark humor and the horror genres.  Ms. Dillon's brand of humor has been incorporated in a wide variety of projects, including the irreverent blog Puppets Don't Wear Pants and novelette "Bone-sai", published through Black Bed Sheet Books as well as the live-action video shorts "Don't Punch the Corpse" and "Mothman".  She also interviews authors for the Horror Tree website.
Her short stories have appeared in various anthologies and online zines such as Strangely Funny III, Story Shack, Siren's Call, Weird Ales- Another Round and Women in Horror Vol 2, Dark Voices Charity Anthology, Deadcades and Sanitarium Magazine. Her collection of short stories, Arithmophobia, published by Mystery and Horror LLC is available through Amazon & Barnes and Noble.  
Stalk her on-
https:www.ruschelledillon.net


No Happy Endings
The Easter Bunny walked drunkenly down the back alley with a gun in hand. The wolves were chasing him again. He stumbled into a wall leaving a long smear of blood on the dirty brick wall. The growling behind him grew louder. A dead end at the end of the alley greated Easter Bunny with a dull flickering grin. One bullet left. Fangs and teeth showed through the dark as the pack inched closer.
"Who wants it first?" Easter Bunny said.
The uncaring demons continued their deadly path. A single shot tore through the night followed by howls and screams.
Arthur Unk
Arthur Unk lives and works in the United States, but dreams of a tropical, zombie-free island. He hones his drabble skills via the Horror Tree Trembling With Fear (Dead Wrong, Flesh of My Flesh, The Tale of Fear Itself, and others yet to come) and writes micro/flash fiction daily. His influences include H.P. Lovecraft, Stephen King, and life experience. You can follow his work from all around the web via his blog at http://arthurunk.com or read his many, many micro-stories on Twitter @ArthurUnkTweets
Remembrance
He left the tour and headed out by himself into a wooded area. There'd been a building here at some point, bricks were scattered all around. He bent and picked one up. Suddenly, there were voices in his head.
They choked us, naked, standing in our own filth
They killed our children
They stole the gold from our teeth
They burned us
He dropped the brick, his head pounding. He ran back to the tour group, seeking sanctuary. He passed through a metal gate, the words above were still visible. Arbeit Macht Frei.  The voices of the dead followed him.
RJ Meldrum
R.J. Meldrum is an author and academic.  Born in Scotland, he moved to Ontario, Canada in 2010.  He has had stories published by Sirens Call Publications, Horrified Press, Trembling with Fear, Darkhouse Books, Smoking Pen Press and James Ward Kirk Fiction.  He is an Affiliate Member of the Horror Writers Association.
Facebook profile: https://www.facebook.com/richard.meldrum.79
Website: http://wolfstarpublishing.com/meldrum/
Smile More
You need to smile more.
Smile because the sun is shining.
Smile so boys will like you.
Smile so girls will like you.
Smile with your heart.
Smile in your brain.
Smile deep inside your guts.
Smile because you're free to clench your teeth and keep smiling!
Smile more than everyone else.
Smile because life is a great big smiling contest.
Smile until your face hurts.
Until your eyes water.
Until you're terrified to stop smiling.
Until your smile infects everyone.
Smile at them until smiles slice into their flesh.
Smile until they're dying from a killer smile like yours.
Kevin M. Folliard
Kevin M. Folliard is a Chicagoland writer whose published fiction includes scary stories collections Christmas Terror Tales and Valentine Terror Tales, as well as adventure novels such as Matt Palmer and the Komodo Uprising. His work has also been collected by The Horror Tree, Flame Tree Publishing, Hinnom Magazine, and more. Kevin currently resides in La Grange, IL, where he enjoys his day job as an academic writing advisor. When not writing or working, he's usually reading Stephen King, playing Street Fighter, or traveling the U.S.A.
Author Website: www.KevinFolliard.com
Facebook: https://www.facebook.com/kevinfolliard
Twitter: https://twitter.com/Kmfollia
Instagram: https://www.instagram.com/kmfollia/
About the Author
Latest Posts
Stuart Conover is a father, husband, published author, blogger, geek, entrepreneur, horror fanatic, and runs a few websites including Horror Tree!