The UK Ghost Story Festival: Running A Writing Event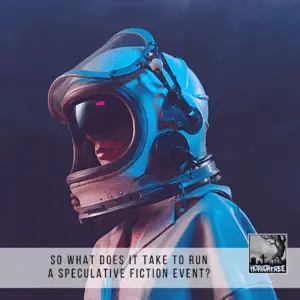 So what does it take to run a speculative fiction event?
By Lauren McMenemy
Writers are, in general, seen as lovers of the quiet, dark corners where they don't have to be around other people. That is decidedly untrue of many speculative fiction writers. Put on an event – and try to include a bar where possible – and you'll find they gather in droves, chatting about general geekery and nerding out about their obsessions. 
One person who's seen this happen umpteen times is Alex Davis, a stalwart of the UK genre conference scene and coordinator of the UK Ghost Story Festival. Ahead of the 2023 event – happening 16-19 February in Derby, England – Alex shares his event-full wisdom with Horror Tree. 
The UK Ghost Story Festival is coming up next month – why dedicate a whole weekend specifically to this form of storytelling?
Alex Davis: It's a form of writing I've always been a massive fan of, and having done plenty in horror, SF and fantasy it was something I started to develop a hankering to do back in 2018/2019. When I started looking I was surprised that there was nothing much of its like in the UK – Dublin has a fantastic Ghost Story Festival, but what was here in the UK was fairly small-scale. So it felt to me like a niche and a potential 'gap in the market' as well as a chance to showcase a genre I love. Much of what I do is driven by my love for it – I'm not much of a cynical businessperson, for better or worse…
What is it about the ghost story that has an enduring appeal?
AD: I think it absolutely tackles one of those core human fears and human questions – what happens after we die? The ghost is a phenomenal way in fiction to explore the afterlife and the beyond, and also allows us to look at things like grief and mourning, moving on (as best we can) for matters that might feel unfinished, and living without those we knew and loved. It's universal.
I also think there's something in its flexibility – you can argue their main aim is to be scary, but you can use a ghost in the story sense in all sorts of different ways to deliver different effects and bring different emotions up in a reader.
This isn't your first rodeo – how did you first get involved in coordinating genre fiction festivals?
AD: It all started back with some volunteering for me – I studied Creative Writing at the University of Derby, and on emerging from the degree there was a bit of a 'what next' question in my mind. I helped out at the Derby Festival of Words back in what must have been 2002, and got a huge amount from that – and loved what I was seeing in terms of taking writing off the page and really bringing it to audiences. I did a lot of volunteering over the years, which led to a first temporary paid position, which in turn led to a first permanent, full-time post, where I was Literature Officer for Derby City Council.
One of the first things I put together – and somehow got away with despite being a bit 'wet behind the ears' – was an SFF/horror event called Alt.Fiction, which ran for five years here in the city. That then became Edge-Lit, which I ran for eight years before handing over the reins there fairly recently. There have been a few one-offs elsewhere and I think as stands I've put together about 30 conventions, conferences and festivals over the years.
What's most rewarding about these events?
AD: You have to be big into logistics, and thankfully I'm very interested in the minutiae of running things like this! It's a thousand small details that make big things happen. The most rewarding thing really is seeing it come to life – it has an existence on paper for nine months, a year, sometimes more, but then it suddenly sparks into reality on the day. It's such a pleasure to see people enjoying themselves and getting something out of events once they do finally come to fruition. It's a lot of work for that payoff, but it's always worth it.
And what's the biggest challenge you've faced?
AD: Every event has its challenges really – it's as much as anything about how you conquer them. I was on the committee for ChillerCon, which was due to take place just as the first Covid lockdown hit, so it was a challenge for everyone to keep that event going and finally get to deliver it two years after the original date! It was tough but it was really something to see it happen after what everyone had been through during the pandemic.
Do you have any stand-out memories from an event you've staged?
AD: There are a fair few over the years, and a lot of it is weird moments where you think 'how did I get here'? Chatting to Joe Hill about Scooby Doo; going out to dinner with Iain Banks, Harry Harrison and John Jarrold; sitting down for Thai food with Mick Garris… what is always so surprising is just how pleasant and down to earth everyone is. Don't think that I don't get starstruck anymore! And it's always an absolute joy when someone comes up to say how much they've enjoyed things – that's a huge part of why us organisers do it, of course!
Do you have any tips for those thinking of staging their own speculative fiction event?
AD: Two key words – venue and budget. Until you have those, you don't really have anything. For me, I have to find the right venue at the right price, and also believe that the event is affordable in terms of income vs outgoing. Think carefully about that and don't overbudget – if you think your event can attract 200, budget first time around for 100. That'll give you a nice sensible target for break-even – if you go way past that, then great! But things can and do take time to build; what you don't have first time around is word of mouth.
Why should everyone run out to support their local genre fiction event?
AD: Lots of reasons! There's always a huge amount to be learned from writers – even 20 years in I'm still picking up new advice and techniques! Workshops and panels can offer great inspiration for new stories and projects. The social side is absolutely fantastic, too – when you're into something that many people see as a bit niche, it's marvellous to be at an event full of people who are every bit as passionate about it as you are! I've met some amazing people through my work and the bar is usually the busiest bit of any convention…
And it's of course your support as an attendee that makes these things. I can't tell you how grateful I am to everyone who has helped all my events along, whether that's buying tickets, volunteering, sharing a post, retweeting… If you can come along then awesome, but if you see something you like you can get behind it and help it along in other days. It makes a real difference. The support for the Ghost Story Festival has been amazing and I'm ultra-grateful for that.
The UK Ghost Story Festival happens in Derby from 16-19 February 2023, with some online events to kick off proceedings on 15 February. Get the full details over at www.ukghoststoryfestival.co.uk, or follow the festival on Twitter, Instagram or YouTube.
About the Author
Latest Posts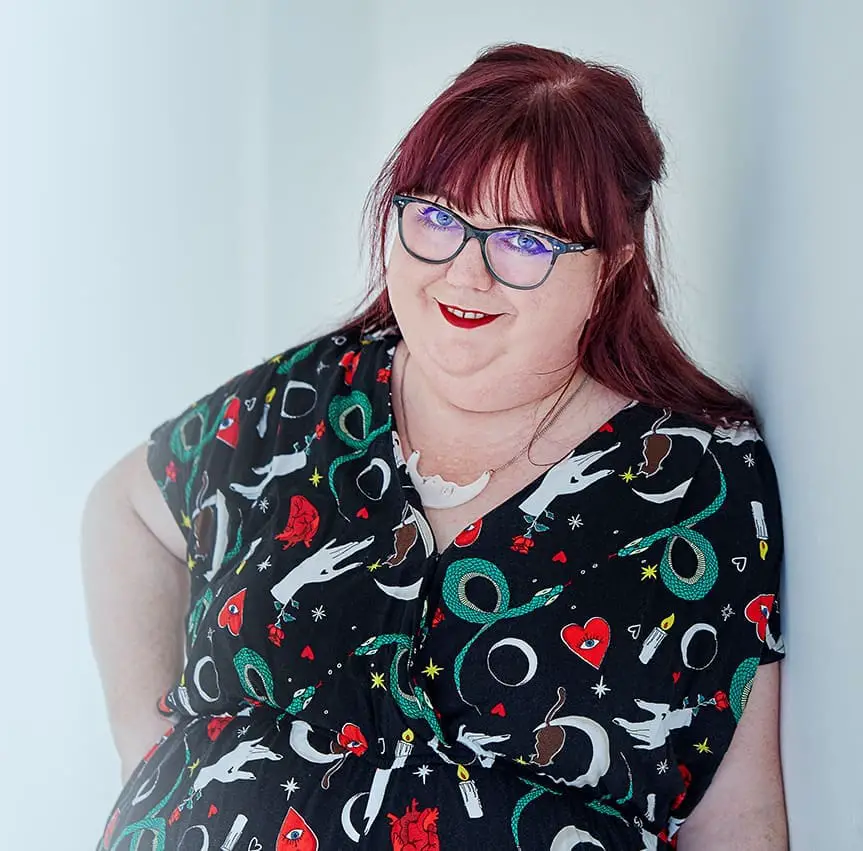 Lauren McMenemy wears many hats: Editor-in-Chief at Trembling With Fear for horrortree.com; PR and marketing for the British Fantasy Society; founder of the Society of Ink Slingers; curator of the Writing the Occult virtual events; writers hour host at London Writers Salon. With 25+ years as a professional writer across journalism, marketing, and communications, Lauren also works as a coach and mentor to writers looking to achieve goals, get accountability, or get support with their marketing efforts. She writes gothic and folk horror stories for her own amusement, and is currently working on a novel set in the world of the Victorian occult. You'll find Lauren haunting south London, where she lives with her Doctor Who-obsessed husband, the ghost of their aged black house rabbit, and the entity that lives in the walls.