The Horror Tree Presents… An Interview with May J. Panayi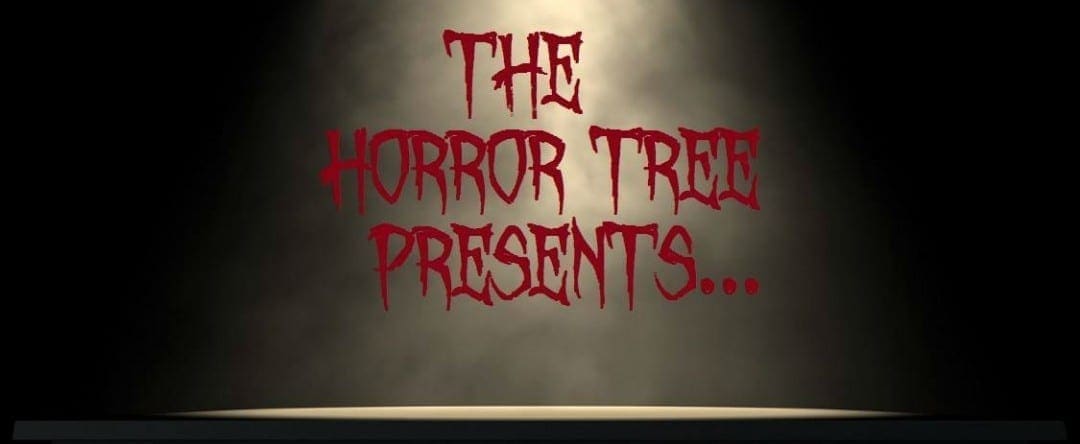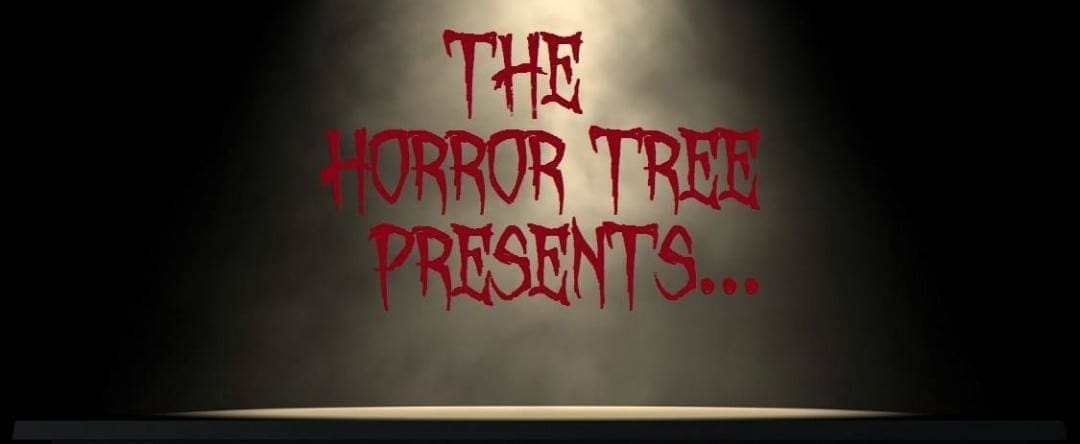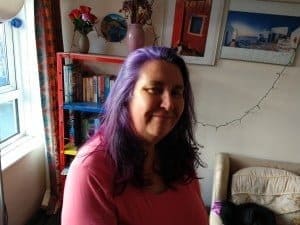 Selene – Welcome to The Horror Tree, and thank you for agreeing to an interview. First off, tell us a bit about yourself.
May – My name is May J. Panayi and I'm 56. I have been a writer since I was a kid. Okay not anything earth shattering; just a poem in the local paper at age five, then a newsletter to the neighbourhood age ten. I hobby wrote poems and short stories throughout my teens and early twenties, then various magazine submissions, and a lot of activity in the underground fanzine scene of the eighties; contributing to others as well as producing my own. I started writing books around 2000, and currently have fourteen titles published. I moved onto just writing fiction novels with the occasional short story collection. I became a full-time self-employed writer in 2014. It's been an interesting journey so far and one I hope will long continue. I write across a variety of genres; my friends call me the eclectic indie. My Sun series, in which there are two novels so far, a third coming this year to complete the trilogy, is my most popular style. It is travel romance/mystery; bit hard to categorise. My horror is next most popular though a bit graphic for some. I also have written a collection of dark horror short stories. My website details my books, as well as trailers, interviews and more.
Selene – You write in just about every genre, from romance to non-fiction (including travel, pets, and cooking), to horror and fantasy. What's your favourite genre to write, and why?
May – I enjoy realism, and things that are going on now, or nearly now. I enjoyed writing Escape to Europe, about a world that in many ways seems to be running parallel to our own. When I have finished the Sun series, I have a drama romance that grapples with the problems of Dementia. I am looking forward to that.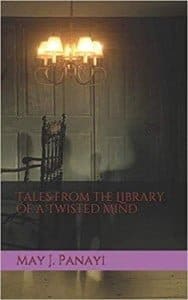 Selene – More specifically, what about writing horror draws you?
May – I like to explore the darkest parts of the human psyche, that is what really fascinates me most. In Tales from The Library of a Twisted Mind, my collection of horror shorts, I tend to get into those issues pretty quickly. Malbed Mews is a slow build into the madness of others when in a crazy situation. For horror, I am inspired by Stephen King, Dean Koontz and James Herbert, and have spent many happy hours curled up with their works. Like Herbert, I did not ignore sex when it came to Malbed Mews; it is firmly tied in to the darker side of the human psyche in many ways, and I feel, has as much of a place in horror as the violence, shock and gore.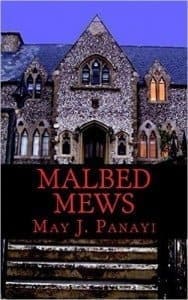 Selene – You mostly self-publish, but have published with some magazines and more "traditional" places. What do you like about each means of publishing?
May – Well I like the flexibility of self publishing, but the money is better with 'traditional' publishing. I do not miss the rejection slips from legacy publishing houses. I do like the Indie community. Sadly, the market is becoming rather saturated and it is getting harder to get noticed in the Indie world. Promotion is a bit of a pain, I am a writer and have had to learn promotion techniques from scratch.  I do not love the piracy which is rife. Overall, I cannot complain.
Selene – Speaking of self-publishing, most of your titles are available on Kindle Unlimited. I have a KU membership and love it! I think it's a good way for independent authors to reach readers, too. What do you think of the platform?
May – I like the idea of KU, but Amazon have significantly reduced the amount per page read, paid to authors, so it is a very low paying return at this point. I have considered leaving that part of the self publishing platform, but hesistate to do so, because so many readers love it. Personally, as a reader, I do not use it; I prefer to buy paperbacks, or buy Kindles to fill up my reader and get back to when I am travelling.
Selene – Your true "horror" novel is Malbed Mews. Let's talk about that one. In particular, it has a huge cast of characters. How do you develop your characters?
May – I started off with a floor plan of the flats and wrote the occupants names and who they were in their own apartments. That helped me keep track until I got to know them better. The characters kind of grew on their own as I wrote them. Some I knew before I started; bad neighbours I have endured in real life, in the past. That was cathartic! Others just grew as I wrote. Guy and Vicky, in particular, developed alongside the storyline. Vicky especially, did not go where I originally intended.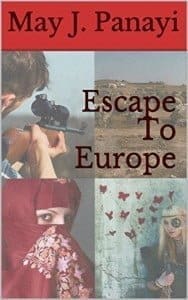 Selene – Your book Escape to Europe examines the lives of people dealing with the realities of the refugee crisis in Europe, along with Brexit and other current hot-button political topics. Not to get into too much of a political debate, but what do you think of politics in stories? Do they belong, or is it better to fictionalize ideas so the story will remain more "timeless?"
May – I think there has always been a place for politics in fiction. From George Orwell's 1984 and Animal Farm, to J.G. Ballard's High Rise and many of his other works, I think the politics of our current culture help make a good What If? setting for culturally based fiction and horror. When I first wrote Escape to Europe it was 2016, and I published it under the title The Difficult Journey. It was rebranded as Escape to Europe in 2018. I made the media sections lean to the right, in a sort of Devils Advocate fashion, as I feel our media lean towards a more politically correct left. I wanted to explore the notion of society taking a darker turn, after the fashion of J.G. Ballard. I have been accused by some readers of having those opinions myself, but I tried to make the book sit on the fence politically. At the end of the day, it is about people; their hopes and dreams, hate and love, naivety and realism. My favourite characters by the way, were Amena and Adnan; with their courage and spirit, they were the ones I was rooting for as I wrote it. I mean, I knew how it was going to turn out, and I knew there were some sad and dark scenes coming, not just for them; but I always liked and felt for them as characters.
Selene – I wrote a story about a school shooting, which was published a day after (yet another) school shooting in the US. Similarly, your Escape to Europe character John Whitehead shoots a number of victims in a mosque, much like the Christchurch shooter earlier this year. How do you feel, when life imitates art (so to speak)? Or is it a matter of art simply reflecting the horrific realities of other mosque shootings like the one in 2017 in Quebec City?
May – When I first wrote Escape to Europe, no one was shooting up mosques, but there were terror attacks and bombings of both sides (for want of a better term). It felt prophetic when these things started happening in real life. It makes me sad. It is not a world I want to see in reality; I would prefer it remaining in the confines of horror fiction. Ballard wrote High Rise about how disconnected High Rise living would make us as a society, and how we would degenerate into a wilder, more animalistic species because of it. Luckily, he was wrong and that did not happen. I hoped I would be wrong too, but some of it is happening. Thankfully not all of it.
Selene – On to a lighter topic (sorry!). You're also a photographer, and shoot many of the photos on your book covers. What are some of your favourite photographic subjects?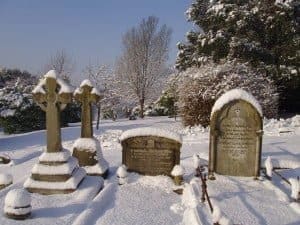 May – I love photographing architecture and graveyards. My partner is all about the wildlife photography and filming, but I prefer things that keep still, while I decide on a context to best frame their beauty. I like landscapes too.
Selene – Speaking of photography, you also keep a travel blog. I enjoyed reading about so many beautiful, exotic places (that I'll likely never get to see in person!). What is the most interesting place you've been, and how do your travels inspire your writing?
May – I wrote a non fiction book, Travel the World in Words, and the Sun series was inspired by the settings I travelled to in Greece and Cyprus. Some of my travels popped up in Escape to Europe. They say write about what you know; so whenever I travel, I am adding to my reference section for future writing. The book I referred to that incorporates the Dementia topic, is actually set on the Isle of Wight. I cannot pick one most interesting or favourite place I have been. Las Vegas was the craziest and most colourful. The Gambia was the most exotic. The Cypriot mountain villages have some of the most interesting culture, not to mention some of the best views, but I really like Spain too, especially the Canaries. Madeira was fascinating.
Selene – You've just started a web magazine for book reviews, called Best Books and More. Tell us about that.
May – The magazine and its associated Facebook group by the same name, has both authors and readers subscribed to it, in probably equal numbers. The idea is to present books to readers so they can make some new choices about what to read next. Often scrolling through a site, reading the occasional blurb is just not enough. Hearing about what other people have been reading and enjoying, is a better way to find that next great read.
Selene – You occasionally interview authors, as well. What question would you ask, if you were interviewing yourself, that interviewers don't ask you?
May – What is your biggest handicap as a writer, other than writers block? I suffer from a collection of health complaints in the real world, and often, overcoming these to sit at my computer and write, can be a real problem. Sometimes they are a brick wall between me and my writing. A wall which sometimes I can push past and other times I cannot. You mentioned my travel blog (thank you for reading by the way), but I also have another blog called Diary of A Writer. Sometimes I might interview other authors on there, but more often than not, I get into the dark and gritty realism of my life as a writer with health issues. Sometimes I depress myself, other times I feel almost normal- whatever that is!
Selene – Also on the topic of author interviewers, what authors are your favourites to read, and which author (whether they're still with us or not) would you most love to interview?
May – I would have loved to interview Terry Pratchett before he got ill, maybe even after. I recently discovered Jodi Picoult, and her writing is so good it almost makes me want to give up in despair. I mentioned other favourite authors earlier on. My favourite horror Indie authors are Michael Kelly, whose book Waters of Life is amazing, and Iain Rob Wright whose book The Housemates was something else. That is just skimming the surface though. I could talk about books all day.
Selene – How do you deal with criticism and bad reviews?
May – These days I just ignore them. When I wrote Malbed Mews, the death of a troll scene was especially cathartic- not that I had one particular troll in mind, but generally speaking. Of course, I still read my reviews, but I do not really care much about bad reviews anymore. I try and look for constructive criticism, but let us face it, most of the one-star comments are just trolls who usually could not even spell constructive criticism. Most cannot even capitalise I, when talking about themselves, so not a lot of hope for input there.
Selene – What advice would you give an author who is just starting out?
May – Try and aim for 80,000 words as a minimum for your book, and 120,000 as a maximum. In the old days of sending your manuscript round to a publisher, they would not consider a book unless it fit into those confines. 40,000 words qualified as a novella. 120k was the absolute limit for a new author, though obviously established authors like Stephen King could get away with more. Honestly, I think it demeans all serious authors when someone publishes a "book" that is a mere 20 to 40 pages long. That is not even the length of a standard dissertation. It gives indies a bad name collectively, when people do this. That and bad editing, that is my other bugbear. On a more positive note; stick at it. Indie authors are the freshest reading out there right now, and I would say go for it.
Selene – Thank you again for agreeing to be interviewed. What's next for you, and do you have anything else you want to talk about here?
May – What is next? I am currently working on In Search of Small Treasures, the final in the Sun trilogy, and then moving on to Paradise in the Pumpkin Patch, which is a romance but deals with Dementia too. I would like to rewrite Malbed Mews as a screenplay and send it around. I have another idea for a novella collection Four Adults Only, which is a collection of four novellas all of which have a different kind of adult theme; sex, drugs, violent uprising and the occult. I only hesitate because they appeal to very different audiences, so I am still cogitating on that one. Thanks for interviewing me, great set of questions; really thought-provoking.
For more about May, visit her website:
About the Author
Latest Posts
Selene MacLeod is a night operator and sometime writing hobbyist. She holds a BA in Communications from Wilfrid Laurier University and resides in Kitchener, Ontario. Her work has appeared in several horror and crime fiction anthologies, most recently Shotgun Honey, Drag Noir (Fox Spirit Books); and the upcoming Freakshow: Freakishly Fascinating Tales of Mystery and Suspense (Copper Pen Press), and Tragedy Queens (Clash Media).She's most excited about editing a charity anthology for Nocturnicorn Books called Anthem: A Tribute to Leonard Cohen, due out late 2017.