Taking Submissions: That is SO Wrong!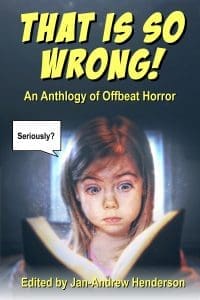 Deadline: March 30th, 2022
Payment: $10 and a contributors copy
Theme: Different horror stories – from nastysplattergore to comedy.
​We're looking for original and different horror stories – from nastysplattergore to comedy. Your tale will feature alongside award winners like Keith Gray
(Smarties Prize. Angus Book Prize), Anita Sullivan (BBC Radio Drama. Writers' Guild. Race in the Media), Geneve Flynn (Bram Stoker Award. Shirley Jackson Award)
and Jan-Andrew Henderson (Royal Mail Award. Doncaster Book Prize).

Submission guidelines
The deadline for receiving submissions is March 30th, 2022. Submit by email to: [email protected]
Length: Anything up to 7,000 words. We'll also accept flash fiction and poems (but those have to be truly excellent).
Reprints: We'd prefer previously unpublished work but will accept a few reprints if they're really good.
Format: Preferred format is Doc or Docx, double-spaced  and 12 point. Remember to include your name and a couple of paragraphs about you.
Please use the anthology title, THAT IS SO WRONG! in the subject heading of your email and send to [email protected]
Acknowledgement of receipt of your manuscript will be emailed within 3 business days. Deadline 31st March 2022.
Successful authors will receive a contract upon acceptance. Edited by Jan-Andrew Henderson.
Our Mission
The purpose of this anthology is to combine established authors with talented new voices – so they can reach the widest readership possible.
Hard copy and eBook versions will be on sale through Amazon, select bookstores and featured on the City of the Dead Website.
(Which has had over 2 million views since inception – that's why it has to be horror!)
This is an invitation and open-submission anthology (approx. 30% invitation 70% open-submission) as we are looking to showcase the very best writers.
Don't be annoyed if you're not picked.
Via: Black Hart Entertainment.
About the Author
Latest Posts
Stuart Conover is a father, husband, published author, blogger, geek, entrepreneur, horror fanatic, and runs a few websites including Horror Tree!