Taking Submissions: Epoch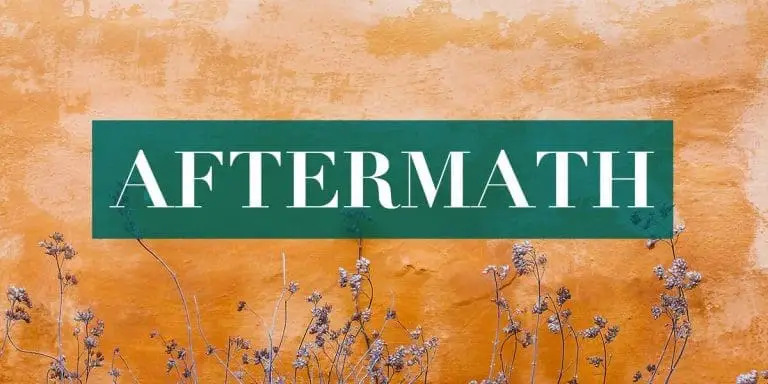 Deadline: December 31st, 2020
Payment: £15 per accepted piece or B. £5 plus a contributor copy
Theme: Aftermath (see below.)
'Aftermath' (n) originated in the 1520s to mean the second crop of grass which is grown on the same land after the first had been harvested. From after- + –math (which meant 'a mowing, cutting of grass'. Figurative language came about in the 1650s.
Similar to the French regain, from re- + gain (which meant 'grass which grows in mown meadows'.
Aftermath is now defined as 'the consequences or after-effects of a significant unpleasant event', but really, it can mean so much beyond this as well. When we asked our staff what 'Aftermath' meant to them, there were many different responses, some of which might inspire all you writers out there for the upcoming issue.
What We Publish
Epoch is a publishing platform for original, creative nonfiction.
We want to hear every voice. Epoch enthusiastically encourages submissions from marginalised voices, BlPOC, POC, LGBT+ folks, emerging writers and people outside of academia. We hope you'll trust us with your stories.
Original Material
Submissions must be written and/or created by you and never before published. Epoch also accepts original translations, but we require a cover letter indicating where the work was previously published and whether you have the rights to authorise a translated publication. We will consider work that has been simultaneously submitted to other publications, but you must notify us immediately if your piece is accepted elsewhere.
Creative Nonfiction
Creative nonfiction is a vast genre, and we like it that way. We accept submissions for: memoir, personal essay, flash creative nonfiction, nature writing, travel writing, city writing, etc.— even poetry will be considered. We are interested in any narrative of real life that is well written.
Artwork
We encourage the submission of all types of original artwork which can be printed in 2D including, but not limited to: drawing, painting, illustration, digital art, photography. Additionally, we accept stills of 3D art, such as ceramics, sculptures and installations. Please keep in mind that accepted work will be printed on one or two A5 pages.
Submission Guidelines
Epoch has no set minimum or maximum length, but we recommend keeping your piece below 6,000 words. All submissions must be written in English, in Times New Roman or similar 12pt font, and formatted with double spacing. We currently accept a maximum of one submission of creative nonfiction and/or two pieces of poetry per author.
Artwork must be submitted as .jpeg files, must have a resolution of 72 dpi, and dimensions of at least 595 x 841 pixels. Before submitting, please ensure that you are able to provide images as .tiff tiles with a resolution of 300 dpi and dimensions of at least 2480 x 3508 pixels for continuous tone art, and a resolution of 1200 dpi and dimensions of at least 9921 x 14032 pixels for line art. In the event that your work is selected, work which does not meet these criteria will not be eligible for publication. At this time, we are only able to review five submissions of art per artist.
In the body of your submission e-mail, please include full caption information for each piece: title, year, medium, dimensions, any relevant 'courtesy of' information, and the name and contact information of models featured in any photography.
How to Submit
Please send your best work to [email protected].
1. Please confirm that your submission is creative nonfiction by putting CNF in the subject line, along with the theme of the issue.
2. (Optional) You're welcome to include a brief paragraph in the e-mail body if you'd like to share with our editors information about yourself that you feel informs your work. Note: Your submission will still be reviewed anonymously, and as such we aren't able to include your name or any previous publications in the notes attached to your submission. Author bios will be requested upon acceptance.
3. Attach your submission(s) to the email as a .docx file for written submissions, and .jpeg file for art submissions. If submitting multiple pieces, please attach each piece as a separate file. For written submissions, please include the word count in the top right corner of each document.
4. Please name files: FirstLast_Title (ex: OctaviaButler_Bloodchild).
5. Do not include your name or other identifying information within the written piece itself, with the exception of signed artwork. We review anonymously.
Accepted Submissions
You will be notified within two weeks of the closing date for submissions whether your piece has been accepted or rejected. If your work is accepted, you will need to sign a publishing agreement granting us non-exclusive rights to publish your work, which will be made available online and sold in print. You will retain copyright for your work, but subsequent publications must include a credit line indicating that your piece first appeared in Epoch literary journal, with the appropriate issue and year.
Contributor Payment
Epoch Press is committed to paying contributors. At present, we offer the authors and artists of accepted contributions their choice of:
A. £15 per accepted piece
or
B. £5 plus a contributor copy (and domestic shipping) per accepted piece
We're artists and writers ourselves; we know your work has value and exposure doesn't pay the bills. Epoch Press is a brand new, independent publishing press with low funds but big goals. Paying contributors well is a crucial tenet of our long-term plan, and the amount we offer for accepted submissions will increase with our funding.
If you have any questions regarding submission guidelines, do not hesitate to e-mail us at [email protected].
Via:
About the Author
Latest Posts
Stuart Conover is a father, husband, published author, blogger, geek, entrepreneur, horror fanatic, and runs a few websites including Horror Tree!