Disclosure:
Our reviews may contain affiliate links. If you purchase something through the links in this article we may receive a small commission or referral fee. This happens without any additional cost to you.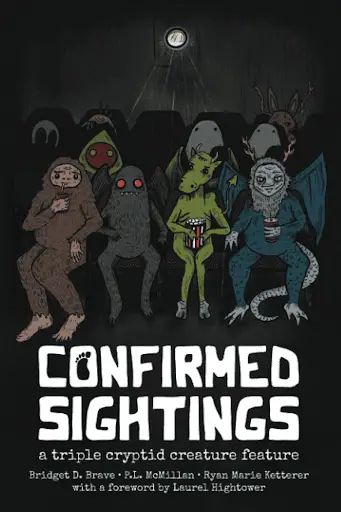 Title: Confirmed Sightings: a triple cryptid creature feature
Author: Bridget D. Brave, P.L. McMillan, Ryan Marie Ketterer
Publisher:  Salt Heart Press
Genre: Horror, Weird
Release date: 1st June, 2023
Synopsis: Horror fans and cryptid lovers unite! Grab your popcorn and candy, settle into your seat, and make sure to silence your phone for this triple creature feature!
A Piasa for Christmas by Bridget D. Brave Kaycee has returned to her hometown and finally found her soulmate in the most unexpected package: a transdimensional, all-powerful creature once trapped in a temporal prison. Can true love prevail between this headstrong aspiring influencer and an ancient immortal god?
eyeofmoth.exe by P.L. McMillan When the crew of the CRS Piasa encounter a space station drowning in madness caused by a creature from Pre-Calamity Earth, they become desperate to get back to their ship and warn the Company in a race against the clock.
Once Upon a Time in Turu by Ryan Marie Ketterer When a jackalope from the good part of town ends up dead, Policefoot Orli is tasked with solving the bizarre murder before the already tense town of Turu erupts in cryptid fury. But it won't be as easy as it looks when all the usual suspects are very unusual themselves.

With full page illustrations for each novella and a foreword by Laurel Hightower, this is one anthology you don't want to miss.