Epeolatry Book Review: Confirmed Sightings by Bridget D. Brave, P.L. McMillan, Ryan Marie Ketterer


Disclosure:
Our reviews may contain affiliate links. If you purchase something through the links in this article we may receive a small commission or referral fee. This happens without any additional cost to you.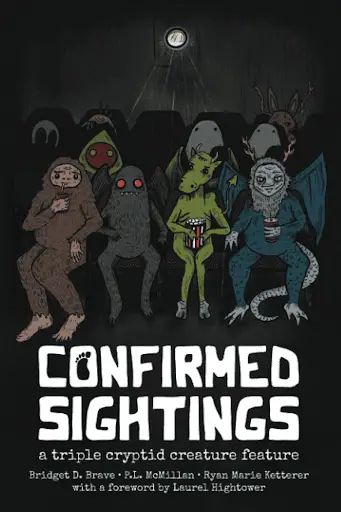 Title: Confirmed Sightings: a triple cryptid creature feature
Author: Bridget D. Brave, P.L. McMillan, Ryan Marie Ketterer
Publisher:  Salt Heart Press
Genre: Horror, Weird
Release date: 1st June, 2023
Synopsis: Horror fans and cryptid lovers unite! Grab your popcorn and candy, settle into your seat, and make sure to silence your phone for this triple creature feature!
A Piasa for Christmas by Bridget D. Brave Kaycee has returned to her hometown and finally found her soulmate in the most unexpected package: a transdimensional, all-powerful creature once trapped in a temporal prison. Can true love prevail between this headstrong aspiring influencer and an ancient immortal god?
eyeofmoth.exe by P.L. McMillan When the crew of the CRS Piasa encounter a space station drowning in madness caused by a creature from Pre-Calamity Earth, they become desperate to get back to their ship and warn the Company in a race against the clock.
Once Upon a Time in Turu by Ryan Marie Ketterer When a jackalope from the good part of town ends up dead, Policefoot Orli is tasked with solving the bizarre murder before the already tense town of Turu erupts in cryptid fury. But it won't be as easy as it looks when all the usual suspects are very unusual themselves.

With full page illustrations for each novella and a foreword by Laurel Hightower, this is one anthology you don't want to miss.
Sometimes a novella is the perfect length for a story. It's a great length for exploring strange and new ideas. Writers can really push reader's suspension of disbelief to its limits, unlike in a novel where sometimes the same attempt threatens to lose a reader's interest. Many readers need some sort of reality to feel grounded in fiction, at least on occasion. (Myself? Give me the ultra-weird at epic fantasy length.) Also, it is the perfect length to enjoy in one sitting much like watching a movie.
In Confirmed Sightings: a triple cryptid creature feature, Brave, McMillan, and Ketterer give us a perfect triptych of cryptid novellas that are unexpectedly weird in wonderful ways. Going in, readers might expect new horror stories involving bigfoot and mothman, but instead we discover these wonderful bananas, each in their own way.
In Brave's 'A Piasa for Christmas', the story appears to be a sugar sweet Hallmark romance, where the love interest just happens to be a monster. But there is much more going on here. The slow background burn will fester in readers' minds as they worry more and more for the protagonist.
Then, in McMillan's 'eyeofmoth.exe' we get something akin to Event Horizon crossed with Alien meets The Mothman Prophesies. So strange, but it works! It's always amazing to get brand new, effective space horror.
Finally, in Ketterer's 'Once Upon a Time in Turu' we have a hardboiled, noir mystery tale set in a city populated by cryptids where the investigator is a Bigfoot. This one brought back memories of Clive Barker's Night Breed mixed with The Maltese Falcon. Another strange brew, and so much fun.
The stories have different horror flavors to them. Some have a more cosmic horror vibe, while moments of weird reach into bizzarro. It's awesome seeing authors push horror into new and interesting directions. Authors like these are the future of the genre. Grab a copy of Confirmed Sightings and get ground floor seats to the excitement.


/5
About the Author
Latest Posts
Joe lives with his wife and son in the Pacific Northwest where the Cascade Mountains meet the Salish Sea. He enjoys writing in the weird, horror, and fantasy genres.
Growing up he enjoyed R. L. Stine's Goosebumps books as well as classics like Dune, and Lord of the Rings. In college he discovered Stephen King, and later Mark Danielewski's House of Leaves and authors like Clive Barker and Laird Barron.
Joe's short story, 'Gustav Floats', was published in Dim Shores Presents Volume 2. In the spring of 2021 his story, 'The Pigeon Lied' comes out in Howls From Hell.
You can follow Joe on the following social media sites:
Twitter, Good Reads, Facebook, and Instagram!