Stitched Lips: How An Anthology Came To Be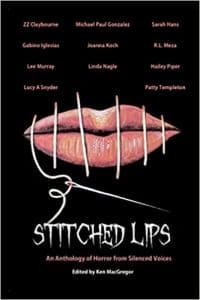 I want to talk a little about my dead wife. That's a good opener, right? Grabs your attention right out of the gate. Liz Dahl MacGregor and I were together for 21 years. Married for 17 of those. She was brilliant, funny, quick-witted, and sassy AF. She also had the biggest heart of almost anyone I've ever known. And she was tough. Liz fought hard for what she believed in. She went to law school with the goal of someday getting into politics and making some real positive change in the world. I bet she would have pulled it off, too. She was that kind of person.
I'll give you an example: we were hanging out in a park, by the river, a short walk from our house. Our kids were throwing rocks in the water and my older asked why there wasn't a playground in this park. Liz said, "You know what? That's an excellent question." She then went on to help organize a committee to petition the city to build one. She helped raise money for it, and was instrumental in ensuring that it was accessible to all sorts of children. That playground exists today because of my dead wife. A plaque dedicating it to her memory is prominently displayed next to it.
This is who she was. She would see a need that had to be filled, and she would do what it took to fill it. She knew hundreds of people, and she was constantly making connections. Someone would comment that they wanted to start a bakery; Liz would say, "Oh, hey. You should totally meet up with [name]. They are looking to back a small business, and the love donuts!" Then, the two people would meet, introduced by her, and within a year, we'd have a new bakery. It was kind of amazing.
When she died, we held three memorials for her: the first was small, close friends and family. We told stories about her, songs were sung, and a lot of tears were shed. That was where the mayor told me she was going to make sure they dedicated the playground to her. The second was her family's memorial. That was cathartic for them, and, to a lesser degree, myself. The third was held in a large public building (donated by the organization that ran it), catered (mostly donated as well), where a band played for free, and a lot of us got up to speak (and sing again). The hall was packed, with over 300 people in a cavernous space with no A/C in 90+ degree heat. This is how much she was loved.

Liz would call you out on your bullshit with zero hesitation. She would flat-out tell you if you were being racist, sexist, classist. She did it to me. I didn't recognize my own privilege, and she was quick to let me know when I was abusing it. I learned so much from this woman, about life, about love, about parenting, about being a good human being.
I still grieve for my wife. Though I have found love since, and that takes a lot of the edge off. Though time has also dulled the knife in my heart. I still miss her tremendously. She was more than my wife, the mother to my children. She was also my best friend, my first reader, my most honest critic, but of my work and of myself. I still grieve for my loss, but I also still want to impress her. I still want to make her proud.
This is why I started thinking about how I can be a better human. How I can use my own privilege to elevate others. I've been in the writing business for about ten years now, and editing for the last three or four (it's sort of nebulous because it started slowly and picked up steam later). I've met many incredibly talented, and flat-out wonderful people. So I reached out to some of them, feeling out whether they might be interested in this idea I had. I reached out to Dragon's Roost Press, with whom I'd worked (my second story collection and my YA novella are both published through them). The notion of doing an anthology with only those who've been "silenced" took hold and started to look feasible. I funded it myself, using some of the money I got from life insurance, figuring this was a good use of the dead wife's legacy. I found an organization that fights inequality (the Southern Poverty Law Project) and made sure I could donate the proceeds to them (they seemed to like the idea). All the ducks lined up, the i's dotted and t's crossed, and I found a wonderful local artist to do the cover.
Out of the authors I invited, most wrote for the book. Out of the open call, I got a few more delightful stories. I ended up choosing the best eleven stories I could, based on them fitting the theme (silence) and being original, creative, well-written. I am so incredibly pleased with how well the whole thing came together, and so very proud to have this group of writers in the book. I love the cover image so much that I bought the original painting and hung it on my dining room wall.
I sincerely hope that everyone who reads this book is moved by the stories within, as I was. I hope you find your new favorite writer among the pages. Maybe even more than one.
I wish Liz were here to read it, to see how cool it is. She'd probably say, "Yeah. This is nice. It's a good start. Keep it up." That's the plan, honey. That's the plan.
Thank you, as always, for listening.
Ken MacGregor
Be sure to pick up your own copy of 'Stitched Lips: An Anthology of Horror from Silenced Voices' on Amazon today!
About the Author
Latest Posts
Ken MacGregor writes stuff. Sometimes, he edits stuff too.
He has two story collections: AN ABERRANT MIND, and SEX, GORE & MILLIPEDES, a young adult novella: DEVIL'S BANE (YA winner of the 23rd annual Critters Readers Poll), a co-written (with Kerry Lipp) novel: HEADCASE (available in serialized form), and is a member of the Great Lakes Association of Horror Writers (GLAHW). He is a somewhat regular contributor to HorrorTree with his column Brain Babies.  He has also written TV commercials, sketch comedy, a music video, some mediocre poetry, and a zombie movie. Ken is the Managing Editor of Collections and Anthologies for LVP Publications. He's curated two anthologies: BURNT FUR for Blood Bound Books, and STITCHED LIPS for Dragon Roost Press..
When not writing, Ken drives the bookmobile for his local library. He lives with his kids, two cats, and the ashes of his wife.
Ken can be found at the staggeringly egocentric-named website kenmacgregor.com.