Scooby Doo, horror fiction, and the future of a beloved franchise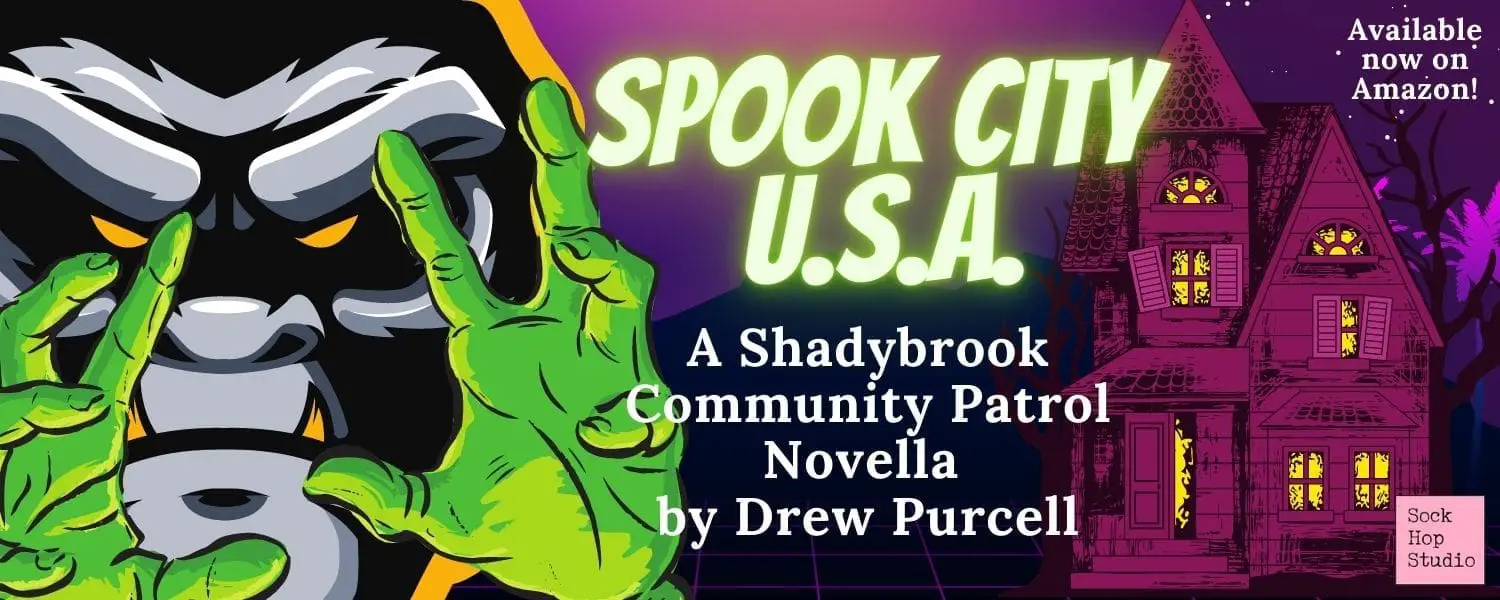 Scooby Doo, horror fiction, and the future of a beloved franchise
By: Drew Purcell
What exactly makes Scooby Doo so enjoyable? I wouldn't be the first to point out that the gang's adventures are seldom legitimately scary, funny, or mysterious — with some notable exceptions being the superb Mystery Incorporated TV show, the T-rated Scooby Apocalypse comic series, David Cross' bizarre "Night of the Living Doo" special, the two perfectly cast theatrical movies written and directed by James Gunn (who was reportedly held back by the studio from fully realizing his vision), and some of the early straight-to-video movies like Zombie Island and The Witch's Ghost. Okay, so there are plenty of examples of decent Scooby Doo releases…. However, I think it's fair to say that much of the franchise's output over the years has been sub-par and has relied too heavily on the same old tropes. The recent SCOOB movie that is apparently the first work in a "Hanna-Barbera Cinematic Universe" is an example of this. Thankfully, to me at least, Scooby is like pizza in that even at his worst, he's still enjoyable. 
 
What direction will the franchise head next? Apart from the inevitable CGI follow-up to SCOOB, we can probably expect new episodes of Scooby Doo and Guess Who? and straight-to-video movies once or twice a year, like the rumored team-up of the gang and Courage the Cowardly Dog. Apart from that, it's anyone's guess, but chances are, it will be similar kid-oriented stuff, treading the same old territory. The aforementioned Scooby Apocalypse was one of several reimagined Hannah-Barbera series that DC Comics experimented with before being abruptly cancelled in 2019, leading some commentators to infer that the rights holders made a conscious decision to avoid controversy and focus solely on family-friendly stuff going forward. I understand the rationale, but the plethora of superhero releases targeted at different age groups seems to prove that focusing on just one specific audience is unnecessarily limiting. For instance, Batman fans should be able to easily figure out that the Adam West TV show from the '60s, the animated series from the '90s, and the Li'l Gotham comics are okay for kids, while Alan Moore's The Killing Joke graphic novel, the Christopher Nolan movies, and The Batman Who Laughs comic are not. With the internet, it's easier than ever to avoid being surprised that something is either too mature or too childish for a given audience.
As for where the franchise should go, how great would it be to finally get an R-rated Scooby Doo with violence, an actual mystery, and crude jokes? And I don't mean just the lazy "Shaggy is a stoner," "Velma is a lesbian," and "Scrappy Doo is obnoxious" jokes. The Archie franchise, which predates Scooby by almost thirty years, offers an example of the path to take. In 2003, Roberto Aguirre-Sacasa wrote an unofficial, gay-themed stage play based on the Archie Comics characters and was served with a cease-and-desist letter for his troubles. Later, that same company created the position of "Chief Creative Officer" specifically for Aguirre-Sacasa, and in that capacity, he has been lauded for bringing that intellectual property into the 21st century via the hit show Riverdale and a more realistic approach to storytelling in the comics. Out of this, the Archie Horror line, including the zombie saga Afterlife of Archie (the pun makes sense once you know that it's a reference to the title of the long-running comic Life of Archie) and The Chilling Adventures of Sabrina, should be of particular interest to readers of Horror Tree. The best part of this edgy renaissance for these characters is that the fans who prefer the more traditional Archie stories still get plenty of releases, both new and archival. It's a win/win.
As for who should be the ideal hypothetical "Chief Creative Officer" to steer the Scooby Doo franchise, if David Cross and his Mr. Show buddy Bob Odenkrik aren't available, I for one would nominate Catalan horror author Edgar Cantero. I was intrigued when I first heard about his novel Meddling Kids, a grown-up take on the Scooby characters in "the real world" that I immediately pre-ordered. It turned out to be a fantastic book. I read it as soon as I could and then listened to it on Audible a year or so later, plus bought a few copies as Christmas and birthday presents for friends. The story humanized its original characters, who expertly straddled the line between the Daphne, Fred, Velma, and Shaggy archetypes and actual three-dimensional people, and the overall feel reminded me of Stephen King's It in that it had the group getting back together to address supernatural occurrences from their shared past. There was an intricate, Lovecraftian plot and it was both legitimately scary and mysterious. I liked it enough to pick up Cantero's previous book The Supernatural Enhancements, which I enjoyed even more, and I have remained a fan of everything he's done since.
From as soon as I heard about Meddling Kids, I thought, Why didn't I think of that? Not the plot or the characters, but the concept: a Scooby Doo pastiche that avoids intellectual property issues and stands up as an entertaining work for adults who grew up with those stories. You, too, could circumvent the B.S. that stands in the way of tackling a series you love! I realized. However, since Cantero already did it, and did it so well, I figured there was no point in trying. As the years went on, I kept coming back to the idea and thought about how I could approach it from a cruder, more darkly humorous perspective. I also thought of plenty of examples of works that on the surface take similar concepts but execute them equally well in different ways. The Simpsons Movie and Under the Dome, The Royal Tennenbaums and Arrested Development, Tombstone and Wyatt Earp, and, um, Babe and Gordy come to mind. And how many Sherlock Holmes rip-offs are in production at any given time? Some of them are actually great! Keeping this in mind, I asked myself, Is the world ready for another grown-up Scooby Doo pastiche? Since I'm now making the rounds to promote my "mystery-solving team with a dog" novella, I guess you can assume what I think.
I wrote the initial version of my story, then called Shadybrook Community Patrol, as a screenplay, which I thought gave it another level of distance from Cantero's bestseller. Surprisingly, my screenplay got me recognized in 2020 by the Hollywood Horrorfest for Best First-Time Screenwriter, but I received enough feedback to convince me that the story was too niche to get produced anytime soon. I then set to turning the R-rated horror/comedy into prose form, changing it into being narrated by Rory, the three-legged Blue Heeler who's the Scooby Doo stand-in of the story. If Meddling Kids is Scooby Doo meets It meets Enid Blyton meets Silver Linings Playbook as processed through the mind of a thoughtful, skilled European writer, then Spook City/Shadybrook is Scooby Doo meets Twin Peaks meets Super Troopers meets Welcome to Nightvale as written by a smart-ass American who had to Google what a blog tour is after putting his book online.
In its presumably final form, Spook City U.S.A. is a novella, ideally meant to be quickly consumed in one or two shots. Unlike Edgar Cantero's much longer and infinitely more thought-provoking novel, there's not much to ruminate on here, as it aims to be nothing more than what I'd most like to read: a funny, scary, and mysterious adventure for grown-ups like me who are nostalgic for Scooby Doo, unoffended by poop jokes, and wish they could join a mystery-solving team. 
How did I jump from an extremely subjective appraisal of a children's cartoon franchise that debuted in 1969, over to praising some cool people doing cool stuff, all the way to shamelessly promoting my own self-released debut novella? I don't really know. Anyway, to read Spook City, U.S.A., please visit: https://www.amazon.com/Spook-City-U-S-Shadybrook-Community/dp/B093T796SC/. Available wherever you like to purchase books, as long as it's Amazon. 
In the comments, please let me know what are your favorite Scooby Doo releases, and where would you like to see the franchise go in the future.
Drew makes sandwiches for college students by day and writes at night after putting his four kids to bed. He was recognized by the 2020 Hollywood Horrorfest as Best First-Time Screenwriter and his short story "Comparative Religions: A Practical Use for the Undead" will appear in Sheer: A Dark Horror Anthology. His debut novella Spook City, U.S.A., is the first volume in an ongoing series about the fictional desert town of Shadybrook, California. He's on Twitter @purcelldrew.
About the Author
Latest Posts
The Horror Tree is a resource for horror authors which was created in 2011. The main goal when starting the site was to include all of the latest horror anthologies and publishers that are taking paying submissions. A resource useful for both new and experienced publishers alike looking for an outlet for their written material!