Planet Bizarro Is Open To Novels & Novellas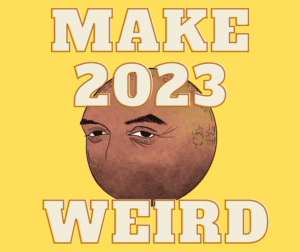 Deadline: March 31st, 2023
Payment: 50% share of book royalties and 5 author copies
Theme: Bizarro
Novel & Novella Submissions
January 1st – March 1st
See Theme: Bizarro
We want to publish your exciting, well written bizarro stories. For those unfamiliar with the genre, think of the weirdest story you've ever read, then times that by potato.
Novellas – 20,000 to 40,000 wordcount
Novels – 40,000 to 80,000
Short story collections may also be considered.
Author compensation will be in the form of;
·       50% share of book royalties
·       5 Author Copies
Stage 1 – First chapter only due within the submission window, along with a synopsis and rough plot outline. Make sure it captures our attention and makes us want to read more! Please allow 4 weeks from closing date for a response.
Stage 2 – Those successful in stage 1 will be invited to submit their completed manuscript (and their full bio) within 12 weeks. This full manuscript will go to our read team. Successful authors from stage 2 will be invited to sign contracts with us. Please allow 12 weeks from closing date for a response.
Author eligibility : Open only to all
Reprints : Allowed
Simultaneous Submissions : Not allowed
Multiple Submissions : No.
Publication : Publications in digital and print, launching 2023/24
Submit to : [email protected]
Subject line: Novel/Novella submission – Story name – Your name
Via: Planet Bizarro.
About the Author
Latest Posts
Stuart Conover is a father, husband, published author, blogger, geek, entrepreneur, horror fanatic, and runs a few websites including Horror Tree!