North Dark Blog Tour: Body Of Horror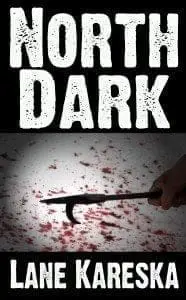 I wrote North Dark—a dark novella that weaves through genres like adventure, post-apocalyptic fantasy and horror—during a particularly dark winter in my life; my dog was dying, and I dealt with it by taking him with me to an isolated house in northwest Indiana and pretty much just writing every weekend for a couple of months. During this time, I also read and watched a lot of fantasy, a genre which was more or less new to me. The thinking was that North Dark would be a pure fantasy work, however, due to the nature of that particular season, the art I'd spent my life up to that point absorbing, or both, the content of the novella kept swerving back into horror—a genre about which I've been enthusiastic since I was probably way too young.
The first television shows I remember watching—actively watching—were old episodes of Alfred Hitchcock Presents. If you haven't seen the show, it is—as far as I can tell—pretty much another iteration of The Twilight Zone: three acts of vaguely-literary suspense/psychological horror bracketed by goofy and droll appearances of Hitchcock himself; this was totally captivating to my 7-year-old brain. As good art will do, Alfred Hitchcock Presents led me into the deeper and richer territory of horror including the Universal Monsters, Poe, Romero, and—later—Stephen King and Guillermo Del Toro. It was inevitable that the spirit of these influences would infect North Dark.
There are—in my view—two distinct veins of horror that run through North Dark. The first is Physical Horror, or as David Lynch fans might call it "Body Horror." This is a subset of horror that I think gets an unfairly bad reputation. When someone dismisses "Horror" they'll usually adopt the same voice someone might use to dismiss a "cheap thriller" or a "popcorn movie." The thinking here, I guess, is that horror is easy to accomplish, not worthy, and of lesser value than other genres. That's an easy argument to make and an even easier one to make against Body Horror—where the actual scare comes from the fear of or the execution of permanent physical harm, forced alteration or mutilation. This genre might have peaked in the 70s and 80s during the Cannibal trend in horror films (but maybe it hasn't; look at Saw or Hostel).
In North Dark, the fear of evisceration is an ever-present threat to the characters because of the nature of the world they inhabit (an arctic Post-Apocalyptic society). Physical injury or gruesome death is all but an inevitability for these characters because the life they know is packed with roaming slavers, savage bandits, and grotesque predatory wildlife. Characters in this world will lose eyes and arms.
The main character of North Dark is a young lawman named Two Crows who, travelling by dogsled, embarks on a vengeance quest for the fugitive that crushed his family. As he travels across this vicious tundra, it becomes clear to him that he will have to commit very serious atrocities if he wants to find and defeat his prey. The threat of physical harm and appalling injury is not a joke, and is definitely not intended as a gross-out device, it's meant as a simple and ever present truth about this world—it's as factual and inarguable as sunrise and nightfall.
The second dimension to the horror present in North Dark is closer to psychological. Two Crows, early on, receives a grievous injury that changes more than his physicality. As his physical condition worsens—or toughens, depending on your point of view—his thinking become more hallucinatory, deranged, and erratic. Where this leads him and the reader is, I believe, just as frightening as the physical threats waiting around every bend of the dogsled trail.
I believe that the history of the horror genre is as rich and deep as any other, including naturalistic literary fiction. It's compelling and, in its most successful forms, it draws out of each us something primal, truthful and completely basic. As a reader, what I respond to in horror is the reality that, at heart, we're each just vulnerable storms of molecules guessing our way through life. No matter how powerful, in control, or self-assured a character in fiction may seem, the inarguable reality is that there exists some more powerful antagonist—either in the open world, or buried deep in the character's head—waiting to inflict damage, to kill or change him or her. That thought, to me, has always been deeply horrifying. And, if I've done my job, that idea lives in every page of North Dark.
North Dark by Lane Kareska
Synopsis:
Set in a lonesome and barbarous failed state, North Dark is the story of a lone man traveling by dogsled across a frozen wasteland in pursuit of the fugitive who destroyed his family.
Haunted by predators both physical and spectral, the musher's journey takes him across a deadened tundra, tortured cities and the remains of civilizations long-lapsed into madness. All the while, his enemy slides in and out of striking distance, always one step ahead, always one act of violence away.
Purchase Links:
Amazon: US, UK, Canada, Italy, Germany, Spain, France, Brazil, Japan, India
Author Bio: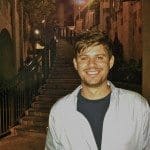 Lane Kareska was born in Houston, Texas. He studied writing at Columbia College Chicago and his MFA is from Southern Illinois University Carbondale, where he was also awarded a Fellowship to live and write in Ireland. Lane traveled Europe and South America to research his graduate thesis. He teaches creative writing and works in technology and new media. His fiction has appeared in Berkeley Fiction Review, Sheepshead Review, Flashquake and elsewhere. Lane currently lives in Chicago and can be followed on Twitter @LaneKareska as well as reached at [email protected].
About the Author
Latest Posts
Stuart Conover is a father, husband, published author, blogger, geek, entrepreneur, horror fanatic, and runs a few websites including Horror Tree!