Taking Submissions: Vastarien June 2022 Window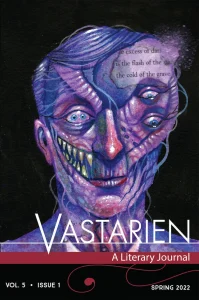 Deadline: June 30th, 2022
Payment: 5 cents ($.05) per word for nonfiction and prose fiction. Poetry pays $50 flat per poem. Payment for artwork is $50 per piece.
Theme: Original work inspired by Ligottian and/or related themes
A source of critical study and creative response to the corpus of Thomas Ligotti as well as associated authors and ideas.
Vastarien.  The forbidden tome. The impossible otherworld. A textual entryway into
a place where everything was transfixed in the order of the unreal. . . . Each passage he entered in the book both enchanted and appalled him with images and incidents so freakish and chaotic that his usual sense of these terms disintegrated along with everything else. Rampant oddity seemed to be the rule of the realm; imperfection became the source of the miraculous — wonders of deformity and marvels of miscreation. There was horror, undoubtedly. But it was a horror uncompromised by any feeling of lost joy or thwarted redemption; rather, it was a deliverance by damnation. And if Vastarien was a nightmare, it was a nightmare transformed in spirit by the utter absence of refuge: nightmare made normal.
Our name is drawn from Thomas Ligotti's classic story of the same title (quoted above), which S. T. Joshi has characterized as "Ligotti's most searching exploration of the forbidden book theme."
WE WANT:
Nonfiction from 2,000 to 7,500 words. Scholarly and/or critical articles pertaining to Ligotti or associated authors (see below) or the kind of thematic and topical issues in which we're interested. As for contemporary authors to add to this list, Livia Llewellyn, S. P. Miskowski, Junji Ito, Matthew M. Bartlett, T. E. D. Klein, Kelly Link, Helen Marshall, Gemma Files, Ramsey Campbell, Allyson Bird, Laird Barron, Caitlín Rebekah Kiernan, Nicole Cushing, Victor LaValle, Mark Samuels, and many more have produced work that we would love to see subjected to intelligent critical analysis and discussion.
Literary Horror Fiction from 750 to 6,000 words. We are looking for original work inspired by Ligottian and/or related themes (regarding which, see the list on our main page).
Poetry at a length of no more than 50 lines, dealing with subjects and themes that fall within our area of interest.
Artwork that similarly addresses our subject matter.
DIVERSITY STATEMENT: Vastarien believes in promoting a range of excellent writing and artwork from authors of diverse backgrounds, genders, and sexual orientations. We encourage submissions from authors and artists traditionally underrepresented in horror and pieces that reflect these varying perspectives.
The following authors and their work are of especial interest to Vastarien:
Charles Baudelaire
Thomas Bernhard
Aloysius Bertrand
Jorge Luis Borges
William S. Burroughs
Angela Carter
Louis Ferdinand Celine
E. M. Cioran
Charlotte Perkins Gilman
Douglas Harding
Shirley Jackson
U. G. Krishnamurti
H. P. Lovecraft
Vladimir Nabokov
Emile Nelligan
Michael Persinger
Edgar Allan Poe
Maurice Rollinat
Arthur Schopenhauer
Bruno Schulz
Paul Valery
Peter Wessel Zapffe
LENGTH: See the specific guidelines above for length requirements for different types of submissions. Additionally, in no case will a submission over 7,500 words be considered for publication without prior approval. Words subject to inclusion in the overall word count shall include the body of the submission and any explanatory footnotes; citations shall not be included in the overall word count.
PAYMENT AND RIGHTS: We pay 5 cents ($.05) per word for nonfiction and prose fiction. Poetry pays $50 flat per poem. Payment for artwork is $50 per piece. We purchase first serial and electronic rights. Upon publication, rights revert to the author, but we retain the right to continue selling back issues of the journal and the right to archive contributors' work online.
INTERNATIONAL AUTHORS: Vastarien welcomes submissions from authors outside the United States.
HOW TO SUBMIT: Submission is via Submittable only:
We are OPEN for submissions through the month of June, 2022 (or until we hit our 300 submission cap).
ACCEPTABLE FILE TYPES: DOC, DOCx, and RTF
RESPONSE TIME: If you have waited longer than 60 days, feel free to query us at [email protected] with QUERY plus the title of your submitted work in the subject line. Please allow up to a month for response before querying again.
VASTARIEN DOES NOT ACCEPT THE FOLLOWING:
Multiple submissions for fiction, nonfiction and Poetry pieces. For art and poetry, up to five pieces per packet is fine.
Unsolicited reprints (defined as essays, articles, stories, or poems that have already appeared anywhere online or in any other published form)
Via: Grim Scribe Press.
About the Author
Latest Posts
Stuart Conover is a father, husband, published author, blogger, geek, entrepreneur, horror fanatic, and runs a few websites including Horror Tree!