Taking Submissions: The Sacrament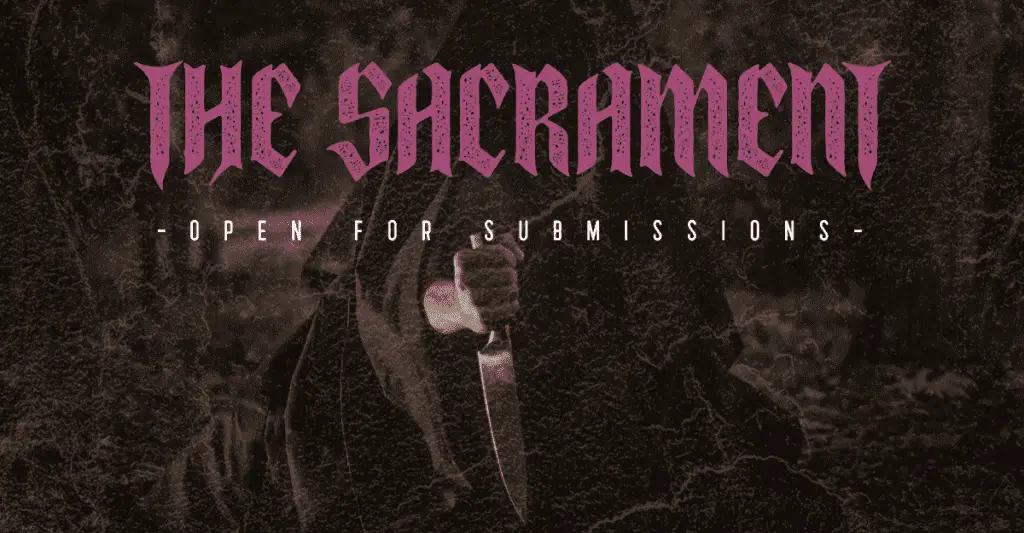 Deadline: July 1st, 2022
Payment: $0.01 per word for new stories and/or $25 for reprints.
Theme: Religious Horror
Note: Reprints Welcome
From the editors that brought you, Welcome to the Funhouse via Blood Rites Horror, Kelly Brocklehurst and Jamie Stewart, comes a new collection of religious horror stories that will chill you to your core.
ARE YOU READY TO RECEIVE THE SACRAMENT?
Please read carefully. Submissions that don't meet the guidelines may be rejected.
Submissions will be accepted until July 1st, 2022. Please submit to thesacramen[email protected], ensuring 'The Sacrament' is in the subject line.
What we are looking for:
Diversity among the religions represented (e.g., we don't want every story to focus on Catholicism). We encourage people to think outside the box when they write about what a religion is (e.g., invent a fictional religion or think about things that get cult followings, such as MLMs). We also encourage writers to have a good representation of POC, LGBTQ+, and strong female characters.
What we are NOT looking for:
Please, do not submit stories that do not fit the theme. Submissions cannot contain graphic rape scenes. Please ensure any scenes of a sexual nature are necessary and non-exploitative.
Submissions must be between 6,000 and 8,000 words.
Title, submitter's name, pen name (if different), story word count, and author email address must be centred at the top of your submission.
Submissions must be written in 12 pt. Times New Roman and double spaced.
We do not require exclusivity. You hold copyright, licensing us just for this publication.
If your story is a reprint, please include its original publication details in your submission email.
Simultaneous submissions are accepted, but you must have the right to license your story in an anthology. Notify us by email at thesacramentdl[email protected] if you need to withdraw your submission at any time.
The deadline for submissions is July 1st, 2022.
Via: DarkLit Press.
About the Author
Latest Posts
Stuart Conover is a father, husband, published author, blogger, geek, entrepreneur, horror fanatic, and runs a few websites including Horror Tree!