Taking Submissions: Recommended Reading February 2023 Window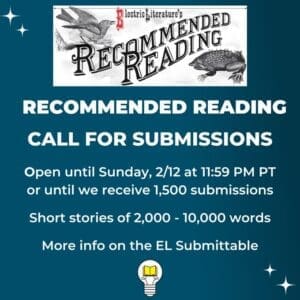 Deadline: February 12th, 2023
Payment: $300
Theme:
Recommended Reading, a magazine by Electric Literature, publishes one story a week, each chosen by today's best authors and editors. Recommended Reading only considers previously unpublished fiction, including publication on your personal website. Submissions will be open Monday, February 1 (12:00am PST) to Sunday, February 12 (11:59pm PST), or until 1,500 submissions are received.
Before submitting, please take some time to read Recommended Reading, especially those recommended by Electric Literature, in which we showcase original fiction. Recommended Reading publishes fiction ranging in length from 2,000 to 10,000 words, and pays each contributor $300. We accept simultaneous submissions, but if your story is accepted elsewhere, please withdraw it immediately through the Submittable system. We can only consider one story by an author at any given time. Response time is three to eight months.
Recommended Reading General Fiction Submissions—opens Wednesday, February 1 2022 (12:00am PST) through Sunday, February 12 (11:59pm PST), or until 1,500 submissions are received
Recommended Reading publishes fiction between 2,000 and 10,000 words. (For fiction shorter than 2,000 words, check for open submission periods to The Commuter.)
Simultaneous submissions are accepted but please notify us immediately if a piece is accepted elsewhere.
Response time is six to eight months.
Upon acceptance, we can offer authors $300 for publishing rights.
During the general submissions periods, writers may submit one piece per period. (This does not apply to year-round submitting members. For more information on member submissions, please refer to the welcome email you received when you signed up as a member or reach out to 

[email protected]

.)
Writers with a submission pending with The Commuter can still submit to Recommended Reading.
For candid advice from our editors on how to polish your first pages and revise your work, check out our "Submission Roulette II" event and our video "How to Get Published in Recommended Reading."
Via: Electric Literature's Submittable.
About the Author
Latest Posts
Selene MacLeod is a night operator and sometime writing hobbyist. She holds a BA in Communications from Wilfrid Laurier University and resides in Kitchener, Ontario. Her work has appeared in several horror and crime fiction anthologies, most recently Shotgun Honey, Drag Noir (Fox Spirit Books); and the upcoming Freakshow: Freakishly Fascinating Tales of Mystery and Suspense (Copper Pen Press), and Tragedy Queens (Clash Media).She's most excited about editing a charity anthology for Nocturnicorn Books called Anthem: A Tribute to Leonard Cohen, due out late 2017.