Taking Submissions: Archive of the Odd Issue #3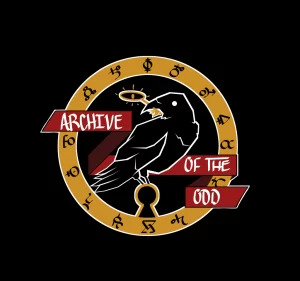 Deadline: February 1st, 2023 (BIPOC-only extension until February, 8th 2023)
Payment: $0.01/word and 50% of the royalties divided between authors for short stories, $20 for 'Between the Shelves', Artwork: $20 per page
Theme: Unthemed speculative found-fiction
A home for the strange, the uncanny, and the odd.
Open Submissions
Query for

Serializing
Audio/video
Finished chapbooks/booklets
Pieces you would like us to help promote
Closed Submissions
Issue #1 (Closed Dec 1, 2021)
Issue #2 (Closed June 15, 2022)
Issue #3 (Unthemed, open Dec 1 2022-Feb 1 2023, BIPOC-only extension until Feb 8 2023)
Rules

We'll be open Dec 1-Feb 1 2022 for unthemed submissions, with a BIPOC specific extension for a week after (until Feb 8th). You don't need to declare your ethnicity or anything on your cover letter, just mention that you are applying for the extension. Submissions are anonymous, so the extension is done on the honor system to an extent. We do find out your identity eventually to respond, obviously.
If you submit to us last window (thank you!), you'll probably be good just looking at the bolded pieces, as those have changed.
All submissions must be found-fiction. Not sure what we're looking for? The best way will be to look at the stories on our website, or buy an issue to see the full zine treatment (in fact, if you email us or DM us on Twitter we'll give you a coupon code for being a savvy author… just saying). Alternately, think about all the things you read on a daily basis that aren't fiction. Newspapers? Emails? Product support guides? …Submissions calls?
If you read all of this and still have questions, please refer to our FAQ, or query!
Alright, let's dive in!
Main Zine Fiction:
We read blind. While there are no penalties for having identifying information on your document, we will ask you to remove it before we read. This is to prevent any subconscious biases- we're people, after all, we don't read in a vacuum.

This also means that your publication history, background, etc., do not affect our decisions!
Failure to remove identifying information will not hurt your chances, we will black it out before reading, though.

Stories can be in any format except traditional prose. Stories told in forum messages? Great! Police blotters? Excellent! Receipts? If you can swing that, we want to see it!
More weight will be given to new and unusual formats. Part of that is the sake of novelty, part of that is just because we don't want five epistolary stories in one issue.
Submissions do not have to rely entirely on text! If you would like to submit something in the form of a webpage that has considerable html/CSS going on, just make sure it's in pdf form when you submit it. We still pay by word, but mixed media pieces are welcome.

If there is attached artwork, we will also pay for art

All work must be speculative, horror being preferred.
Story lengths from 500-8000 are easiest for us to place, but we are by no means beholden to those numbers. (However, if you have a story you want to serialize, please query at 

[email protected]

.)
We pay $0.01/word for short stories chosen for the zine, and an even split of 50% of the royalties after the fact. We hope to bump up the advance, but as a micropress, our payments scale with sales.
We're not fussy about formatting. Shunn formatting is nice, provided you do not list any contact information or your name. If something needs a particular format, or you want to pre-format things, we're not going to insist on Shunn. As long as the font is readable, it should be fine.
Please use common sense when submitting. Any story whose moral is "and that's when I learned the power of hate :)" is getting rejected. Glorification of murder is getting rejected. Sexuality is okay, adult content is not. If you are uncertain about whether something is "too far", please query, or just submit and let us decide.
Simultaneous submissions are perfectly fine, as are reprints. We don't discriminate in pay between reprints and original fiction. Please withdraw if you're accepted elsewhere, but there's no need to disclose ahead of time.
Multiple submissions are accepted, up to three pieces per author. Only one will be published per author, but each story will be regarded as separate and will not have bearing on the judgement of other submissions. If the stories are related and you would like them to be read together, please query, or put them in one document with clear titles to differentiate individual stories.
We do not look to obtain exclusivity. Our contract is for a one-time license for publication and promotion, after which we must ask to include you in anything else.
Want more guidance? Read our editors' hot takes in Six Questions For!
Submit in .pdf, .rtf, or .docx format by email to 

[email protected]
Between the Shelves
Between the Shelves is where we share free-to-read stories between issues.
Any story may be considered for Between the Shelves, but if you have a story that doesn't match the theme that you want published there, mention in your cover letter that you're looking to be published for Between the Shelves and not the main zine.

We don't want to reject you for not meeting a theme that you weren't required to meet!

Payment for Between the Shelves is a flat $20, as well as any royalties from the contributor tip jar on the website.
Other requirements are the same as the main zine, as are rights.
Artwork
There are two methods for submitting artwork- individual pieces and applications to be paired
Individual pieces

Does not need to be in an unusual format, but does need to meet the theme

Is also judged blind- please remove any identifying watermarks

Small signatures are fine, especially if they're initials or abstract

Larger signatures can be added if the pieces are accepted

Submit in .png or .pdf form.

Paired

Once authors are chosen, we will give you the spread of stories and you can choose one to your liking.

We will get you in contact with the author, and then the process can begin.

Payment is $20 per page.
The final zine is 8.5" x 11", bleed error will be added after.
In our first issue, all of the art ended up being paired, and in general we prefer paired art.
In need of inspiration?
When it comes to formats, think of any of the millions of ways humans communicate information. Heck, we'll take non-human communication means. Here's a non-exhaustive list:
Academic papers
Technical writing
Medication warning sheets
Junk mail
Sales papers
Newspaper articles
Recipes
Knitting/crochet/weaving/what-have-you guides
Social media
Book blurbs
Encyclopedia entries
Care guides (plant, animal, rock garden, etc)
Reviews
Contact Us
[email protected]
@archiveoftheodd
Via: Archive of the Odd.
About the Author
Latest Posts
Stuart Conover is a father, husband, published author, blogger, geek, entrepreneur, horror fanatic, and runs a few websites including Horror Tree!