(Limited Time Frame) Taking Submissions: Robot Dinosaurs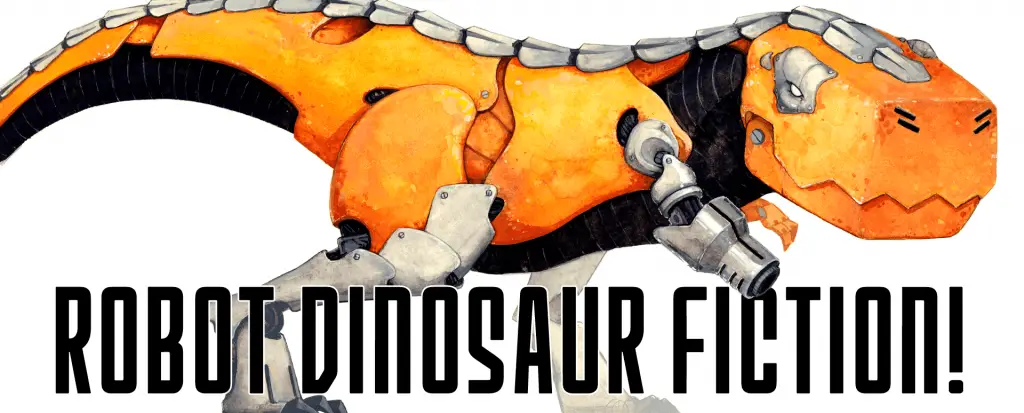 Deadline: August 15th, 2018
Payment: $60
RAWR! Do you like robot dinosaurs and want to join our amazing line-up? 
Well, have we got awesomsaurus news for you! August 1st thru 15th, 2018, we will be open to general fiction submissions! 
(Please do not send any stories before the open submissions period, as they will not be read.)
Want a sneak peak at the guidelines? Read on!
WHAT IS THIS? An open call for ROBOT DINOSAURS! stories (we will be accepting between 3 to 4). These stories will be ebook/print anthology exclusive—they will not be immediately available online, though you are welcome to sell reprint rights after a three-month exclusivity period of the anthology's publication in ebook and print.
RIGHTS: three-month exclusivity upon publication, and non-exclusive archival rights for the anthology (ebook and print) thereafter. All other rights (audio, film, etc) are yours. We will ask to use excerpt from your story as promotional material on the website (usually a few paragraphs at most).
DETAILS:
Payment is $60 USD (payable via PayPal, preferably, and check if in the US).
Story must feature a robot dinosaur of some kind.
Stories must be written in English, original, and unpublished.
Story must be between 750 and 1,200 words long. (You may query for longer works, but the flat fee remains the same. We will not consider anything over 2k.)
Strong language, sexual content, and violence are fine–please no erotica. We prefer PG-13 stories to match the general tone of the project.
Story must be original and not use copyrighted or franchised characters or settings.
Simultaneous and multiple submissions: yes! Sim subs (sending the story to ROBOT DINOSAURS and another market at the same time) are fine, so long as you let us know if the story is accepted elsewhere as soon as possible. Multiple submissions (up to three per author) are also fine, but please send each in a separate email.
INCLUSIVITY:
The submissions call is open to anywhere in the world!
If you are under 18 years of age, you will need a legal guardian to sign the contract; that said, we are more than happy to consider stories from persons of any age!
We welcome stories from people of any ethnicity, race, gender, sexuality, religion, age, neurotype, socio-economic status, etc. We would especially like to see stories from people of marginalized identities!
RESPONSE TIMES: We will have all final responses sent out by the end of August 2018. Initial responses (rejection or hold notices) will be sent on a rolling basis, dependent on how fast we can read subs (and the volume of material we get).
HOW TO SUBMIT?
When the open submissions window opens, the email address for subs will be posted on the guidelines page!
Via: Robot Dinosaur Fiction.
About the Author
Latest Posts
Stuart Conover is a father, husband, published author, blogger, geek, entrepreneur, horror fanatic, and runs a few websites including Horror Tree!