Epeolatry Book Review: Will Do Magic for Small Change by Andrea Hairston


Disclosure:
Our reviews may contain affiliate links. If you purchase something through the links in this article we may receive a small commission or referral fee. This happens without any additional cost to you.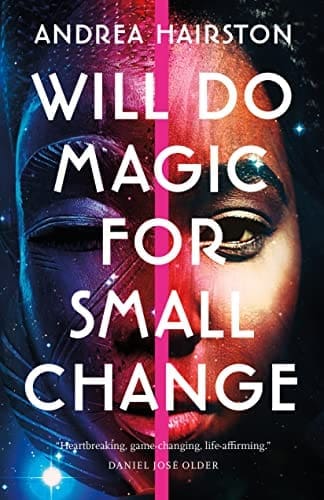 Title: Will Do Magic for Small Change
Author: Andrea Hairston
Publisher: Tor
Genre: Historical and Urban Fantasy
Release Date: 11th, October, 2022
Synopsis: Andrea Hairston's historical fantasy Will Do Magic for Small Change presents a tale of alien science and earthbound magic and the secrets families keep from each other.
Cinnamon Jones dreams of stepping on stage and acting her heart out like her famous grandparents, Redwood and Wildfire. But she's always been theatrically challenged. That won't necessarily stop her! But her family life is a tangle of mysteries and secrets, and nobody is telling her the whole truth.
Before her brother died, he gave Cinnamon The Chronicles of the Great Wanderer—a tale of a Dahomean warrior woman and an alien from another dimension who perform at the 1893 Chicago World's Fair. They are a story of magic or alien science, but the connection to Cinnamon's past is unmistakable.
When an act of violence wounds her family, Cinnamon and her theatre squad determine to solve the mysteries and bring her worlds crashing together.
In Will Do Magic for Small Change, Andrea Hairston delivers a story of magic (or advanced technology that is indistinguishable from magic) that crosses space and time as the story is told throughout multiple time periods. The focus is on Cinnamon Jones and her life in the 1980s, though we also learn more about her ancestors who perform at the 1893 Chicago World's Fair.
Anyone who reads my reviews can surely tell I wanted to pick this up from the Chicago connection as I grew up in the suburbs of the Windy City before eventually moving there (and later back to the suburbs.) I love the city, and the lore, including the World Fair, so there was a lot to like in this novel from the premise alone. At any rate, moving on from what attracted me to the book initially and back to the review itself.
We kick things off in the 1980s in Pittsburgh, where Cinnamon has just lost her brother to suicide. Understandably emotionally wrecked, she is at a loss for how to move forward. Her one solace is a book that came to her from her late brother. In it, we're told a tale of magic that starts in West Africa and transverse the globe from France to the World Fair, which I mentioned above. Oh, I should also mention that the book slowly grows in volume and text as Cinnamon reads it and goes works through the issues in her life. From not being the right fit to her theatrical family, to her father being in a coma, and her brother now dead. 
Tragedy surrounds her. 
So does magic. From occasionally still hearing her dead brother, to the book in her hands, to the performances by her family. There is magic in this world, and the book expands on how the past and future are connected through it all. This is a story that talks about the magic of life and death, about pain and growing up. How the world and people are connected, and how a person's struggle with self and family can be both tragic and uplifting as we watch Cinnamon view the world through both childhood and the young adulthood she is starting to enter. 
There was a lot to digest in Hairston's work and a lot I left out in this review as I didn't want to reach too far into what would be spoiler territory. 


/5
About the Author
Latest Posts
Stuart Conover is a father, husband, published author, blogger, geek, entrepreneur, horror fanatic, and runs a few websites including Horror Tree!