WIHM: Female Horror Authors Who've Inspired Me: Influences and Favorites


Female Horror Authors Who've Inspired Me: Influences and Favorites
By: April A. Taylor
As a female horror author, I'm often asked when my love of the genre began. My earliest memories involve watching the Creature Feature movies and the Thriller Double Feature on local Detroit channels in the early 1980s. Everything from the original Universal Monsters to early Hammer Films filled the tiny black and white television set in my bedroom.
At the age of six, I was also blown away by Michael Jackson's Thriller video. Soon, horror posters adorned my walls, and I voraciously consumed any children's horror books I could find. My first favorite book, which I'd go on to read countless times and still own multiple copies of, was My Friend, the Vampire (better known as The Little Vampire) by Angela Sommer-Bodenburg.
Movies had caught my attention, but the world built by Sommer-Bodenburg completely captivated me. Unlike the two later films based on her internationally best-selling series of books, the characters in My Friend, the Vampire were gnarly, wild beasts who had trouble controlling their urge to drink human blood. This made the budding friendship between the two main characters, Tony (a human) and Rudolph (a vampire), even more endearing, and it satisfied a part of me that very much wanted to have a monster as my best friend (aside from my beloved My Pet Monster, of course).
Some of my earliest artistic endeavors were based on Sommer-Bodenburg's work, including paintings and fan fiction. By the time I turned 10, my reading level had accelerated to a point where I gained special library privileges. Once the adult side of the library was at my disposal, I ran headlong into the world of horror literature.
I vividly remember sitting in my family's garage devouring the first three books in Anne Rice's Vampire Chronicles. I also remember laughing years later when I reread them and picked up on all the sexual content that had flown right over my young head. I also read a lot of fiction by male horror authors – Clive Barker became my favorite – but the experience of reading fiction by women inspired me to believe from a very young age that I, too, could become a horror author one day.
Classic literature by notable names such as Mary Shelley and Shirley Jackson were among my earliest, and quite possibly strongest, influences. To this day, Frankenstein is still my all-time favorite horror novel, and many reviewers have pointed out the similarities between my tone/writing style and Shirley Jackson's seminal work, The Haunting of Hill House.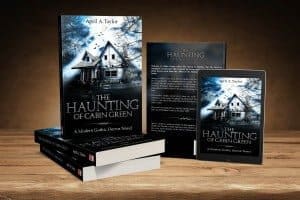 It's no coincidence that my first published horror novel (The Haunting of Cabin Green) centered around a haunted building and a tortured protagonist who may or may not be insane. It's also no surprise that I grew up writing horror stories that took a more literary approach to the genre. This doesn't mean that I don't enjoy a quick, easy splatterfest – those can be really fun, and I've written several of them.  From an intellectual level, though, nothing satisfies me more than reading (and writing) literary horror.
As a result of my literary preference, I've fallen in love with the writing style of modern female horror authors such as Alma Katsu and Damien Angelica Walters. If you haven't read The Hunger and Paper Tigers by these authors yet, I highly encourage you to check them out. They kept me fully engrossed and, in both instances, made me strive to take my own writing to a higher level.
When it's time to let my hair down with a good, old-fashioned gorefest, no other author fits the bill quite as well as Ania Ahlborn. She inspires me to feel free to always push the limits of what horror is and how it can be used to elicit a reaction from readers. Ahlborn is also an inspiration for how she self-marketed her indie debut, Seed, all the way to the top of Amazon's Horror category, which was followed by a publishing contract.
Speaking of indie female horror authors who know how to market their work to a wide audience, I'd be remiss if I didn't mention Darcy Coates. Her particular brand of easily digestible ghost stories has conquered Amazon's algorithms, thereby catapulting the Australian author into the Top 10 Best-Selling Horror Authors list on an almost daily basis. Whether her books are your forte or not, there's no denying her meteoric rise and how much she can teach every female horror author about marketing.
This month, I encourage all of you to give at least one new female horror author a try. Everyone from indies to those who have a lucrative publishing contract has something unique to offer the world of horror, and some of them may end up changing the genre forever, just like Mary Shelley and Shirley Jackson. Happy reading!
April A. Taylor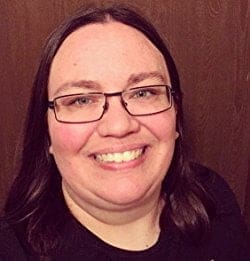 April A. Taylor is an award-winning, multi-genre author. Her debut Gothic horror novel, The Haunting of Cabin Green, was named one of the 'Best Horror Books of 2018' by PopSugar, Inquisitr, BoredPanda, and Ranker. It has also been a #1 Amazon Best-Seller in Gothic, Ghosts, U.S. Horror, and LGBT Horror.
April is a strong believer in writing inclusive stories that represent the world around us. Her other works include the Alexa Bentley Paranormal Mysteries, the Midnight Myths and Fairy Tales series, and the upcoming Corvo Hollows: A Psychological Thriller.
April lives in Michigan with the love of her life and their two cats. If her life was a cartoon, she'd be Lisa Simpson. You can learn more by visiting her website at www.aprilataylor.net or following her on Twitter (@aprilataylor), Facebook (@aprilataylorhorror), and Instagram (@aprilataylorwriter).     
About the Author
Latest Posts
The Horror Tree is a resource for horror authors which was created in 2011. The main goal when starting the site was to include all of the latest horror anthologies and publishers that are taking paying submissions. A resource useful for both new and experienced publishers alike looking for an outlet for their written material!