Epeolatry Book Review: Speed of Dark by Patricia Ricketts


Disclosure:
Our reviews may contain affiliate links. If you purchase something through the links in this article we may receive a small commission or referral fee. This happens without any additional cost to you.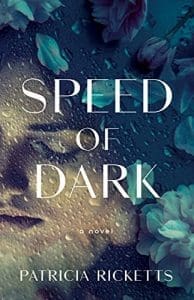 Title: Speed of Dark
Author: Patricia Ricketts
Publisher: She Writes Press
Genre: Fantasy
Release Date: 3rd May, 2022
Synopsis: Mary Em Phillips has decided to end it all after losing her beloved Mamie, who raised her; her husband, Jack, who has left her for another woman; and her only son, Petey, who has died as a result of a freak bacterial infection. But when Mosely Albright, a black man from Chicago's South Side, comes to her back door one morning needing a drink of water and seeking directions back to the train, her plans are derailed . . . to the chagrin of Mishigami (so named by the Ojibwe, also known as Lake Michigan), who has been trying to lure Mary Em into his icy depths in the hopes that she will save him.
Mary Em wants nothing more than to end her anguish. Mosely is searching for the love he's been missing most of his life. And Mishigami—who fears he is dying from rampant pollution and overfishing—seeks a champion.
A story of friendship, survival, connection and the unquestioning power of nature told through three distinct voices, Speed of Dark affirms a love of humanity that transcends all else, including race and background.
I'm going to go into this by warning you that I might be biased. I love fantasy tales and love tales set in, about, or around Chicago, so this was instantly on my radar. So, trying to move past my bias let's dig into this tale. This novel tells us the story through three different characters: Mary Em Phillips, Mosely Albright, and Mishigami (better known as Lake Michigan.) It might be hard to imagine Lake Michigan as a character, and not just as a setting so profound that it is a character, but it all makes sense as the story unfolds.
In this story, Mary is a woman who wants to be done with this life. She has been met with one tragic event after another. Mosely also has had a hard life but has taken these difficulties and made something hopeful for himself and his community. Finally, Mishigami is in trouble. The Lake needs help and has an intricate plan that involved Mary to do so, it believes she can be the champion needed to help save the Lake. In fact, the Lake itself knows Mary, has known her since she was a child and has been drawn to her since when they first "met." Aside from flashbacks and the epilogue itself, this is a story that all takes place on a single day.
All three characters play across from each other beautifully and Mary and Mosely have an almost opposite set of personalities that fit together like puzzle pieces. For those who live in Chicago or the surrounding suburbs there will be plenty of mentions of locations that you've likely either been to or heard of peppered in perfectly throughout the story. While the city itself doesn't quite take up a life of its own, you can feel the vibrancy still creeping into the pages as the story unfolds.
Talk about a fantastic debut novel. Patricia Ricketts was able to bring these vastly different characters together and weave a tapestry of fantasy that ran the range of both dark and hopeful. I'm eager to see what she works on next!

/5
About the Author
Latest Posts
Stuart Conover is a father, husband, published author, blogger, geek, entrepreneur, horror fanatic, and runs a few websites including Horror Tree!