Epeolatry Book Review: Revelations: Horror Writers for Climate Action, ed. Seán O' Connor


Disclosure:
Our reviews may contain affiliate links. If you purchase something through the links in this article we may receive a small commission or referral fee. This happens without any additional cost to you.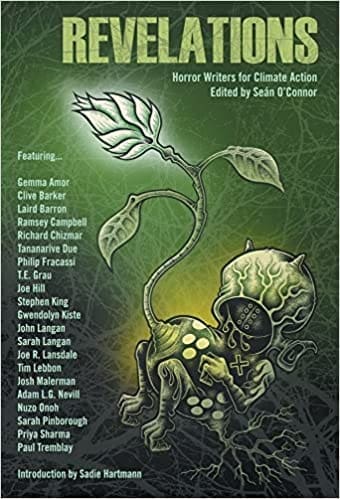 Title: Revelations: Horror Writers for Climate Action
Author: Various, ed. Seán O' Connor
Genre: Horror
Publisher: Stygian Sky Media LLC
Release Date: 22nd April, 2022
Synopsis: Horror stories from a variety of well-known authors.
Here's a massive charity anthology assembling twenty-one reprints by as many horror writers (proceeds donated to an organization devoted to fight against climate change). Thus, buying a copy will secure hours of excellent reading (the impressive line-up of authors is a guarantee) and help those trying to stem this wide world's dramatic climate problem.
But let's stick to the stories which, expectedly, are mostly quite good. 
I will simply mention the contributions which especially stand out.
"The Wood on the Hill" is an old story penned by Clive Barker, actually a sort of dark fable taking place in a wild forest, while "The Tower" by Richard Chizmar is a disquieting tale where a small-town water tower becomes the location of savage murders.
"The Guardian" by Philip Fracassi is a terrifying story. Hungry, lethal creatures live under the sand in a deserted island, attacking and devouring any human being.
In "Summer Thunder", Stephen King masterfully outlines the radiation effects of a nuclear apocalypse by depicting the terrible little changes affecting both animals and humans bound to suffer a slow and painful death.
Tananarive Due contributes "Carriers", a post-plague tale where both carriers and survivors try to carry on with life in a grim, apocalyptic atmosphere.
My favourite stories? "Field of Ice" by the amazing Gemma Amor, a memorable, outstanding piece in an icy mountain setting where a woman on a secret mission has to face both natural dangers and an alien creature. And "The Maid from the Ash: a Life in Pictures" by Gwendolyn Kiste, a superb, unforgettable story, describing the life of a young girl found in the ruins of her house in the woods while trying to return where she belonged.
Other contributors are: Laird Barron, Ramsey Campbell, TE Grau, Joe Hill, John Langan, Sarah Langan, Joe R Lansdale, Tim Lebbon, Josh Malerman, Adam LG Nevill, Nuzo Onoh, Sarah Pinborough, Priya Sharma, Paul Tremblay.



/5
About the Author
Latest Posts
Mario Guslandi was born in Milan, Italy, where he currently lives. A long time fan of dark fiction (especially short stories)he's probably the only Italian who reviews horror and supernatural tales in English. Over the years his reviews have appeared in many genre sites such as Horrorworld, The British Fantasy Society, Hellnotes, Emerald City, SF Revu, Thirteen O' Clock, etc.