FINISHED: Enter To Win An Autographed Hardcover Copy Of Black Wings (US Only)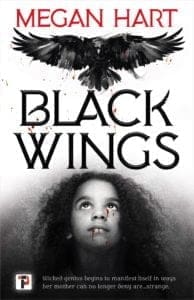 Today we've got our first contest to share with you. I can only offer this one to our US audience but if you have time to enter you can win one of five autographed hardcover copies of 'Black Wings' by Megan Hart! The novel was released this year by – Press.
Want to know more about the novel? The synopsis describes it as: Briella Blake has always been wicked smart. When she's invited to attend a special school for gifted students, she finally has the chance to focus on a project that begins to consume her – the ability to recreate and save copies of a person's entire set of memories. Her friendship with a raven that's as smart as she is leads to conflict with her mother Marian, who is no longer able to deny that there's something wrong with her child.
As to Megan, I've included her bio right here:
Megan Hart writes books. Some of them use a lot of bad words, but most of the other words are okay. She can't live without music, the internet, or the ocean, but she and soda have achieved an amicable uncoupling. She can't stand the feeling of corduroy or velvet, and modern art leaves her cold. She writes a little bit of everything from horror to romance, though she's best known for writing steamy fiction that sometimes makes you cry. Find out more about her at 
meganhart.com
, or if you really want to get crazy, follow her on Twitter at 
twitter.com/megan_hart
 and Facebook at 
www.facebook.com/readinbed
. Follow her horror adventures at 
instagram.com/howlingunicornpress
 or 
facebook.com/howlingunicornpress
.
Please be sure to enter to win a copy below!
About the Author
Latest Posts
Stuart Conover is a father, husband, published author, blogger, geek, entrepreneur, horror fanatic, and runs a few websites including Horror Tree!