Edo van Belkom On His Book's Death and Fiery Resurrection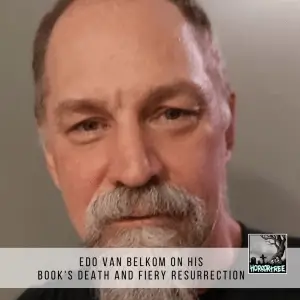 In 2006, at the urging of my wife, I began writing young adult fiction. Not horror per se, but books that featured teenage werewolves where the conflict was more about teenage problems than supernatural horror. The first book in the series, WOLF PACK was a big success, winning both the Aurora and Silver Birch Awards. The Silver Birch was a big one because there had to be 5,000 copies in print for the book to be on the award ballot, and there were four printings and 10,000 copies in print by the time the award was presented. That made the book the bestselling title for Tundra Books that year and encouraged the publisher to allow me to write three other books in the series,  LONE WOLF, CRY WOLF, and WOLF MAN.
But, without the Silver Birch Award, sales of the follow-up books weren't nearly as good as the first, averaging sales of around a thousand copies each.
It was a good run while it lasted, but by 2008 the last book in the series had been published, and a few years later, they were all out of print.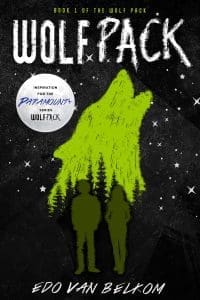 All indications were that the book series was dead, and I moved on to other things, in particular, an ongoing serial story in TRUCK NEWS magazine featuring a truck-driving detective that lasted 15 years and 55 short stories and which spawned a graphic story spinoff and a host of other publications.
Imagine my surprise then, in 2021, my agent sent an email one Friday night informing me that someone was interested in the film/television rights to WOLF PACK. First off, this type of news is nice, but it's nothing to get excited about. When WOLF PACK was first published, there were two parties interested in the film/television rights to the book. One of them had been an associate producer of the SURVIVOR television series, while the other said they had a development deal with Paramount Pictures. While both those things sounded very promising, I never heard another word from either of them. Not only that, but I'd had two previous novels, BLOOD ROAD, and SCREAM QUEEN, both optioned for film, but both options expired, and that was the end of their interest.
So, there was no reason to think that things were going to be any different this time, and no sense getting excited about the possibilities when surely nothing would come of it.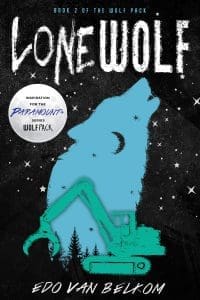 Still, they persisted. An offer was made, and we were happy to have the option money, but there was no real reason to think that anything more would come of it.
But then, six months later, we were sent a press release for our approval, and even though the source of the release was CBS Viacom, I still didn't believe anything was happening. That's the level of doubt that had been pounded into my psyche after riding an emotional rollercoaster each time an option was signed, or someone said they were interested in one of my stories or novels.
However, a few days later, a teaser trailer made the rounds announcing a new TEEN WOLF movie from Jeff Davis, (who also created CRIMINAL MINDS) as well as an all-new series, WOLF PACK, "Based on the acclaimed book series by Edo van Belkom."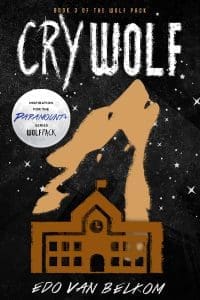 I was stunned. So much so, that I watched that trailer continuously for the next three hours. Each time, WOLF PACK appeared on screen, and each time my name was there as well.
Holy shit! This thing is really going to happen, was my only thought.
Then, at what is light speed for Hollywood, the show was in production six months later, and in another six months, it was streaming on Paramount Plus, starring none other than Buffy herself, Sarah Michele Gellar.
But that was only part of this book's resurrection. While no publisher wanted to do print editions of the four books, my agent Joshua Bilmes and Jabberwocky Literary Agency, agreed to do the first book in print, as well as all four books in e-book format. Furthermore, Podium purchased the audiobook rights, and all four titles are now available on Audible. As well, there has been a sale to Czechia, and offers pending for the first book in Italy, and all four books in Saudi Arabia.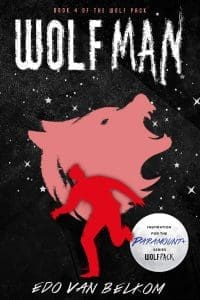 From all accounts, the book is doing well in all formats, no small thanks to the television series and showrunner and creator, Jeff Davis, who made sure "Based on the novel by Edo van Belkom," appeared in each episode's opening credits.
How in the world did this happen? For a while, I told people it was like being struck by lightning and winning the lottery on the very same day. But, family and friends have since convinced me that saying that was selling myself short, as if I'd had nothing to do with this whole thing happening. So, now I've come to terms with my good fortune, knowing that it happened in part because I wrote a good book.
So, if you look at it in that light, the book never really died, but was only dormant, waiting to be rediscovered, not so much back from the dead, but once again in the realm of the living.
Either way, it's an unlikely story of rebirth and resurrection… if only all my works could have such a second chance at life.
About the Author
Latest Posts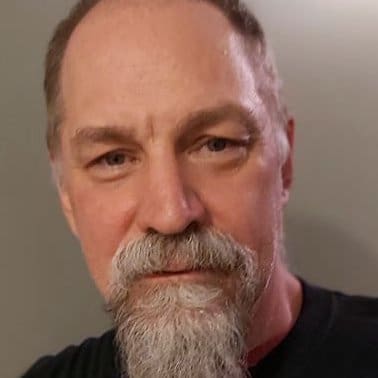 Edo van Belkom is a Canadian author of some 35 books and over 300 short stories in the genres of horror, science fiction, fantasy and mystery. His short fiction has been published in countless anthologies such as Year's Best Horror Stories, Year's Best Erotica, Robert Bloch's Psychos, the Hot Blood and Shock Rock series, as well as several anthologies based on RPGs. His stories "Rat Food" (with David Nickle) won the Bram Stoker Award from the Horror Writers Association, and "Hockey's Night in Canada" won the Aurora, Canada's top prize for speculative fiction. More recently, his young adult series Wolf Pack, has served as the inspiration for the new Jeff Davis supernatural TV series Wolf Pack starring Sarah Michelle Geller, which premieres on Paramount-Plus January 26th in Canada and the US, and the next day across the rest of the world.