Serial Killers: The Child of Hyacinth Road (Part 1) by F.M. Scott
Serial Killers: The Child of Hyacinth Road (Part 1) by F.M. Scott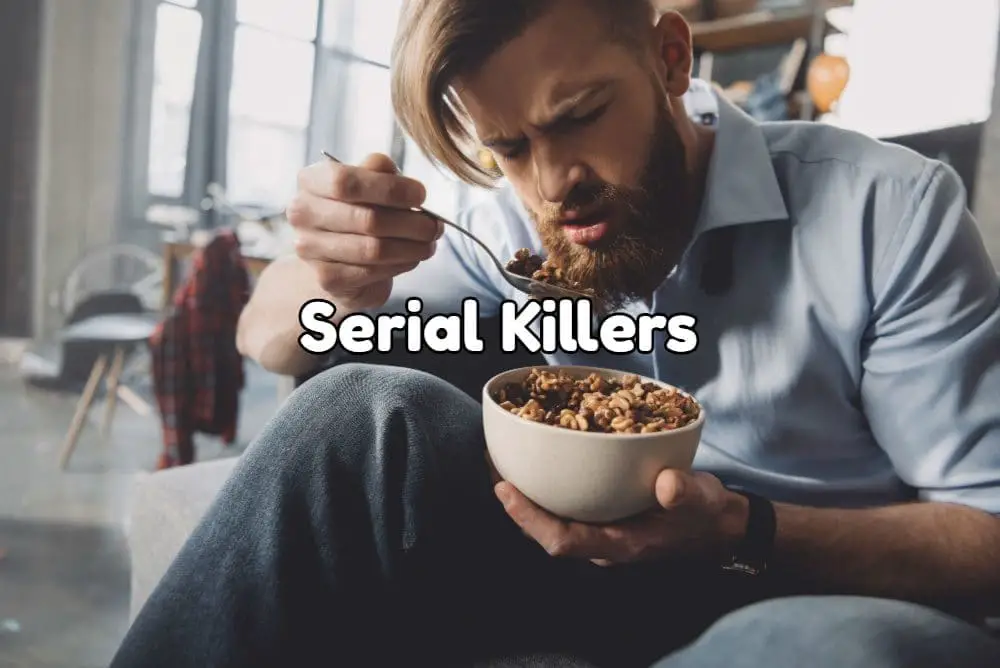 Serial Killers are part of our Trembling With Fear line and are serialized stories which we'll be publishing on an ongoing basis.
PART 1
The following is an excerpt from Episode 19 of the award-winning online series, Unsolved and Unhinged.  The program is known for its investigative and dramatic language, and for its blending of facts, eyewitness accounts, and conjecture.
The Holy Ghost seized young Richard Vandewater.  Growing up dirt-poor in Turlock, California, Richard fell under the spell of the Pentecostal Church, whose hallmarks included tent revivals that came through town.  The Ghost told teenaged Richard to go forth and multiply, in both family and wealth.  His people, if they loved him as an instrument of the Lord, would help him make the latter happen.  So Richard went forth and found lots of those people in Oklahoma.  He moved to Tulsa, already home to iconic televangelist Oral Roberts and his empire.  There he founded Vandewater Enterprises, and turned a church into a fast-growing media company.  And his people, just as the Holy Ghost had promised, made him wealthy.  Soon he married and multiplied.  But later his eldest son William, who helped to spread his father's word as the fearsome and literal truth, slipped up and strayed from the Lord.  He met a young music store employee named Christine Pritchard, whose piano playing and silky demeanor stirred his carnal lust.  Christine received William's seed.  At first, Richard became enraged, as he saw was good and right in the Lord's scheme of things.  He scrambled about, engineering the cover-up of his son's fornication and the prospect of an out-of-wedlock child—something that was sure to tarnish him and threaten his domain as a Chosen One.
William and Christine married hastily.  A grandson, Corey, was born in 1974 with hydrocephalus and a host of cardiovascular and neurological problems that kept him from walking and talking.  Richard, after bearing witness to William and Christine's love and diligence in caring for the child, changed his tune and rewarded his son and daughter-in-law.  A big stone house went up in an exclusive section of Tulsa's Gilcrease Hills—spoils to the young Vandewaters, who would keep the child a secret while doing God's work.  But after three years in that house—three years of Corey nearly dying of this seizure or that respiratory failure—William Vandewater began to tell his father that there were other things at work, too.  His son, endowed with a precocious will he was unable to express in words, was nonetheless angry and vengeful at his lot.  Corey wanted to die.  It showed when his eyes sank back into his face and fixed on his father.  If kept alive, he would punish his father for making him live in misery.  And that displeased the Lord while appeasing Satan.  From his wheelchair, Corey began to do things.  Without his hands.  Toys would show up on the stairs at night.  A glass lamp exploded, sending shards into William's neck and arm.  A tire blew on the Broken Arrow Expressway, causing William to crash his BMW into a retaining wall and break a few ribs.  Soon, Corey developed a snickering laugh, hthth-hthth-hthth!—through the teeth, snakelike.  Other times he would let loose with sudden and piercing screams.  Satan is testing us, the young Vandewater proclaimed.  His father agreed.  You are right, son, and you must be stronger!  William and people from his father's circle began to hold meetings at the house with hopes of casting out whatever foul spirit had seized Corey.  But Christine, exhausted and at the end of her rope, turned.  Her husband had gone off the rails, and she had to protect her child.  It was now two against one.
Police found two adult bodies, each with massive gunshot wounds to the head, in the living room of the Vandewater home on a humid night in June 1977.  A .38 caliber revolver lay near William, with his fingerprints on it.  A small wheelchair stood empty nearby, a prelude to what left investigators baffled: Three-year-old Corey Vandewater, known to his father's inner circle but kept a secret from the general public, had vanished without a trace.  The story hit big at first, then took a back seat to the Girl Scout murders at a camp in Locust Grove that same week.  Police ruled William and Christine Vandewater's deaths a murder-suicide.  Richard Vandewater, at first crazed with grief and rage against the forces that took his son and his family, eventually accepted their deaths but could not accept the mystery of his grandson's disappearance, let alone his son's implication in it as well.
After a long investigation, which the family called "sloppy" and "haphazard", Corey's case went cold.  Rev. Richard Vandewater fell over dead on a turkey hunt in 1980.  His media empire began to crumble.  His most visible legacy consisted of dead-end debate and speculation, and cast a pall over one Tulsa neighborhood—one that faded but would return decades later, in a big way.
#
Hyacinth Road curved upward through a wooded area of Gilcrease Hills, terminating at a perfect vantage point for the downtown skyline a few miles to the south.  It was the only stretch of pavement in Tulsa that bore its name.  The large stone house stood at its dead end.  A circular drive split off toward a tall iron gate anchored by sandstone pillars and ended at a three-car garage.  The remaining front lawn sported landscaped beds dotted with clumps of liriope and hybrid poplars whose small leaves gave a crisp rattle in summer breezes.  From all appearances, the house's four decades had been kind to it, even lent it a near-timeless look not common to houses of that era.
Brian Best began his preliminary once-over upstairs.  In his fourth year as a realtor, he continued his policy of sticking to the basics when showing a house, avoiding the use of superlatives like "peach" or "gem".  If a prospective buyer got hooked, it happened naturally.  Gilcrease Hills was new territory, a chance to build on the impressive sales he'd scored in Villa Grove and Florence Park.
The house on Hyacinth Road changed hands a number of times since 1977.  Its occupants were, of course, a succession of upper middle-class people—mostly families, whose behaviors didn't contribute to any notable history.  Not that the neighborhood rumor mill didn't put out.  One morning, Brian struck up a conversation with one of the neighbors, an elderly Ms. Weston, who used oxygen and whose blunt manner conveyed that she wasn't impressed with you, no matter what you did or said you did.  She had moved into the neighborhood during the late Eighties and admitted to being a people watcher.  Sometimes, she said, the gossip got too good, too juicy—the only way that life on such a small, isolated street could keep an interesting face.
The father of the family that last vacated the big stone house was a senior hotshot in a prominent law firm.  One story related to Ms. Weston was that he'd been canned after getting caught with a young paralegal on a conference table after hours.
"Legs, tongues, and pie filling," she deadpanned.
Another story went that the family could no longer afford the house and keep two kids in private school, and the man of the castle was not happy.
"I like the first story," Brian chuckled.  "Lends the place some character, for better or for worse."
Ms. Weston cleared her throat.  "I'd say he was about your age.  What are you, about forty-five, fifty?"
He paused.  "I'm thirty-seven."
Brian checked the closets and windows of the four spacious bedrooms upstairs.  All bathroom fixtures and plumbing were secure and drip-free.  The downstairs rooms, including a den, a kitchen, a dining room, and a library/study that perked his envy, looked fine as well.  In a utility room off the garage, something else caught Brian's eye: a narrow door, which he opened with little thought.  Beyond it, a few bulkhead stairs led down to what amounted to a dark, tiny joke of a basement.  At most, the space would hold a few average-sized boxes.  Brian pulled a string and lit up a bare bulb on the ceiling.  In an opening at the back of the space lay something even more curious: a patch of bare earth about five or six square feet in area.  In the faint light, Brian tapped it with a foot; it gave a bit near the center.  This odd caesura in construction didn't appear to pose any structural risk; still it was nothing he had ever seen.  In the garage he retrieved a trowel he'd kept for making small touch-ups to flowerbeds.  When he returned he squatted and plunged the blade into the soft spot in the dirt.  Another stab.  A third, and a loud whistling sound, like air rushing through a tiny space, issued from the soil.  The sound lasted a few seconds, then shut off.  Brian stared at the hole, knowing that the average trowel would not likely rupture a steel gas line.  But there was a smell—a strong odor of decay, like a small roadkill, that lingered.  An outgassing from the soil, maybe.  Still, that didn't explain the whistling noise; there was something organic to it, too.  Something almost animal.  Brian grimaced as he refilled the hole and patted the dirt down.
He hung the trowel back on its hook.  Nothing here, he thought as he went back inside to wash his hands.  Who, apart from kids playing hide-and-seek, would spend any real time in such a tiny space?  And if there were people to call, they would hold office at the Bureau of Unaccountable Shit.  All was good with the house, and what couldn't be explained needed no attention.
F.M. Scott
F.M. Scott is from Tulsa, Oklahoma, where he lives and writes.  His stories have appeared in The Killer Collection, Sirius Science Fiction, The Horror Tree, The Tulsa Voice, and The Rock N' Roll Horror Zine.  A few of his drabbles were collected in Trembling with Fear: Year 2 Anthology.
http://writprodsm.wixsite.com/fmscott
Facebook and Twitter @fmscottauthor