2021 Gift Guide For Authors
What To Buy A Writer?
Ladies and gentlemen, the holiday season is upon us. It doesn't matter if you're looking to celebrate Hanukkah, Christmas, Kwanzaa, New Year's Eve, Festivus, or any other holiday with the author in your life, you still might be trying to figure out what to get them. Well, we've got a fun list of ideas that are a bit off the beaten path. I'm trying not to overdo it with books (though I do have one on the list!) or standard writing materials because, let's face it, most of us have enough of that.
So… you might be asking yourself:
What Do Writers Like For Presents?
I'm going to dive into that now! Though, I of course have to offer up the following disclaimer:
Disclaimer: This article contains affiliate links. If you purchase something through the links in this article we may receive a small commission or referral fee. This happens without any additional cost to you.
Now that the legal piece is out of the way, let's dive in!
Best Gifts For Writers 2021
#10 An Edgar Allan Poe Funko Pop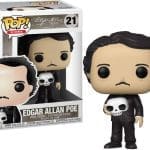 It never hurts to have a desk buddy and why not be joined by the great poet himself, Edgar Allan Poe in Funko Pop form! Gripping a skull, this gothic poet stands 3 ¾ inches tall and is perfect either to add to your collection or have hang out by himself, all alone. Quite fitting if you ask me! You can order this on Amazon today! There has been an increase in authors available in Funko Pop format and none seem to last that long so be sure to pick Poe up while you can!
#9 5 Piece Typewriter Coaster Set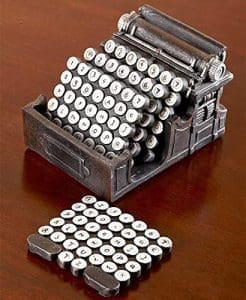 It doesn't matter if you have a glass of water, coffee, tea, or your adult beverage of choice – it is best to put it down on something. You don't want to ruin your countertop or desk with a minor spill so why not find a coaster that perfectly reflects that you love to write? Say, a set of coasters that resembles a typewriter keyboard? Not only do they look good but they have a firm rubber grip on the bottom of both the base and coasters to prevent sliding. To get an idea of the size, the base measures 4″W x 3-1/4″D x 5-1/4″H while the coasters each measure 3-1/8″W x 2-7/8″L. These keyboard coasters are the perfect gift to provide a stylish product that is functional in helping out your house! You can buy them on Amazon today!
#8 A Keychain For Writers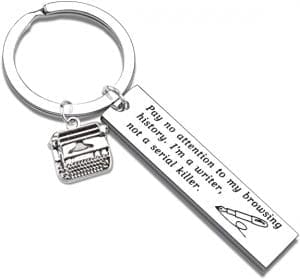 While a keychain can show off your love for the written word, it can also serve as a warning that just because you're looking up some really messed up stuff that you aren't a serial killer. Seriously. Promise. You believe me… Right? If you've ever had to spell out that your browsing history shouldn't divine you, a keychain that literally says "Pay no attention to my browsing history. I'm a writer, not a serial killer." is pretty perfect. They've also got a nice variety of other keychains in a similar style if you scroll down under the main product as well. You can order one of these on Amazon right now.
#7 A Great Pen
Everyone who writes could use a fantastic pen for doing so. The Scriveiner Rollerball Pen fits that description perfectly. The pen itself is made using Brass with the color of your choosing and 24K gold appointments so it looks beautiful and feels super comfortable. Which colors are available you may ask? Black Lacquer, British Racing Green, Deep Crimson, Midnight Blue, and Silver Chrome. It is the perfect mix of both a ballpoint pen with the ink feeling of a fountain pen. This one comes with ink in the pen and one Schmidt black refill within the box. Help your favorite author write in style by snagging them one from Amazon! They're available in
#6 Writing Gloves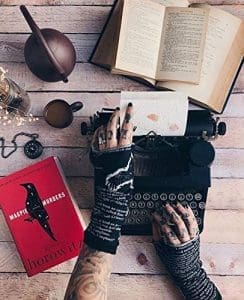 Need to keep your hands warm for writing while also keeping them covered in the words that they're trying to create? Storiarts has put together these amazing writing gloves for you to enjoy! These gloves will take you back to plenty of classic stories for you to choose from with phrases from works such as 'The Raven', 'Dracula', and so many more! These gloves "are made with American-made, 100% cotton knit fabric" and come highly recommended from our very own Jennifer Griffin! As to the sizing, "the open palm circumference is about 8″ and the arm band is about 7″ around." You can buy these writing gloves on Amazon right now!
#5 The Nasharia Book Light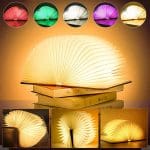 Stylish, looks awesome on your nightstand or bookshelf, and is useful! The Nasharia Book Light is perfect for lovers of books by giving light in our time of need and doing so in a way that just looks awesome. What better way to read a book than by a book light, shaped like a book! The product itself is made of "durable and water resistance tyvek paper and superb white maple wood" so it both looks good and will hold up over time. You can order The Nasharia Book Light on Amazon today!
#4 Book Tissue Box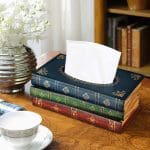 Everyone has a stuffy nose now and again, but why just have the box itself show? Why not get a Book Tissue Box to really lean into being an author. These boxes are "handcrafted out of wood" to look like a set of classic books. Not only that, but it is super easy to refill. Show your love of books even while having to deal with a runny nose! The best part is, there are three color schemes to choose from and one will hopefully match the majority of authors' rooms out there. Buy a Book Tissue Box at Amazon today!
#3 A Cool Bookshelf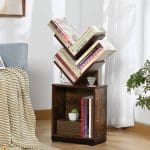 Let's face it unless you're going Marie Kondo on everything, you always need more bookshelves. There are plenty of useful ones out there but there are also a ton of more unique styles as well. While you may want to make sure it'll fit in whatever room it will go in, a statement piece of a bookshelf that combines form with functionality really is the way to go. Now you'll have a new piece to not only store your books but showcase them as well. Books shouldn't be confined to dusty shelves, they should be out and open and being read and being discussed. Finding something to showcase your books that is unique can help you do just that! While there are other cool ones out there, I personally like this one from Ruboka which is the perfect size for a spot in my current house that I'm not thinking about. You can pick this up on Amazon today!
#2 Books To Help Your Writing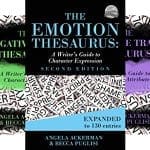 I know my introduction started with saying that we wouldn't be including many books on the list this year so this is the only one! Our very own review coordinator Cathy Jordan stressed that we should add "The Emotion Thesaurus" series and a couple of our other writers agreed so I'm being sure to include it. This is a solid inclusion to any writer's toolbox on expanding how they can write about various emotions. A huge plus if you're writing on an area that you haven't experienced in detail or aren't sure how to put into words. Ranging from topics such as character expression to psychological trauma there is a huge range of areas that these books can prove to be helpful. So, head over to Amazon and order one or the full set today!
#1 Fun And Games
We all need a break from writing nowadays. But a break shouldn't be aimlessly scrolling social media and as we like to create why not find a fun way to apply that creativity? Enter: Dixit. This classic storytelling game is fun for adults and kids alike. "Dixit is a simple, lighthearted game of storytelling and guesswork where your imagination unlocks the tale. Every picture tells a story – but what story will your picture tell?" You will need 3-8 players so it also forces us out of our shells for anyone who tends to be a bit more on the antisocial side of things. So, be sure to pick up a copy of Dixit at Amazon today!
Bonus Buy!
It is always hard to do one of these lists without a bit of self-promotion! While I couldn't list these in our Top 10 as we're a little biased, I would love to hype a few of our own products. This is a gift for both the author in your life, and us! If you do want to gift your friendly author with something new to read I would like to stress that picking up any of the 9 books in the 'Trembling With Fear' series that we release are all solid choices! Or, if you're looking for some new threads or mugs, we have both in the Horror Tree Store!
About the Author
Latest Posts
Stuart Conover is a father, husband, published author, blogger, geek, entrepreneur, horror fanatic, and runs a few websites including Horror Tree!