WiHM 12: Quick Six Questions With Catherine Lundoff

Welcome to The Horror Tree, and thank you for participating in Women In Horror Month. First, tell us a bit about yourself and your interest in horror.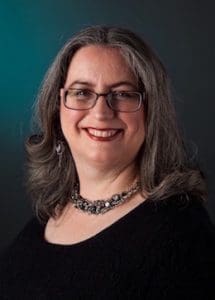 Hi there! Thanks for including me! I write a fair amount of horror and horror-adjacent work, including a lot of ghost stories and classic tale retellings, often seen through a queer lens. You can find my collected horror and dark fantasy in a collection called Unfinished Business: Tales of the Dark Fantastic (Queen of Swords Press, 2019). You can also find my work in publications like American Monsters Part 2 and Fireside Magazine and in media tie-in anthologies for World of Darkness games such as Vampire the Masquerade and Wraith. In addition, I write "horror-adjacent" work such as my Wolves of Wolf's Point menopausal werewolf books and vampire erotica as Emily L. Byrne.
Apart from that, I've always loved certain kinds of horror – ghost stories, the kind of monster stories that hum along just below the surface of fairy tales and thoughtful smart horror like Ginger Snaps and Shirley Jackson and Angela Carter. I like the snark and diverse representation of new shows like The Dead Lands (2020) as well as Victorian-style horror books and films like Susan Hill's The Woman in Black and Del Toro's Crimson Peak. I like a good scare, but am not big on gore.
Why is Women In Horror Month important, and what do you say to someone who says 'Oh, I don't care if it's by a man, a woman, etc., as long as it's a good story'?"
I think that Women in Horror Month is a terrific opportunity to showcase the voices of writers and creators who might otherwise be overlooked. Movies directed by women and books written by women often don't get the same amount of recognition or publicity that similar works by men get and that is an established pattern. Often the people asking that question either don't read anything written by women (or people who don't identify as male or female) or only read "good stories" by the same handful of female writers and no one else. Women in Horror Month gives readers and horror fans a chance to break out of that pattern, to find new "good" stories and new creations and celebrate them.
Who are some Women In Horror (or other women) who have influenced your work, and why?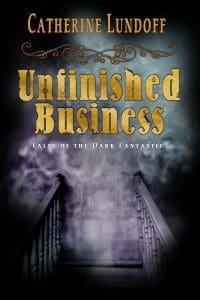 I think my werewolves are to some degree inspired by Angela Carter's work, particularly her stories in The Bloody Chamber and Other Stories. My ghost stories and other spooky tales have certainly been influenced by Shirley Jackson's subtle horror tales like We Have Always Lived in the Castle and The Haunting of Hill House and Victorian women writers like Vernon Lee and the stories featured in anthologies like What Did Miss Darrington See? An Anthology of Feminist Supernatural Fiction edited by Jessica Amanda Salmonson. I think a lot of early women's horror focused on the terror of the mundane, the warped underpinnings of women's daily domestic lives, which are both familiar and a trap. Vernon Lee was also a lesbian writer and her stories are filled with queer subtext, longings that cannot be brought out into the light and hauntings that have as much to do with complicated loves and desires as they do with the supernatural. Amongst more contemporary authors, I really like Angela Slatter and Alyssa Wong's stories. I am, of course, not trying to suggest that my work is in their league but that seeing the kinds of writing and stories that they've created inspires me to try and aim for that level of subtlety and complexity in my own work.
2020 will probably be remembered as a TERRIBLE year for many of us; tell me something GOOD that happened in the past 12 months.
From a writing standpoint, I'm very pleased to say that I finished my new novel, Blood Moon. I started working on it back in 2012 and had planned to have it out by 2014 at the latest. One publisher, several other books, many stories, a new publishing company and lots of personal changes and obstacles later, I finally got it done and ready to be released on 3/15!
What have you got planned for Women in Horror Month, and the coming months of 2021?
I just did a reading and a horror panel at Capricon 41 last weekend and I'm currently planning the book release for Blood Moon, which will include an online/limited in person reading at DreamHaven Books in Minneapolis, some other online readings and a blog tour. I'm also working on a couple of short horror stories that I hope to submit in the coming months. And I'll be teaching "Crimson Peaks and Melancholy Mansions: Writing Gothic Horror" at Cat Rambo's Rambo Academy in October.
Is there anything else you'd like to tell our readers?
Thanks so much for including me! You can find me at www.catherinelundoff.net and my books at Queen of Swords Press. I'm on Twitter as @clundoff and around and about on most other platforms as either myself or the Press.
About the Author
Latest Posts
Selene MacLeod is a night operator and sometime writing hobbyist. She holds a BA in Communications from Wilfrid Laurier University and resides in Kitchener, Ontario. Her work has appeared in several horror and crime fiction anthologies, most recently Shotgun Honey, Drag Noir (Fox Spirit Books); and the upcoming Freakshow: Freakishly Fascinating Tales of Mystery and Suspense (Copper Pen Press), and Tragedy Queens (Clash Media).She's most excited about editing a charity anthology for Nocturnicorn Books called Anthem: A Tribute to Leonard Cohen, due out late 2017.