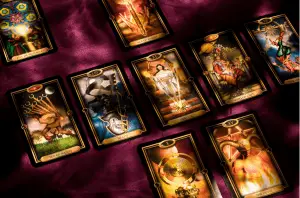 Happy Preptober for those of you doing NaNoWriMo and break a…pen…in November!
So, as part of your prep, get ready to scare the wits out of your readers with this month's "writer's inspiration" tarot card reading!
Setting: King of Wands. A world in flames, torn apart by warring factions. Hate and rage fuel this martial society, and there will never be a winner, yet the fighting seems like it will continue until there is nothing left but a destroyed, blood-soaked landscape.
Character: The Chariot. Ruling over this world is the penultimate Queen of War. She will not yield until her cause is won. But her real end goal is unknown to the cadre of warriors she leads into battle. She has dual roles to play in the future of the world. She sees the infinite threads of fate and the universe with her powerful eyes, and knows that this planet has been distorted by a time fault. She is both an actor and a director in the flow of space and time, and, while her warriors are united to a their cause, she is using them as a sacrifice to create the world anew–to bring it back into the harmony of the universe over which she rules.
Theme/Development: Four of Cups. Although martial in character and on the battlefield, even the Queen of War has to yield to the balance and order of the universe. To ignore that is to also bring about her own demise. Which, being the immortal essence of the universe, is not really a demise, but a purgatory. And even though centuries have passed while the opposing sides continue their warfare, even she is tiring of the constant battle. The flames of hate and rage are now threatening to extend out into the universe, as the planet's inhabitants have built better technology. If they manage to make it off the planet, the balance of all time and space will be disrupted. She has to stop it.
Conflict/Climax: Four of Coins. However, the queen has gotten too accustomed to life on this planet. She's finding it hard to give up the comforts of living a life within a concrete physical form–the entertainment, food, warmth, and security her castle provides. Not to mention she's fearing the more quiet, dull life that awaits her once the universe regains its necessary balance. But the world she inhabits in physical form has begun to decay with the deleterious effect of the technology the planet's inhabitants continue to invent. Soon, she won't have a world under her feet, and the decay will spread throughout the universe. She has to make a choice; to create a world within which all life can live, or she can die with her soldiers.