Disclosure:
Our reviews may contain affiliate links. If you purchase something through the links in this article we may receive a small commission or referral fee. This happens without any additional cost to you.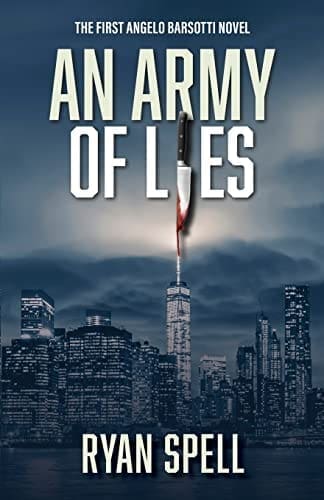 Title: An Army of Lies
Authors: Ryan Spell
Genre: Murder Mystery
Release Date: January 25th, 2023
Synopsis: An unexpected affair. A lover's betrayal. A brutal murder.
Private investigator Angelo Barsotti is just getting by, moonlighting as a bartender at a cop bar and obsessing over the murder of his wife, which he's been unable to solve for two years. When tech giant Grant Dogon tries to hire him to get his best friend and former platoon comrade, Craig, out of jail, Angelo wants nothing to do with the case. Craig Mazer, who is accused of killing his wife, Helen, has no alibi. But Grant comes bearing a briefcase of cash and a refusal to take no for an answer.
As Angelo reluctantly investigates the case, with his enthusiastic associate and friend, Lewis, all roads lead to Dogon Tech, where Craig works for Grant. Why is a tech security firm having so many security breaches of its own? What is Grant hiding before the company's public offering? As Angelo tries to uncover these secrets, he's met with lie after lie. Is he putting himself and others in danger by pursuing this angle?
While working this case, new clues about Angelo's wife emerge from an unexpected source, but he must solve who killed Helen Mazer first. Will Angelo be able to see through the lies to find the truth and finally solve what happened to his wife?