Disclosure:
Our reviews may contain affiliate links. If you purchase something through the links in this article we may receive a small commission or referral fee. This happens without any additional cost to you.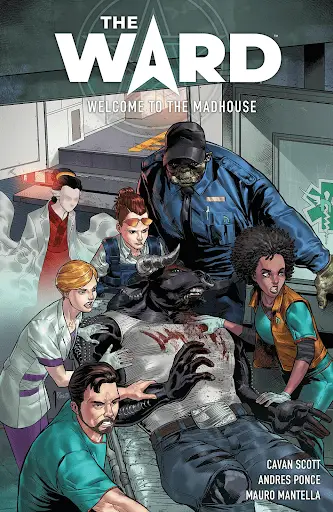 Title: The Ward
Author: Cavan Scott
Artist: Andres Ponce
Letters: Mauro Mantella
Genre: Horror, Fantasy, Drama
Publisher: Dark Horse Books
Release Date: 31st January, 2023
Synopsis: St. Lilith's is a secret hospital for supernatural creatures. A place, and a life, Dr. Nat Reeves thought she left behind. She was wrong.
When a wounded woman with a tail appears on her doorstep, Nat crash-lands at her old job in the emergency room of the city's last recourse for the otherworldly ill. The personnel are overworked, the facility is underfunded, and all operations must be kept hidden from the public, including Nat's own family. Some of the staff, like the self-duplicating nurse Lydia Black, are glad to have her back. Others, like Luis Cervantes, a new resident with something to prove (and more to hide), not so much. And who can tell what Dr. Kumasaka, the ghostly head of the department, is thinking?
All Nat knows is that the overwhelming need they face every day is enough to keep the truth of why she left St. Lilith's at bay, at least, for a while. Then a magical plague hits the city, and everything sets to change, for everyone.
From the author of bestselling titles for Star Wars, Doctor Who, Star Trek, Warhammer 40,000, Vikings, Judge Dredd, and others comes an intense medical drama abound with fairies, trolls, and real human pathos.
Collects The Ward: Welcome to the Madhouse #1–#4.