Setting Self-Doubt on Fire: Sarra Cannon's NaNoWriMo Diaries
 Name of column: Setting Self-Doubt on Fire
Name of Miniseries: Improve Your Writing Skills with AuthorTube
Post Title: Sarra Cannon's NaNoWriMo Diaries
Hi all, I have a new 'Improve Your Writing Skills with AuthorTube' miniseries post for you today.
If you want to know more about this new miniseries, you can read my 'Setting Self-Doubt on Fire – AuthorTube – Learn How to Describe Emotion' post. 
So, let's look at the third video in this series: The NaNoWriMo Diaries by Heart Breathings (Sarra Cannon's YouTube channel), see the playlist below. 
https://www.youtube.com/watch?v=FUWSYi5NvPw&list=PLg6zjsQP4Pwf9ONFNNJ_qdZ_2cLYIzQo9
Heart Breathings is a YouTube channel by the indie author Sarra Cannon. Sarra writes YA and New Adult contemporary and paranormal fiction, and she is the author of the popular Shadow Demons Saga series — I love this series. 
Sarra started her Heart Breathings channel in 2018 to help writers to create a writing career they love. So far, her channel has 245 videos, but the ones I want to focus on today are her NaNoWriMo Diaries.
Now, these videos don't show you how to improve your writing skills, but I feel they have an important message for us writers. And, it shows us that even a successful author can be controlled by fear, but that doesn't stop them from living their dream life. 
The diaries start well, and Sarra is excited about reaching her goals of writing 50,000 words of her book Witch's Door and editing and publishing the final book in her Eternal Sorrows trilogy. But things soon start going wrong, and no matter how many hours she worked (and she worked hard) she wasn't able to reach her goal. This was a devastating blow to Sarra, but she learned many lessons: 
The muse always wins — a story needs to be written the way it needs to be written. You can't force it into being something it isn't. 

Never make decisions based on fear. 

A missed deadline is better than publishing a book that isn't the best of your ability.

Life not going to plan can sometimes be an unexpected gift. 

Sometimes failure is an important life lesson. 

The only way you fail is if you give up on yourself. (I want you to read this three times)
So, these aren't tips on how to improve your writing, but they are all important lessons that we need to learn to help us with our writing journey.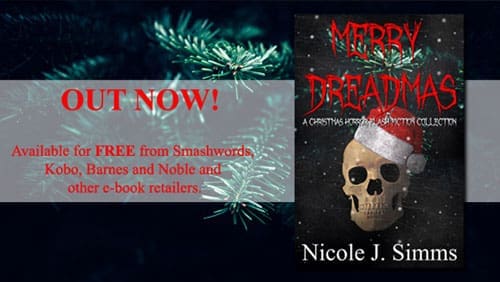 Before I go, I'll like to let you know that I have a new Christmas horror flash fiction collection out called Merry Dreadmas that is available to download as an e-book and an audiobook for FREE.  
And, if you struggle with self-doubt and you want to be part of a group where writers can share their fears, motivate each other and offer support, then join my 'Setting Self-Doubt on Fire Squad' group. 
Okay, that's all I have for you today. Stay safe, everyone. And have a Merry Dreadmas … I mean Christmas. 
"Don't give in to your fears. If you do, you won't be able to talk to your heart."
― Paulo Coelho, The Alchemist
Sign up for our Newsletter
Never miss a post from our team by signing up!