Ongoing Submissions: Clarkesworld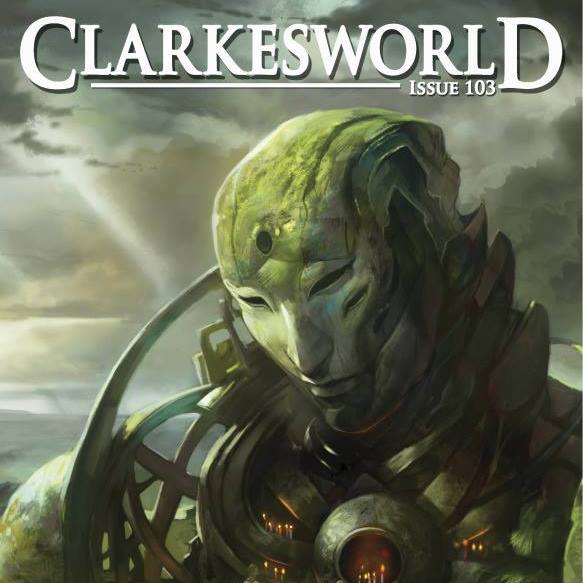 Payment: 10¢ per word for the first 5000 words, 8¢ for each word over 5000
Clarkesworld Magazine is a Hugo and World Fantasy Award-winning science fiction and fantasy magazine that publishes short stories, interviews, articles and audio fiction. Issues are published monthly and available on our website, for purchase in ebook format, and via electronic subscription. All original fiction is also published in our trade paperback series from Wyrm Publishing. We are currently open for art, non-fiction and short story submissions.
Fiction Guidelines
Word Limit:
1000-16000 words, no more, no less NEW 6/3/15
Pay Rate:
10¢ per word for the first 5000 words, 8¢ for each word over 5000 NEW 6/3/15
Genres:
Science fiction and fantasy
Language:
English (We accept stories from all over the world. Translations are welcome.)
Rights:
We claim first world electronic rights (text and audio), first print rights (author must be willing to sign copies), and non-exclusive anthology rights for our annual Clarkesworldanthology. If you are unfamiliar with the term "First Rights," an explanation can be found here.
Stories must be:
Well-written. Language is important. There is no distinction between "style" and "substance" or "story" and "writing."
Convenient for on-screen reading. Very long paragraphs or typographical trickery may work against you.
Suitable for audio. Stories should be equally effective, but not necessarily the same, in text and audio formats.
Science fiction need not be "hard" SF, but rigor is appreciated. Fantasy can be folkloric, contemporary, surreal, etc. Horror can be supernatural or psychological, so long as it is frightening. There are no barriers as to levels of profanity, gore, or sexuality allowed, but high amounts of profanity, gore, and sexuality are generally used poorly. Be sure to use them well if you do use them.
Though no particular setting, theme, or plot is anathema to us, the following are likely hard sells:
zombies or zombie-wannabes (seriously, I'm not kidding)
sexy vampires, wanton werewolves, wicked witches, or demonic children
stories about rapists, murderers, child abusers, or cannibals
stories where the climax is dependent on the spilling of intestines
stories in which a milquetoast civilian government is depicted as the sole obstacle to either catching some depraved criminal or to an uncomplicated military victory
stories where the Republicans, or Democrats, or Libertarians, or the Spartacist League, etc. take over the world and either save or ruin it
stories in which the words "thou" or "thine" appear
talking cats or swords
stories where FTL travel or time travel is as easy as is it on television shows or movies
stories that depend on some vestigial belief in Judeo-Christian mythology in order to be frightening (i.e., Cain and Abel are vampires, the End Times are a' comin', Communion wine turns to Christ's literal blood and it's HIV positive, Satan's gonna getcha, etc.)
stories about young kids playing in some field and discovering ANYTHING. (a body, an alien craft, Excalibur, ANYTHING).
stories about the stuff we all read in Scientific American three months ago
stories about your RPG character's adventures
"funny" stories that depend on, or even include, puns
stories where the protagonist is either widely despised or widely admired simply because he or she is just so smart and/or strange
stories that take place within an artsy-fartsy bohemia as written by an author who has clearly never experienced one
stories originally intended for someone's upcoming theme anthology or issue (everyone is sending those out, wait a while)
your trunk stories
Fiction Submissions Process
Clarkesworld uses an online submissions system that has been designed to streamline our process and improve communication with authors. We do not accept email or paper submissions. Go here to submit your stories.
Our submissions form asks for your name, email address, cover letter, story title, word count, genre and story. Your cover letter should contain your publishing history (if any) and any other relevant information (e.g, if you send us a first contact and happen to BE an alien, mention that). All stories should be in standard manuscript format and can be submitted in either .RTF or .DOC format. No simultaneous submissions. If you have questions, concerns or technical issues, please contact Neil via email.
After you have submitted your story, a tracking number will be displayed and an automated email confirmation containing this information will be sent to you. If you have not received this email within 24 hours, pleaseemail us. Your tracking number will allow you to monitor the status of your submission via our website, so please don't lose it. NOTE: Yahoo.com occasionally treats our email as spam, please keep an eye on your spam folder.
Our average response time is usually under two days, but we occasionally hold submissions for longer periods. We ask that you:
don't send queries until after two weeks have passed. Use your tracking number to check on the status prior to that.
don't send revisions to a submission unless they have been requested.
don't submit another story for a period of seven days after receiving a rejection.
don't re-submit stories that have been rejected. Do not query for permission.
don't argue with rejection letters. You're only wasting time.
If you are uncertain about anything above, we recommend following the most conservative interpretation.
Confidentiality
Author's personal information (name, address, email, phone, or secret identity) will not be shared with anyone outside our editorial staff, except in the following situations:
if we are compelled by law
if threats are made against our staff
if our narrators require your assistance with pronunciation (email only)
if established year's best editors would like to include your story in their anthology (email only)
if the author has instructed us to do so
Via: Clarkesworld.
About the Author
Latest Posts
Stuart Conover is a father, husband, published author, blogger, geek, entrepreneur, horror fanatic, and runs a few websites including Horror Tree!