Looking For A New Podcast? Check Out Tor Presents: Voyage into Genre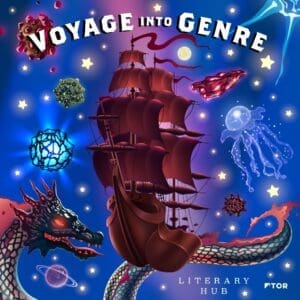 Genre fans have reason to rejoice as Tom Doherty Associates and Literary Hub (LitHub) are giving us a new podcast. Recently launched, 'Tor Presents: Voyage into Genre' is "a new biweekly podcast hosted by Drew Broussard." It is sadly a limited series but will "feature authors of all backgrounds from the science-fiction fantasy imprints Tor Books, Tordotcom Publishing, and Tor Teen."
Broussard also co-hosts LitHub's So Many Damn Books
Talking about the podcast, Broussard shares that:
"I've been reading the Tor library for basically my entire life and their fantastical, speculative, chilling stories continue to mold who I am as a reader today. I'm delighted to be talking with these incredible authors and serving as to(u)r guide — can't/won't/shan't stop with that one — for this voyage across time, space, dimensions, genres, and more! What delights and surprises we'll find along the way! All aboard!"
In the first release, Broussard will speak with T. L. Huchu in Scotland "about The Library of the Dead, the dystopias around us, scientific magic, and making up a new music craze" and following that "to Cairo, Egypt (1912) to talk to P. Djèlí Clark about A Master of Djinn, counterfactuals, returning to a world, and the writer's toolkit, and to New York, USA (2021) for a quick city stroll with Kamau Ware, founder of the Black Gotham Experience."
Interested in listening to the pod? You can find it at Spotify, Apple Podcasts, LiteraryHub, or wherever you stream your podcasts.
The release schedule is as follows:
JULY 14 — EP 1:  P. Djèlí Clark (A Master of Djinn) and T.L. Huchu (The Library of the Dead)
JULY 28 — EP 2:  Bethany C. Morrow (A Chorus Rises) and TJ Klune (Flash Fire)
AUGUST 11—EP 3: Nghi Vo (The Chosen and the Beautiful)  and Shelley Parker-Chan (She Who Became the Sun)
AUGUST 25 — EP 4: Becky Chambers (A Psalm for the Wild-Built)  and Charlie Jane Anders (Never Say You Can't Survive)
SEPTEMBER 8 — EP 5: S. Qiouyi Lu (In the Watchful City)  and Silvia Moreno-Garcia (Certain Dark Things)
SEPTEMBER 22 — EP 6: Ryka Aoki (Light From Uncommon Stars) and Andrea Hairston (Master of Poisons)
About the Author
Latest Posts
Stuart Conover is a father, husband, published author, blogger, geek, entrepreneur, horror fanatic, and runs a few websites including Horror Tree!