Guest Post: Troy Lambert On Naming the Book, and About the 'Stray Ally'

And after our wildly successful launch day for Stray Ally, the Finishing Fairies are now delightedly hosting a small tour for the very same book.  Since it's launch it's garnered some great critical acclaim, and currently has an average of 4.6 stars on Amazon.com (as of April 3rd).
The tour, from the fourth (here) to the 11th, is on some great blogs, with all unique content, and a great view of the inner workings of Troy Lambert, rescuing animals and the writing habits of a great author.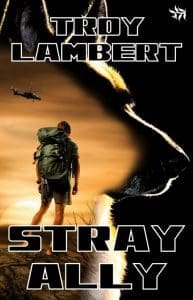 A strange accident on the freeway, accusations of murder, and an encounter in the Idaho wilderness all propel Todd Clarke into a new friendship with a dog named Sparky. But Sparky is no ordinary dog, and there is more going on than Clarke could have imagined.
A military commander he investigated for Aryan activity and links to domestic terrorism is after him, and he's not sure why until another chance encounter provides the answer.
With Sparky and the help of his canine friends, will he be able to figure out the Colonel's plan and stop him in time? All Clarke knows for sure is none of it would be possible without the help of his Stray Ally.
Buy the book here, from the Tirgearr Publishing.
Naming the Book, and About the Stray Ally
It's a common question for people to ask, and most of the time I have answers. "How do you name your characters? How do you name your books?" Most of the time, some of the standard answers are on the tip of my tongue, and I leave it at that.
Except for Stray Ally. I started writing the book with no name in mind, and a good way into the writing, I still had no name for the book. I just could not come up with one that actually "fit" and seemed to work.
A number of years ago, there was an article in Writer's Digest magazine, in which the author jokingly referred to the fictional position of "Title Writer" for various publishers. Of course, many starving artists did not get the joke, and wrote the magazine and publishers, even sending resumes and glowing cover letters with new and better names for popular books and movies, explaining why they were qualified for the non-existent position. It was funny to most of us, me included.
Until this story, when I considered taking out an ad: "Name my Book." Maybe I could put it on Fiver or something, right?
Then the idea came. Let the fans vote. So I put out a synopsis, and asked for ideas. Several came, but I immediately had my favorites. Stray Ally was top of the list.
True to my word, I let the fans choose. A big shout out to Bethany Clayton for coming up with the name, and to all of those who voted for my favorite.
Most of the time choosing titles is a pretty simple and singular process. But sometimes, they are chosen in a more dramatic fashion.
A True Stray Ally
There are a lot of questions that surround the main character, Sparky, in Stray Ally. Many of them are answered in the book, many are left unclear, perhaps to be answered in a later work. There is one question, never answered that truly mirrors real life. Why did Sparky pick Todd Clarke?
Animals often 'pick their people.' But why one over another? We have two rescue dogs in our house, my lab Indie, who chose me the first night we met and is loyal almost to an annoying fault, and Kiki, a pug who changes her mind from time to time.
She picked my wife at first sight, probably because although I liked her, we were not quite to the love stage. She is an odd pug, and honestly a little ugly. Don't shoot! She makes up for it in personality, and we get along great now. But at the very beginning, she was my wife's dog.
Until she met our then ten year old son (now twelve). Then she became his temporarily. For whatever reason though, she switched loyalty one more time, slowly at first, to our 17 year old daughter. Now, it is clear whose dog she is. Not that she doesn't like the rest of us. She just has a favorite, and makes it no secret.
So why does Sparky choose Todd Clarke, a man he just met in the Idaho wilderness, and go to great lengths to be loyal to him? Why does any dog choose any one person? Sometimes we never know, but often there is an instant connection, followed by loyalty that lasts a lifetime.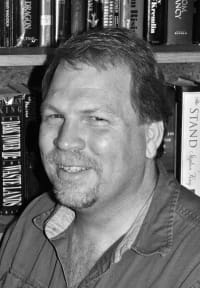 Troy works as a freelance writer, researcher, and editor. He writes historical site characterization reports for those performing remediation on former resource extraction sites, software instruction and help guides, and edits the research of others as well. His true passion is writing dark, psychological thrillers. His work includes Broken Bones, a collection of his short stories, Redemption the first in the Samuel Elijah Johnson Series, Temptation the sequel to Redemption, along with the horror Satanarium, co-authored with Poppet, a brilliant author from South Africa and published by Wild Wolf Publishing. His next novel, Stray Ally, will be published March 4th by Tirgearr Publishing. The final in the Samuel Elijah Johnson Series, Confession will be published May 1st.
Troy lives with his wife of twelve years, two of his five children and two very talented dogs. He is a skier, cyclist, hiker, fisherman, hunter, and a terrible beginning golfer.


Appearing….
April 4th –The Finishing Fairies  Introduction
April 5th –The Horror Tree   Guest post
April 6th – Authors you want to read   Top Ten
April 7th – Danielle DeVor   Guest Post
April 8th – Shaun Allan  Guest post
April 9th –Diane Nelson  Guest Post
April 10th – Donna Augustine  Guest post
April 11th – Michael Melville   Top Ten
April 12th – Deborah Carney  Animal rescue post
April 13th – Author Interrupted  Guest Post
 April 17th – AtoZ special post – Wilderness Apocalypse

Head on over to The Finishing Fairies for tour central, information and more!

Promotion of Stray Ally Launch Tour is brought to you by:
Join us for other tours, social media and community management at The Finishing Fairies mailing list!
About the Author
Latest Posts
Stuart Conover is a father, husband, published author, blogger, geek, entrepreneur, horror fanatic, and runs a few websites including Horror Tree!