Taking Submissions: Yesterday You Said Tomorrow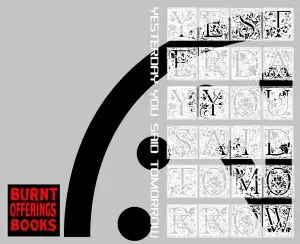 Deadline: June 30th, 2014
Payment: An equal percentage royalty split of 50% of sales p.o.d. and e-book.
Burnt Offerings Books is planning on publishing a series of anthologies.
The theme of the next anthology will be fixed-timeline time-travel.
Why fixed-timeline time-travel?
Because I love books and films about time travel.
And I hate books and films about time travel.
I love the idea of time travel but I hate paradoxes.
One of the only films I know of that successfully used the concept of fixed-timeline time-travel is 12 Monkeys.
With almost every other film that uses time travel as a plot device, the plot holes and paradoxes ruin them for me.
The most recent time-travel film I've watched was Looper.
If the premise they were using was fixed-timeline time travel, then much of the film would be completely untenable.
The plot holes could have been fixed if they had taken the time to work on the screenplay, but they weren't because they didn't.
It's things like that which set me to thinking.
What is "fixed-timeline time travel"?
I think that this infographic explains it fairly well.
What kind of stories are we looking for?
A good story trumps genre classification but we are generally looking for stories about time travel.
We are going to be very discriminative in our selection process.
We are looking for literature.   Not just stories.
If you're going to explore a traditional genre, we expect you to do something new with it.
If you send us another textbook genre story, you will receive a polite letter of refusal and suggestions for other markets that may be better suited for your work.
What we're looking for is writing that is evocative and actually effects readers emotionally.
If you're going to go for scary, we want terrifying writing that will make us leave the lights on after we're done reading.
If you're going to go for depressing, we're looking for stories so depressing they will make our hard luck stories read like love songs and have us calling the suicide hotline.
If you think you've got something that fits the preceding description, feel free to review our submission guidelines below.
We're looking for authors with a unique voice all their own.
Since the theme for this anthology call is going to be a little more difficult to write for than the previous two anthology themes we're going to keep the submission window open for two months.
I also wrote up a keynote introduction to set the tone and give potential contributors some jumping off points to work with.
You can read the introduction here:
http://burntofferingsbooks.blogspot.com/2014/05/the-time-machine.html
I also finished my own contribution for the anthology which you can read here:
http://lovecraftwork.blogspot.com/2014/04/the-man-in-black.html
SUBMISSION GUIDELINES:
Between 1,000-7,500 words.
Submission Deadline Date: Monday, June 30th
Please title submissions: "Story Name by Author Name – Word Count" replacing "Story Name" with the name of the story and "Author Name" with your name.
One submission per author.  Reprints okay.
Publish date: Sometime in July TBA.
Page Count Goal for completed anthology: Between 100 – 200 pages.
What do we offer?
Burnt Offerings Books offers to publish and promote your work.
We will handle the cost of editing, formatting, designing a cover, and publishing your work.
In exchange, we will retain exclusive rights to print the work for six months.
After that, we will retain the right to keep the Burnt Offerings Books edition available, but you may also do with it as you please.
We continue to retain the rights to keep our edition available.
You will also be required to use a different cover for republishing purposes to avoid confusion between the two editions.
In exchange for these concessions, you will receive an equal percentage royalty split of 50% of sales p.o.d. and e-book.
Profit-sharing will be distributed at the end of each month.
All submissions will be accepted only on condition of agreement to the preceding conditions.
If you are interested, submission inquiries may e-mail:
[email protected]
Or contact us through our Facebook page:
https://www.facebook.com/pages/Burnt-Offerings-Books/1408858196016246
To stay up to date on what we will be publishing join the Facebook group:
https://www.facebook.com/groups/1449189218642723/
Via: Burn Offering Books.
About the Author
Latest Posts
Stuart Conover is a father, husband, published author, blogger, geek, entrepreneur, horror fanatic, and runs a few websites including Horror Tree!