Taking Submissions: Whispers from the Abyss Volume 2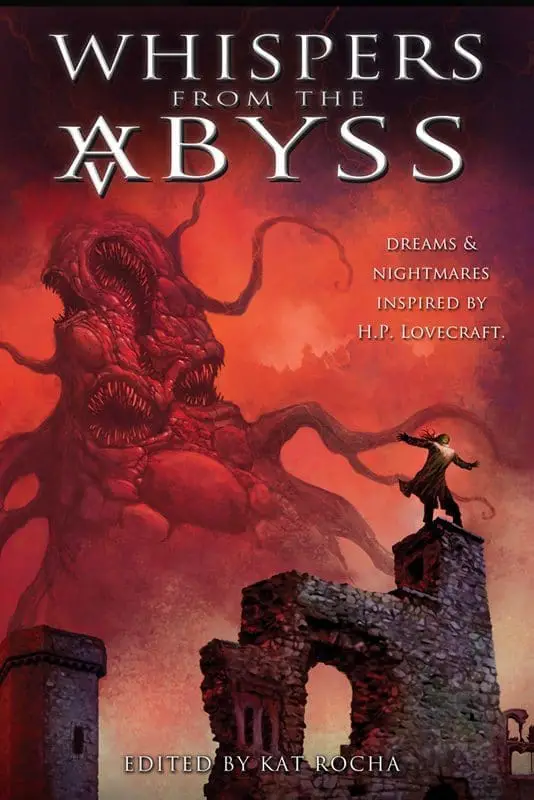 Deadline: May 30th, 2015
Payment: A penny per word up to 4500 words and a digital copy of the anthology. Two physical copies will be provided once the book is printed in 2016
WHAT WE'RE LOOKING FOR:
We're looking for short stories between 2500-4500 words that can be read in one sitting. Flash fiction is also welcome. We want authors hungry to play in the twisted universe envisioned by H.P. Lovecraft, or write tales that are in the spirit of his mythos. Like Lovecraft's own work, the horror in this anthology aims to be subtle and subjective. The mind and its inner working are a far more terrifying place than the actual corridors of R'lyeh or the Mountains of Madness.
Ideally this anthology should hit readers like a really good mix tape (or iMix for those of you too young to remember what a cassette is). We want a variety of styles, themes, and moods that hook the readers fast, creep the hell out of them, and leave them wanting more. Experimentation is highly encouraged–especially unconventional narrative styles, meta-fiction, genre mash-ups, even sick humor. Of course, don't be afraid to stick with the tried and true "ravings of a madman," if that's your jones.
PAY RATE:
A penny per word up to 4500 words and a digital copy of the anthology. Two physical copies will be provided once the book is printed in 2016.
WHAT WE'RE NOT LOOKING FOR:
Consider this anthology to have a hard R rating. That said, please no stories involving graphic rape or child molestation. Excessive gore is fine, but must function to further the story. Here is a list of themes and elements that will get your story instantly rejected:
1. Cthulhu taking center stage. The big cheese can appear in dreams, statues, visions, etc. Characters can even come across the aftermath of someplace Cthulhu has destroyed. Just as long as we never "see" old squid face we're happy.
2. No story that features action akin to a Hollywood big budget disaster film. In fact, Hollywood-isms are best to be avoided.
3. No Steampunk.
No Nazis.
No "it was all a dream" plots.
No rape scenes.
4. Story must come first. Personal politics are fine, but please no sociopolitical diatribes masquerading as a story. Excessive political correctness, grandstanding, and tokenism will be instantly rejected.
5. Lovecraft's Mythos exists in a functionally atheist universe. It is fine for characters to hold deep religious beliefs–but they cannot hold any metaphysical weight. Jesus, Jehovah, biblical angels/demons etc. cannot make an appearance to save the day. Nor can the Great Old Ones be defeated by the power of Christ/Allah/Xenu/etc.

PUBLICATION TIPS:
Below are a few tips that will increase the odds of your story being selected.
1. In the first Whispers from the Abyss Anthology nearly half of all the submissions received focused on the Deep Ones and Dagon. Innsmouth stories are absolutely welcome, but exploring other aspects of the Mythos is encouraged, especially the Mi-Go, Nyarlathotep, the Cthulhu Cult, The Great Race of Yith, Star Spawn, and Giant Albino Penguins. Also, creating new additions to the Mythos are encouraged.
2. Do not emulate HP Lovecraft's writing style. As stated, we want authors to play in the twisted universe envisioned by H.P. Lovecraft, so use your own voice and style. No nostalgia, please.
3. We have a real appreciation for sick humor.
WHERE WILL THIS BE PUBLISHED:
This anthology will first be published digitally on the Kindle as well as available as a downloadable PDF. The following year it will then go to print as a physical book.
RIGHTS:
We retain the right to print your story for Whispers from the Abyss Vol. 2 in digital format (ePub, mobi, pdf, etc.). We require a three month period of exclusivity from the date of first publication.
SUBMISSION REQUIREMENTS:
All Submissions Must Be In By May 30, 2015
All stories must be submitted to the following email address: [email protected]
With your submission please include a two sentence "elevator pitch" describing your story in the body of the email.
All submissions must be saved in a Rich Text Format
All submission emails must be entitled "HPL Submission: your story title" each story must be submitted in it's own email if you are submitting more than one.
All submission emails must include your name and email address.
If your submission has previously been published please let us know the publication name and date. Previously published works are welcome but we would like to know where it was seen first, where it was published most recently (if more than once) and how long ago.
Publication date is Summer/Fall 2015
Via: 01 Publishing.